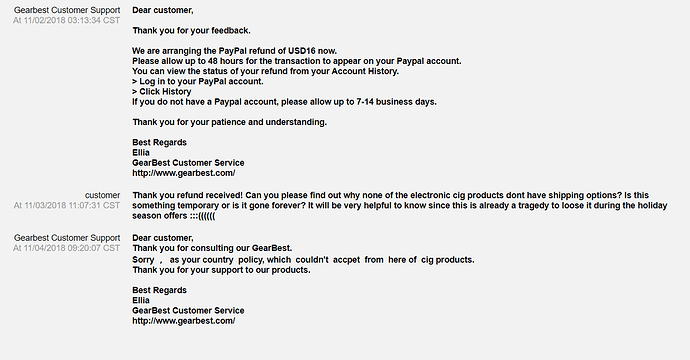 Its been 2 years since gearbest stopped shipping to some of the EU countries as far i know Spain, Portugal and Italy cant receive from GB!
Maybe it's an isolated occurrence. Maybe HG is just the first of more to come. Time will tell.
The US doesn't need to stop the flow from China. Hindering our ability to pay for it will do part of that task for them. Credit cards on their list of payment options to lean on? I suppose there's crypto currency, but I don't use it, or know much about it.
If people were on the fence about stocking up, thinking China will never stop shipping, it may be time to re-think that plan, if you're in need of gear.
Hearing about this was enough to raise a red flag (pun intended) for me.
If FT follows suit they will likely let you pay for gear with a gift certificate.
This Stinks with a Capital Stink!! Not unexpected, still it's a slimy move.
My order with Everzon today (9/13/20) went through the PP Borg without a hitch (so far). Hopefully, I won't be getting an email from anyone that my order has been cancelled.

Correcto en España hará como 2 años
Who do you think is behind regulating Paypal? PP didn't choose to lose business all on it's own. It's being pressured by countries who have put restrictions on vape products. There's a big discussion about this on Reddit. Since it is impossible to scan every package coming in from China the easiest way to regulate vape products coming through our borders is through the banks and that includes credit cards. I'm not happy to hear this at all. We can't blame PP or the banks associated with our credit cards because they don't want trouble from the justice system and the governments imposing regulations. This just stinks.

I certainly hope so, Letitia. Good call. Problem is even gift certificates are associated with banks. The basic premise (as discussed on Reddit) is that countries will use the banking system to regulate banned products since inspecting every package at customs is impossible. Consensus is that banks will comply with the law. I guess we'll see.
This was pointed out in a thread on ecf. FT issues the gc thru your account with them so they are only accepting their own money/gc. I had forgotten you have to take that route to buy aspire products at their site.
Oh that's great. Thx for letting me know

whew! I knew there had to be some way around this. There's always a way. That's my hope anyway.
Maybe not connected with this, but i made two orders 2-3 weeks ago, nomnomz and nicotine, both from UK to EU and my payment didn't go through first time (second time/third time it went through thankfully). this happened only once before (from aliexpress about 3 months ago; wasn't paying attention, but that could also be a product that was vaping related; i don't remember). Probably just a coincidence, but i made about 40 orders using paypal in last 5 months and these were the only times this happened (including about 15 vaping related orders that went through without a problem). Just hope some solutions will be found soon if these total-control gestapo banksters continue with this shit.
Ive used paypal a lot, especially if I don't trust a vendor entirely. But, I always wonded how we managed to get away with it, because actually they didn't suport tobacco purchases which is what we've been doing.
The 3avape order I placed via PayPal yesterday has a tracking number today, so I guess it sneaked in there.
Same with my Everzon order… it's not showing in the USPS system yet, but they did give me a track number.

PS. Everzon shipped my order out super quick, which was a shock to me.

I could have added that line myself, too. Subbing 3avape of course.
hmmm, I had a similar issue ordering at Chef UK. My Spanish card wont go through so I had to use a different country card. I only order once in a year so I dont remember what was the case last time when i made the order.
When I look at the package trackers, my orders are usually described as "consumer electronic", if described at all.
@d_fabes @Arun @SessionDrummer and all who are concerned. I have a friend who is a manager at Sourcemore and we are in communication about this. They and other vendors are looking for other options as payment. Meanwhile, I asked Fasttech about their Gift Certificate policy and they assured me that their refund policy applies to GCs as it would to PayPal. And they are good for 5 years. As @Letitia mentioned, this would be the go around for making purchases. You must have an account and be signed in to see this information and to purchase a GC. Not all vendors offer GCs, as my Sourcemore friend told me but they are open for suggestions and actively seeking alternatives as suggested in the above message from Heaven's Gifts.
Interestingly, Fasttech does not seem to recognize or understand the PMTA, as the rep said my country (US) does not have restrictions on e-cig products! I replied with a basic explanation and why products like Juul are still on the shelves. I backed it up with a copy of the Heaven's Gifts message above.
If I or anyone else hears of any updates on the subject I'd love to hear them and I'll post if I've got anything new of significance.