The Ammit 25 was sent to me for the purpose of this review directly from the fine folks at efun.top. You can purchase it here: Geekvape Ammit 25
Package Contents:
The Ammit 25 comes nicely presented in a clear plastic box, with security wrap and seal stickers. There is also the customary scratch and sniff on the back of the box for authenticity checks.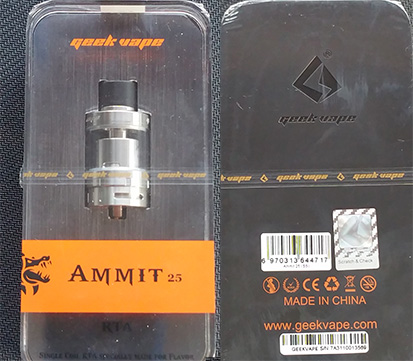 Ammit 25 RTA
Extra glass 5 ml tank
510 Delrin drip tip
810 / Goon-style drip tip adapter with 810 drip tip
Chimney extension for use with 5 ml tank
Extras: o-rings | T-style screwdriver | 4 x extra grub screws
First impressions:
I have to say I am a bit of a geek and I vape, so I usually find Geekvape gear fits with my self-image pretty well. The Ammit 25 is (as is the case with all the Geekvape gear I have come across) exceptionally well made and well thought-out. The threads are super smooth and the over all feel is of a quality bit of kit. The dual airflow at the base is mirror image, so closing one will close the other. There is some nice recessed knurling making it easy to grip. The airflow control ring has a nice clicky feel to it, and has five settings between fully open and fully closed. The juice flow control is just above that, again with some nice grippy knurling. I set up with the 5ml tank (I am incredibly lazy with filling), and the 810 tip using the 810 adapter - not that changing to the 810 will make much difference, as the the tank chimney is 6mm and this cannot be changed.
Thoughts & Observations:
There are some nice innovations with the build deck. The positive post is a closed slot, while the negative is an open groove - this makes it really easy to mount the coils. The Ammit 25 will fit some fairly large coils in terms of both wire diameter and the coil ID. I threw in a 4mm ID Clapton and there is plenty of room to go bigger. The 6mm chimney size is sitting in the back of my mind and irritating me as I type. I know that it would take away from the juice capacity, and perhaps cause a little flavour loss, but come on Geekvape - surely you could have gone just a smidgen bigger, so that the use of the 810 would not just be for aesthetics? Also worth pointing out - my first wick setup dumped the tank on me, so when you are wicking you really need to get it just right. My second attempt did the job, so I will chalk this one up to a DSU issue (Dumb Shit User - namely, me).
Specifications:
The specs are like the intermission in the review - boring AF - but just in case you are interested:
Base diameter: 24 mm

Height: 38 mm

Drip tip height: 10 mm

Drip tip diameter: 15 mm

Post holes: 2.5 mm x 2 mm

Tank capacity: 2 ml / 5 ml

Top-fill system (massive holes)

Grub screw type: Flathead

Grub screw size: 2.5 mm x 3 mm

Threading: adjustable 510 (gold plated)
How does it vape?
Holy spitting volcano mouth Batman! My initial vape on this was not at all pleasant - lava mouth is not what I want in a vape. I tossed the supplied 810 drip tip, replaced it with a slightly longer resin one and…the vape was still as spitty as a spitty thing, although a little better. The spit-back did subside after a few hits, so all was well with the world again. I would suggest that when you initially paint your coils during set up, you fire a few times before re-assembly in order to remove as much juice from the wicks as you can. With the AFC fully open the Ammit will give you a restricted draw. Shutting it all the way down is pretty much MTL equivalent.
The flavour from the Ammit is great (running at 300C, 120J on the IPV8). I was using 80VG juice for most of the week and there was no issue with wicking/dry hits (I had no issue with 95VG either, but I wasn't chain hitting it).
Pros & Cons:
Pros:
Awesome build quality (Geekvape speciality)
Glass tank/chimney extension to increase capacity to 5 mL
Innovative deck that is easy to build on
Large post holes and juice wells
510 and 810 drip tip adapters (& drip tips)
A great flavour tank.
Cons:
Mouth full of lava after every wick change (unless you burn off extra juice first)
Shorting out the coils unless you clip super close to the deck (or flex the coil wire until it breaks off)
More of a MTL tank (if you DL there may be a better tank out there for you, but it is still very usable)
Would I buy it?
I most certainly would if I was a MTL vaper. As I direct lung hit, this tank is not a perfect fit for me. The flavour is spot on but the restricted draw puts me off a little. Don't get me wrong - it's a ripper tank and would suit more people than it doesn't. The single coil deck is really easy to build on and would suit both new and experienced builders. The wicking can be a little tricky, but it's not super hard.
As always if you would like to see how this beast scored against other pieces of awesome vapeology then feel free to hop on over to Steampugs
Remember you can purchase it here: Geekvape Ammit 25
Vape Advocacy;
Please support Vape Advocacy - protect your right to vape.
http://notblowingsmoke.org/
http://casaa.org/
http://vaping.org/
https://gfn.net.co/dialogues/autumn2017/london
https://gfn.net.co/dialogues/autumn2017/durham
http://sfata.org/past-newsletters/
http://www.aph.gov.au/Parliamentary_Business/Committees/House/Health_Aged_Care_and_Sport/ElectronicCigarettes