as the title suggest, I've lost my emojo

…I have to type them

anyone else?


. It looks like on my iPhone. What device/os are you using? When you answer do an "at" Lars ect.
It did it on my desktop at work and now it's done it on my laptop at home too, I can type them but the emoji box doesn't come up, @daath any ideas??
Working fine for me as soon as i select the : it comes up

Tested on iPhone SE iOS 10.0.2 and Laptop



it seems to work fine on this end

yeah that comes up

…but if I press the emoji face on text box the screen just goes dark like it normally does when the big emoji box comes up…except …no box …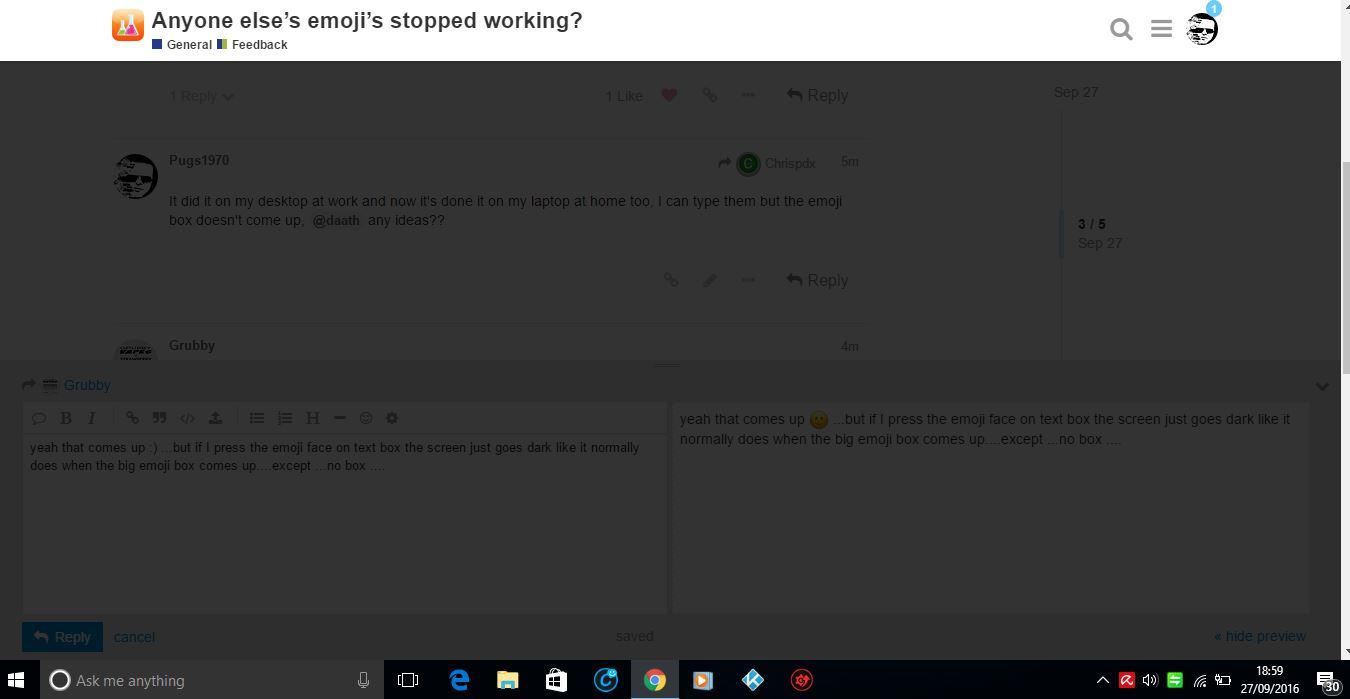 Windows 10…
What resolution are you using and have you tried clearing your cache?
Can you test in a different browser?
I have tried in Chrome and Firefox and it works fine… Do you have any plugins in Chrome?
Are those 30 notifications, updates??
no no they're emails haha, this is the same on 2 different computers, one at work and my laptop at home, so can't be the browser or the cache or the plug ins, both comps win 10, both chrome.
and yeah…win 10

…I can't revert back because I installed it onto a new SSD…so nothing to revert back to …

it's been nothing but f%&king trouble
All i can say to Win 10 or whatever version is: Apple and MacOs

I am running Windows 10 with Firefox and they are working correctly for me?



I am done with FF since it suddenly one day decided that youtube isn't anything i need to look at and therefore stopped loading youtubes page and says i got no internet connection which i do have since i can load whatever page i want except youtube. FF suck.
That is the first I have heard about that issue , I watch YouTube video's all the time while using FF?
What can i say other then the fact that i can look at youtube videos on any other browser i have. Mozilla got a forum where you can ask questions and from the looks of it FF has a problem with youtube for sure since there is a lot of people having issues. I guess it could be something with individual settings and or what OS people are using but in the end FF today isn't anything like what it was when it came out. It is like a mastodon today that uses all available memory and it doesn't release it either when its not needed.
You got that right! FF is slowly getting like the rest I am afraid.
I did see that several people had the same issue as you with FF and YouTube .I am sure since I have mine on auto update that it solved the problem before I had an issue or like you say and is something in the individual settings.
All we can hope for is that someone comes out with a new kind of browser that is so much better than anything we have seen so far.
ok…working fine with FF…

still not working with chrome

@Fenrir1 @BoyHowdy It is the way FF handles flash and some scripts, I have multiple script and flash issues while using FF.
@Pugs1970 Chrome works fine for me, have you tried resetting chromes settings?
Also tested in safari and took a gamble running IE

Both work fine.
If your running windows and you haven't already, grab yourself Ccleaner, it's free and can clean up your apps and registry.
Also check your flash player and java for updates.
would it be the same on 2 different computers at 2 different locations though??
Yeah if your running an outdated version of chrome and or an outdated plugin.
Are both running windows 10?