But can't find a vendor who has it?
I don't have a problem finding flavors I want. But the size I want to buy, now that is sometimes a problem. I hate buying anything smaller than 30ml.
You know, somehow I feel it may actually be hard to not find what you want being you can actually find asparagus, rhubarb, beets, carrot cake, pizza, chicken and waffle, bacon, and even jalapeno flavor. Where there's a will there's a way as they say…
Are we talking can't find a vendor who has it or can't find a vendor who has it in stock? The former, no problems. The latter…that's a whole different animal. LoL.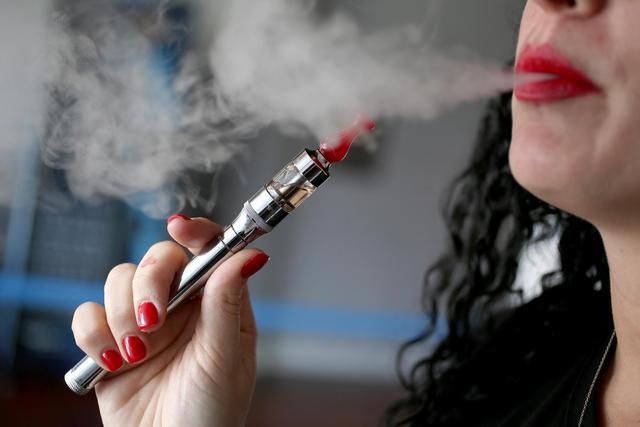 JoJo hard at work searching the Internet for flavors…lol
Found this pic quite a while back and reminded me of you. Been waiting for the right time to spring it…lol
ROFL That's great. I love it! I wish I could pull off red lipstick but I wind up looking like a cheap hooker.
It was the hair actually that reminded me of you. that and if I remember correctly you have used a Protank in the past…
I want to try all of the ones I dont have!

I have a strong feeling that you'll be able to pull it off, haha.
Haha yeppers.

That looks just like the one I had, too. I gave it to my sister about a week ago hoping (again) that she'll switch. LoL.
I have ordered some Jamician Rum as I have heard that it mixes well for depth of flavors in bakery recipes.
That wouldn't surprise me much. I have found very little that will not mix with Jamican Rum. Good stuff for blending…
Would love to find the flavors to make a tossed salad…with a vinigarette dressing…Got the cuke…anyone know of others?
i would like some plain rhubarb. something that i could mix my own strawberry or whatever with.I would like to buy it in the usa also.
Friends don't let friends vape salads!
Good thread. I want to do a little tangent. Not so much can't find it, just who has the best. For example I could just go buy anyone's Vanilla Custard, but I order Vanilla Custard from CAP because my buddies here say it's best.
That said, who has some really good toasted coconut?
I hear FLV Lovage tastes like celery. But I agree with Tom.
Nobody. It doesn't exist. LOL. Kidding. OOO and Wilton's are the only ones I can find at first glance. HiC says make a flavor base with: "1% FlavourArt Cookie, 1% TFA Coconut Candy (other coconuts don't work as well in this recipe, imo), 1% TFA Brown Sugar Extra" and use that for toasted coconut. Cap and Delosi have the best coconut I've found so far with Inawera being a close second. You could try a toasted almond or a toasted marshmallow with coconut and see if that works.
Here's what's gonna happen …I am gonna develop a Salad Vape with that vinigarette…will share it here…Lord…you're gonna love it…so much so that…the next time you go to a restaurant, and the waiter asks you if you want a salad before your main course…your reply will be…"No thanks, I'm just gonna vape on this fantastic salad that a friend turned me onto"…"Do you mind Clouds?"…