This is a joint venture by @Jimk and me.
Since "naturally extracted tobacco" (aka - N.E.T) vapor liquid has been hitting the ELR threads more and more as of late, it was only a matter of time before a couple of us were going to take the plunge to experience vendor made N.E.T liquids. It only stands to reason, we wanted to actually see and taste what these companies have to offer in the way of naturally extracted tobacco vapor liquids. So, Josephine van Rijn and I decided to take the plunge and experience one such vendor of N.E.T. vapor liquids. That vendor is Black Note Vapor Liquids.
We would like to take a moment to thank Black Note for making this vapor liquid review possible. Black Note provided, free of charge, the vapor liquids which will be in this review.
Josephine will start us off here with a nice write up and her tasting notes included. My tasting notes will be soon to follow!
Take it away Josephine!

Black Note E-liquid Review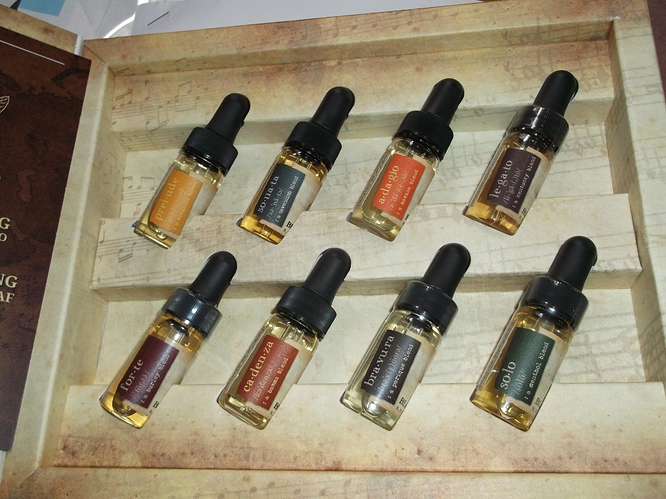 Let me start with a little introduction from the black note website;
OUR STORY
In the 21st century, saxophone has become synonymous with all things cool: jazz, sensuality, richness and complexity. Its creator, Adolphe Sax, an acoustical craftsman endured many hardships, even survived assassination attempts from the instrument-making competitors of his time. A short time after its creation, saxophone had traveled all over the world. Music was irreversibly changed.
The new era of electronic musical instruments and synthesizers has witnessed numerous failed attempts at recreating the richness, complexity, overtones and undertones emitted from a finely crafted saxophone in the hands of a master instrumentalist.
Similarly, the new age of laboratory made artificial e-liquid flavors and synthetic additives has failed to imitate the rich flavor notes of real tobacco leaves, their aromatic subtleties, their harmony, their very essence.
Whether you are seeking to delight your ears or your taste buds, we believe what is natural is invariably superior to anything artificial, that people choose authenticity over imitation.
Patiently crafted and cold extracted in small batches using distinct blends of real tobacco leaves, with no artificial flavors, colors, dyes or chemical additives, Black Note is Naturally Extracted Tobacco Vapor Liquid at its finest.
Praised for its quality, admired for its originality, and credited with changing the face of vaping culture, Black Note is the manifestation of our love for N.E.T. Vapor Liquid making.
End introduction.
This is a marvellous line of real tobacco liquids, perfect for those who would like to quit smoking but like their vape to have a realistic tobacco flavour. I've been a smoker for 44 years and love a good tobacco vape. Unfortunately they are very hard to find. Black Note has done it though.
There are 8 different liquids in this line, they come in 30 ml glass bottles with dropper and they cost $29. Not sure which flavour to get, for $58 you can order the notebook which contains all 8 flavours in 7.5 ml glass bottles.
All liquids are 50/50 PG/VG and nicotine is added to customers desired strength. Contrary to most N.E.T liquids, these are very clean and do not gunk up your coils, which is another bonus.
Lets have a description of the 8 flavours as they appear on the website and I will add my own thoughts on it. Although I find it very difficult to add anything to the excellent description from the producers, I will do my best.
Tested on the Freakshow RDA with dual SS coils at 0.12 ohms on the Smok XCube II.
Prelude
Grown in the sandy alluvial plains at the foot of the Italian Alps, Prelude's Virginia tobacco derives subtle flavors unique to the Verona soils. Once harvested, the leaves are flue-cured to release their natural sugars and resins, resulting in a light, bright taste and aroma.
My note; It has a very nice throat hit, slightly sweet, light but not lacking in body or spice. A very realistic Virginia tobacco which produces a lot of vapor.
Sonata
Originating in the 17th century, Cavendish uses a unique process of cutting and curing designed to bring out the natural sweetness of the tobacco leaf. Sonata uses only fire-cured dark Virginia tobacco, steamed and cured under pressure to allow the rich, robust flavours to fully develop.
My note; A richer, darker, full bodied flavour. Excellent Cavendish tobacco, good throat hit and plenty of vapor.
Adagio
Adagio offers the uniquely sweet, mildly spicy, aromatic flavor of Havana tobacco, complemented by rich, smoky undertones to create a flavor that's recognized around the globe. Grown for centuries in Cuba's moist, tropical climate, Havana is regarded as one of the world's most flavourful tobaccos.
My note; I love Havana, if you expect an in your face cigar flavour, this is not it. I cannot add a lot to the description. It has a subtle but nuanced taste and the smokiness is definitely an added bonus. Throat hit on this one is mild but the flavour and vapor are all there. I could vape this all day long.
Legato
Planted on the sun-drenched slopes of Tuscany, Italian Kentucky tobacco has an American name and an Italian heart. Flue-cured to release the tobacco's natural resins for a rich-bodied vaping experience, Legato offers a mildly nutty and aromatic flavour with a finish that's both earthy and smooth.
My note; Wow, full bodied, aromatic Kentucky tobacco. Throat hit is excellent, nice vapor. I cannot add anything than wholeheartedly agree with the vendor. Looking for a real tobacco flavour, this is it.
Forte
Cultivated in the fertile volcanic soils around Naples, our burley is ripened by the warm Italian sun before being shade dried and light-air cured. Offering a subtle, slightly sweet flavour, Forte offers the full-bodied flavour and rich vaping experience typical of burley tobacco.
My note; Sweet, subtle, well rounded Burley tobacco. It is like tasting the sun, very good throat hit and clouds of vapor too. What can I say, I'm going to move to Italy!
Solo
Solo begins with a fine, ultra-smooth Virginia tobacco to provide a rich, flavorful base, then incorporates a layer of natural menthol oils derived through a special extraction process. The result is a refreshing mint flavour without any harsh bite for a bright, cool vaping experience.
My note; If you are into mint than this is it. I'm not, so I cannot really do justice to this flavour. It is indeed cool, refreshing and not harsh or chemical at all. The tobacco only starts to come through when the cotton dries out a bit. As with all the Black Note liquids it produces a lot of vapor.
Cadenza
Sun-cured, highly aromatic and mildly spicy, basma tobacco is considered by some tobacco experts to be the finest aromatic tobacco in the world. Grown exclusively in the mountainous area of Northeastern Greece known as Xanthi, basma has earned a reputation as the "king of tobaccos."
My note; Another sweet but spicy aroma with a lot of nuances. Throat hit on this one is mild, vapor production is excellent. Personally I like a bit more throat hit but that is different for every individual.
Bravura
Air-cured and naturally fermented, Bravura begins with the smooth, rich undertones of the finest red burley, using a centuries-old process to achieve deep, earthy notes with a subtle hints of fruit. The result is a complex, full-bodied vaping experience reminiscent of the world's premium tobaccos.
My note; I cannot add anything to the description really, it is spot on. I just love a good perique pipe tobacco blend. It has a good throat hit and a good vapor production.
It has been my pleasure to write this review and tasting these excellent liquids. It was very hard to add anything to the descriptions already given but I've tried. My two personal favourites are the Legato and the Bravura, they have a stronger taste to them which I like. As taste is subjective you might well disagree. Find out for yourself and get a notebook from www.blacknote.com, you will not be disappointed.
PS These flavours are just as good vaped in a tank!
Black note also has a very good recycle program. Their 30 ml bottles come in tubes. Send back 5 empty tubes and they will send you a free 30 ml bottle of choice! Just the tubes, you can keep the bottle