It kind of looks that way - when free water in solution has a Water Activity greater than 0.6 (relative to that of distilled water at unit value of 1.0). Dry uncooked pasta has a Water Activity of ~0.5 that of distilled water. "Most spoilage moulds" flourish by WA ~0.8, and "most spoilage yeasts and bacteria" flourish by WA ~0.9 .
Regarding the efficacy of PG and Glycerine as bactericides in cultures, this study reports required % concentration levels for PG and Glycerine to exhibit antimicrobial activity. The lower the % concentrations in solution reported below, the higher the effectiveness as bactericides against the indicated bacterial strains.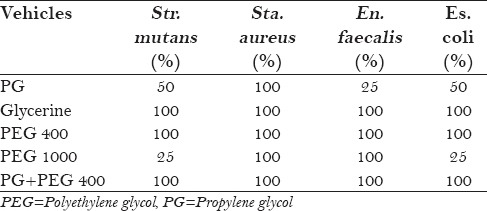 Source: https://www.ncbi.nlm.nih.gov/pmc/articles/PMC4415329/
Am finding Ethanol being referred to as having some "anti-bacterial" activity (more than that of PG or VG). Hopefully serving as a "saving grace" in aqueous solution - as high temperatures may be contraindicated ? The following somewhat interesting CDC link about alcohols as disinfectants was graciously shared (and actually investigated by me, as an essential element of engaging in "critical thinking" as I would define it):
https://www.cdc.gov/infectioncontrol/guidelines/disinfection/disinfection-methods/chemical.html
A "handy dandy" graphic relating to various mechanisms of breakdown and spoilage:
Source: http://aqualab.decagon.com.br/assets/Article-Graphics/_resampled/resizedimage539384-Water-Activity-for-product-safety-and-quality-figure-1.JPG
Each substance (may, and if so, does) have a unique "Moisture Sorption Isotherm" curve associated with it - which relates proportional Water Content to Water Activity. As Water Activity relates to energy, it alone determines the characteristics. Mustard (that from listings provided seemed the closest to a macerating "goo" solution) reaches Water Activity of ~1.0 at not more than 30% Water Content. Food for thought.
From paper linked-to at beginning of this post here are Water Activity thresholds for (some) microbes: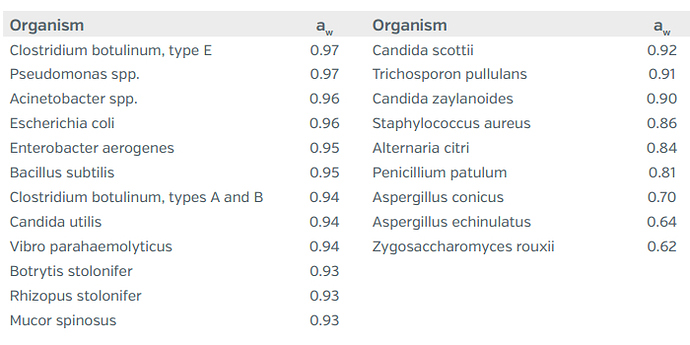 The above info has been posted in the interest of any (perhaps, just possibly a bit) curious readers.