Thanks @big_vape never got that notice.
Shame they were out of the VIC.
1 Biscuit (Buttery) - Chefs Super Concentrates 30ml
40OFF (-£1.34)
1 Biscuit (Speculoos) - Chefs Super Concentrates 30ml
40OFF (-£1.34)
1 Creme Anglaise - Chefs Super Concentrates 10ml
40OFF (-£0.50)
2 Dulce De Leche - Chefs Super Concentrates 30ml
40OFF (-£2.67)
4 Forest Fruits - Chefs Super Concentrates 10ml
40OFF (-£1.99)
1 Milkshake Strawberry - Chefs Super Concentrates 10ml
40OFF (-£0.49)
2 Oat - Chefs Super Concentrates 30ml
40OFF (-£2.66)
1 Raspberry Jam - Chefs Super Concentrates 30ml
40OFF (-£1.33)
1 Red Fruits - Chefs Super Concentrates 30ml
40OFF (-£1.33)
Luckily, and I did shop at Chef's, I never picked up any of their flavors at all, even after some fantastic reviews. Sad to see this happen, and I hope you don't end up making a 'recipe of the year' with concentrates you'll never be able to resupply.
I did find this particularly odd.
"The cost and effort of getting a huge selection … is becoming harder and harder by the day and its just not worth it"
Like WTF

Lewis is getting paid out by the big tobacco conglomerates, there's a rat orchestrating this new mutiny (I'll meet you overboard)
Like this @anon44012888 . Taxidermied rats on a stripper pole.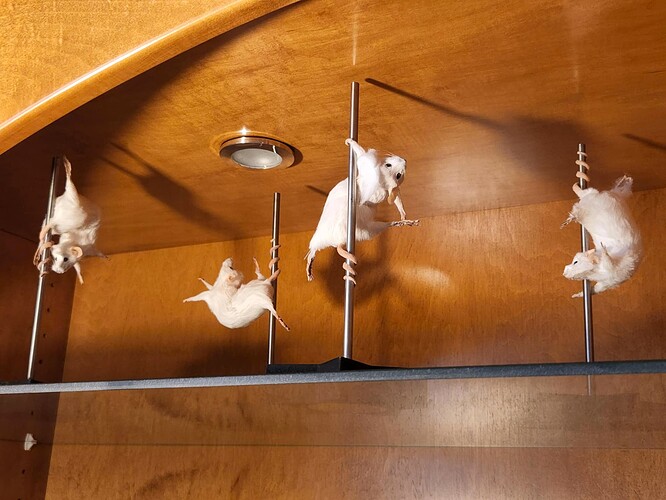 Yeah @big_vape I thought about that, and then said F it. There are a couple that were just TOO good to NOT restock on. Shame they only do 30ml's. Out of those above, probably the Speculous Biscuit, DDL, FF, and Oat are the must have, irreplaceable ones.
Saw that coming…

I'm not sure I get it. Does it mean they're dropping everything except for oneshots, chefs shot and shortfills?
Curious as well, they had some amazing oneshots from old Classic Ejuice companies.
Pretty much, they are keeping some additives ws-23, sweetener, pg and vg as well but no single flavours.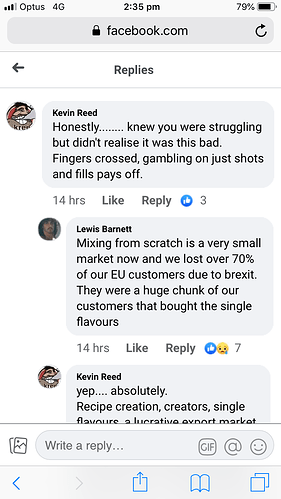 Wow, that sucks. I used Chef's for years but not since I returned to the US. My sympathies to all the vapers in the UK and EU.
There my Salted Caramel goes…
Yes it was.
Just checking out Fiddy, but it's worst then I thought, I thought they were talking just about chef's CSC but 'm checking out the site, they're getting rid of the LOT, they won't be selling flavours anymore! So sad, I'm making my last order at chef's, really sad!
My other "dealer" is nomnomz, but a part from them, wouldn't know where to go.
Calling all EU crafters and mixers… where are we going to stock up our goodies???
Unpopular opinion but… You guys have been on the site for too long, move on and quit vaping because that was the goal of vaping in the first place. Time to put away the bad habits and move onto something healthier, buy a kettle bell, dance, feed birds. Something, just STOP VAPING.
Say, "NO, WE WON'T VAPE ANYMORE, WE ARE NOT GOING TO BE FED BY THE SYSTEM, WE'RE GONNA SWING A KETTLE BELL AND BECOME MONSTERS, WITH NO ADDICTIONS OTHER THAN SWINGING KETTLE BELLS"
Hello, my name is Frank and I'm addicted, to Vaping and mixing… and collecting flavours and hanging out with bad companies…


And AU, the only place I could get lots of flavours of different brands all at the one place


Oh well, it was good while it lasted, back to multiple orders I suppose.
Well its not like i didnt see that coming. It was obvious as could be. A couple of months ago. This is why i started playing around with different ice creams. I really did like that DDL also. Chefs will be closed soon. Shame really
Apart from Brexit cutting into their sales, I'm pretty sure FANA's decision to allow sales of the FA 'baddies' (Pandoro, Custard Premium, etc.) also cut their sales. Knowing you're gonna pay reasonable shipping, why would an American/Canadian only pick up just the banned flavors? Nah, pick up your whole order. At least they sold those in 100ml's. Even with a 40% exchange rate difference with the Canadian dollar, it was routinely cheaper than local vendors in Canada.