Nice! I hope you enjoy using them.
@INOIROC I don't know why, but TODAY your post from Feb 27th JUST showed up as new for me for some reason. GREAT looking coils to say the least. WOW !!!
Thanks! I've been pretty busy this summer so haven't had much time to spin recently. I like to make unique coils but hate when I fail

. Some of them can take over a half hour for one coil. When something goes wrong mid way, Ive been known to curse and throw things

. I really love making and vaping with stags though. A lot of them look the same but some vape extra special. There's just so many ways to make them, or possible variations.
Damn! You impress me everytime. Excellent work.
It is a lot of info but still interesting to read your method. I became somewhat jaded after a while when I realized I was wasting a shitload of wire just trying to make those SC's. I invested in one of those Daedalus jigs but honestly my homemade clothes pin is just as good. I should get back into it though.
Dam I've said it before we're not worthy of such beauty nice job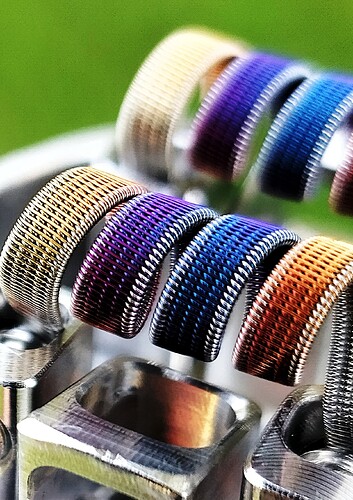 I did an experiment and got some neat different coloration on each wrap. The three cores in the center are SS, the outsiders are kanthal, and the fusing wire is SS (5x30/40ga). We got gold, purple, blue, and orange!
Make one a little wider and I'll use it as a wedding band


I forgot to post my widest one yet

. I went twenty cores wide just to see if I could. Yep I guess I can do that lol. As it turns out, it vapes amazing as well.
It's kA1: 20x34/39ga

Another (less extravagant) one in my Themis mesh RTA:


That one is 14x33 KA1/37ga (or 36ga maybe?) N80.
My latest coil for an Elder Dragon, N80: 10x32/42ga


I'm pretty sure it's my first 3-wrap coil (since it's so wide). The legs wouldn't fit into the post holes without modifications. I pretty much folded the ends so I could get them in there. Using it @ 70W and it's pretty friggen good. It might be a one off experiment though. I prefer my single coils to fire optimally around 50 to 60W.
you must have a saint's patience
Do you tape the fire button and come back later when it's ramped up? Seriously tho…those are amazing!
amazing job, congratulations
Been a while. Not sure if I posted any of these before… If I did, oh well. I saw some alien coils that were advertised as N80: 8x31/38ga, 4-wrap, .1Ω dual coils. I decided to give em a try but they turned out super wavy.

Tried a Nudge 24 for the first time but it got really crowded in that deck

:

Five-core stags in an Asgard Mini deck:

(N80 SFC: 5x30/40ga)
Six-core stags in an Asgard Mini deck:

(N80 SFC: 6x31/42ga)
8-core stag in an Elder Dragon:

That one is really thin, was really springy, but also really flavorful. I've been really happy with this one. It fires up quick style and I take long steady drags off of it . Specs- N80: 8x34/42ga.
My most recent creation is a play on the SSFC coil (Sorry about the bad lighting). Instead of a solid ribbon stack in the middle, I just used another staggered core. Specs- N80: 3x29+(4x.3)/40ga

That's a really nice vaping coil

. I'm getting really decent flavor at 55-60w.
WOW @INOIROC. I think we should frame some of those…
Those look like works of art. Outstanding !!
Thanks guys

.
I've used tri core stags for dual coils a bunch. One of the sizes I like to use is 3x27/40ga. I was planning on using a Valhalla V2 Mini so I thought maybe I could widen the ones I mentioned out a bit. All I did is added two pieces of ribbon and the coils turned out monstrous lol. I had to laugh while wrapping them because they turned out bigger than I'd imagined.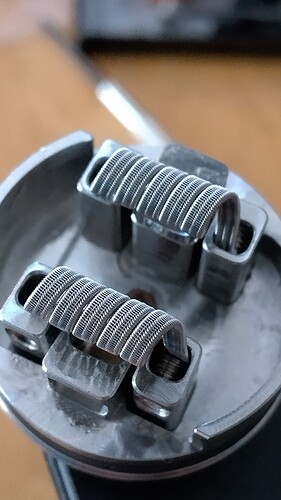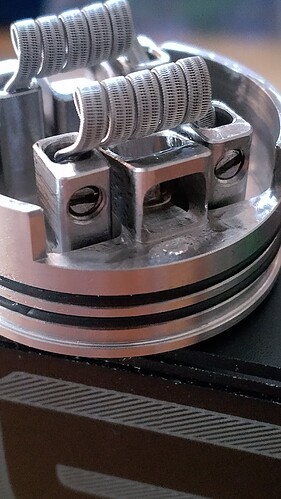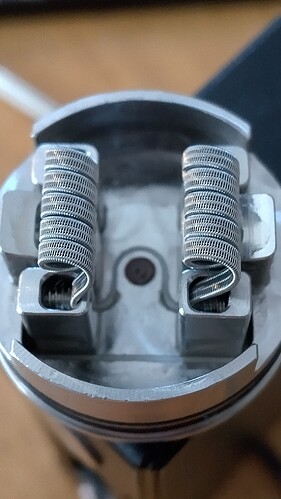 Dual N80 3x27/40ga SFC's are usually at .12Ω. The ones above ended up at .1Ω. The next time I try that, I'm gonna use way smaller cores. They're just gonna be similar to the ones I previously posted I guess

.