It actually never dawned on me at all, maybe the health care system is in on it… I have severe edema in my legs, they are sore and swollen, feel like firm putty when pressed and the skin doesn't rebound back. Doctor said that's normal… Had blood work done, was never callled, so I asked to see my results and was told to make an application to see that which has gone unanswered for weeks… Looking this up, if it's not my single kidney failing, my lack of stamina, getting winded, etc points to either heart disease or liver… When I went on disability I was walking 20K steps a day, now, I can't even make it around my grocery store and doctors don't seem to care, they either dodge or say "I'll get you a referal" well, it's been 2 years now, nobody has called me…
for a small town, there's 3 masonic lodges around and I'd predict they're apart of it.
…So, Pfizer recruited 4,526 children for their Covid vaccine trial, yet 3,000 didn't make it to the end of the trial. Why? That alone should have been enough to get the trial cancelled…
…'Severe Covid' 6 children presented like this in the vaccine group, with just one in the placebo group…
…In the 3-week waiting period after the first dose of the vaccine, 34 children got Covid and only 13 in the placebo group…
…In the follow-up period, 12 children had Covid twice; 11 of those were vaccinated, mostly with 3 doses…
…Then, after just 6 weeks, the non-vaccinated children in the placebo group were vaccinated. Which means there is no comparison safety data beyond a mere 6 weeks…
How could this trial have been approved by an ethics committee for babies who aren't at risk from Covid?
I could've sworn the person that passes these are Fauci's wife.
20 years ago the world controlled sars and there was no real spread or outbreak. Covid they unleashed it simply to see how much of the world would get stuck with a needle out of a experiment for control. They just wanted to see who and how many would follow governments manipulation. And more then half the world took the bait. There where more vaccinated people with covid then unvaccinated. So the ? Is why?
Control, to put it simply but there's a lot of layers. Division, fear, genocide… There's a lot of speculation but a lot of proof too that doesn't get reported and I'd gather that these things are all about to come true… Start reading back, if you want to deep dive… It's not just corona, it's the war, it's elections, it's selling gas reserves overseas before the inflation, eventually there will be a famine and I don't think we're necesarily witnessing the beginning of the great reset, I believe we're in the middle… This pandemic and the current one (monkey pox) were what seems to be orchestrated, Cov-19 was broadcast as a mock pandemic plan a year prior, monkey pox as well as the Avian Disease that's going around… If you look back at previous posts, I pointed out the migration path, the shortages and the war…
Lots of things to this that seem like conspiracies but are proving to be coming true given some time, but some people are firm on denying it… If you're vaccinated, don't get the booster, don't get your children boosted, get some hydroponics, set up a group of people or families to barter with, trade, etc… They had a summit awhile back and they're rolling out a digital ID and a Digital Currency, next step is one world government.
Lots of funny stuff going on, there seems to be some religious elements to it as well, I've noticed mainstream media making biblical mentions and things of that nature and from what I can tell, this seems to be prophecy. Not religious myself, was, but have knocked off the dust from my bible.
Hope for the best, prepare for the worst.
Control. Every oppressing system, communism, fascism, dictatorship is striving for a complete control over the society to preserve their power. The world they are pushing us now into is a step further, the world where they would get a complete power over every single individual; a world where they will control every step we ever made, every social contact we ever had and every cent we ever spent. Total control. Anyone with two working brain cells should oppose it (but we are sheep and we deserve to end like a sheep).
Succinct and bang on the money @Joel. The mainstream will never believe that their Govt would do such things, so it will likely be far too late to retrieve things when they eventually get dragged kicking and screaming to the nefarious truth.
If what you are referring to is happening do your reading in the last book of the bible. The book is called Revelation. If is coming to fruition it is quite scaring. Once we go to a One Word Government the earth only has one hundred years to extinction.
Here's this weekend's official "horror death toll" figures from https://covid19.who.int/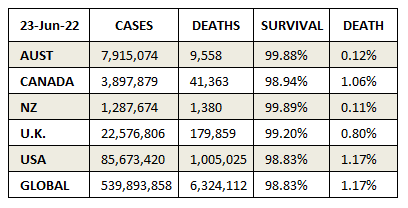 Yeah, don't forget to be scared. /s
Error 404: Pandemic not found
A PARENT'S LOVE FOR THEIR CHILD ….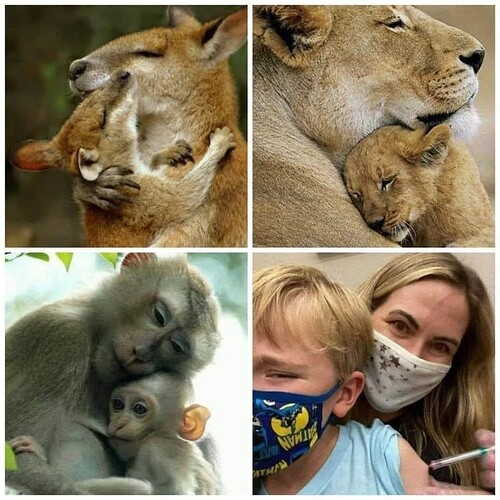 PICK THE ODD ONE OUT …
Hard times create strong men.
Strong men create good times.
Good times create weak men.
Weak men create hard times.
We are at the final stage of the cycle.
…the overall death rate was 21%, but it rose to 88% for those who received mechanical ventilation. Simply put, most patients died after being placed on a mechanical ventilator.
The study was conducted by researchers at the Northwell Covid-19 Research Consortium, submitted for publication in the Journal of the American Medical Association (JAMA), see HERE.
Didn't read it, but I did some looking into why covid turned into pneumonia in a medical treatment scenario of covid… If you look at the list of potential side effects the list of negative effects of the drug Remesdivir (sp) was actually pneumonia and that was a death sentence a lot of the time, interestingly enough I watched one of the senators, forgot his name, that said hospitals were coerced by payment to use this drug as a treatment option.
edit:
But it's probably not the case. Covid was handled well. Vaccines save lives. I am glad I am vaccinated. Unvaccinated are bad. #flattenthecurve.
Flatten the curve was double speak… Flatten the curve didn't mean covid cases, it meant the population
Actually the Vax was not available in the US at the time of the study. Wife was nice enough to bring COVID home to me in May 2020… Went through the 14 days with high fever. Went to emergency and had double pneumonia in both lungs. Antibiotic drip and a antibiotic pack cured aii in a week. My guess is misdiagnosis and mis treatment.
Remesdivir isn't the vaccine, it's a "treatment"? for advanced Covid… You're lucky to come out alive.