The Good Reset, may have been the BEST thing I've seen in quite a while @dardy.
Dark times ahead for the vaccinated from what I'm reading.
There are news about the 4th vaccine over here, and my office told us to get it as soon as it came out.
I've not been told it's compulsory by my employer yet but I'm not holding my breath.
Yeah @delltrapp, I still can't quite believe they're continuing to push this even more. Not sure if @Gazza7 has seen them but they're advertising shot #4 on the TV in the state I'm in. As a matter of fact there have been three (3) people at work who have already had their 4th shot. Not sure why they decided to and no, I haven't said anything to them … it's none of my business plus I'm done with trying to save those who are too far gone. Such a shame…
Same here @Dardy. I, You, We, can only do soo much.
Yes I've seen the adverts on TV but I'm not getting a fourth until I have to. Same as you a few blokes at my work have had their fourth and ironically one of them is the first person I know of to have caught it twice.
He was off for the latter part of last week after receiving his fourth jab the week before I believe.
Here's this weekend's official "horror death toll" figures from https://covid19.who.int/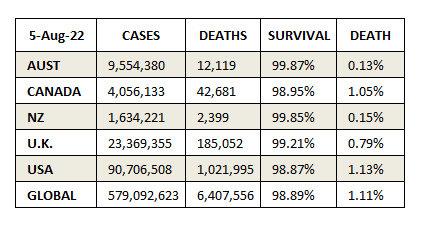 Yeah, don't forget to be scared. /s
Error 404: Pandemic not found