PART II
(i had to split the post due to space limitation).
Less and no transparent companies below. All the info about the most transparent companies is in the main post - see PART I.
 
 
CAP – Capella

Capella Flavor Drops use no Sugar, Splenda, Saccharine, Aspartame, Caffeine, Sodium, Potassium Sorbate or Animal ingredients of any kind.


They provide DAAP testing results for most of their flavors in an easy-to-read format, but…


…their provide very limited DAAP information for their v1 flavors


You may want to avoid Super Sweet - more info here


They say 'We do not use Diacetyl in ANY of our flavorings'.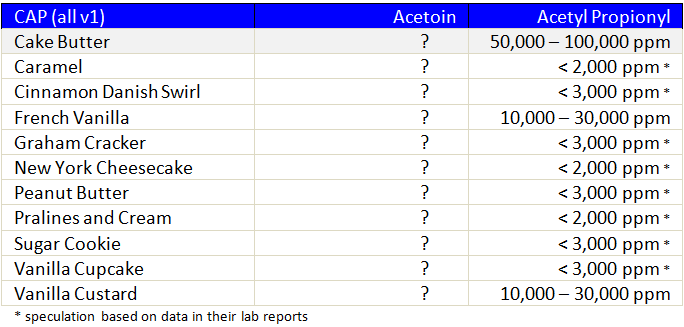 Info about their diketone-free flavors is here
You can check higher amounts of ingredients in their v1 flavors here (including Butyric Acid and other). Bad news is that they released only information they had to due to legal reasons and not as an information for their customers. (hiding levels of ingredients below 10.000ppm for example; absolutely no information about Acetoin levels in any of their v1 flavorings). It is a bad practice and not very customer friendly, but still better than dozens of other manufacturers who are hiding all the information (why not releasing the DAAP information in an easy-to-read format for customers like they did for their v2 flavors???)
DEL – Delosi (Nicotine Labs)

They don't add Sweeteners, Colors, Stabilizers or Preservatives.


There is an information about A/AP on their NicotineLabs website…


… but there is ZERO information about diketones on the official Delosi website


None of their flavors have added Diacetyl.


Only seven of their flavors contain A/AP (and they say they are in process of removing A/AP from these remaining 7 flavors)


No testing reports, no info about what their Not Detected (ND) limit was
Find more info at nicotinelabs.com or delosilabs.com
 
FW – Flavor West

They don't hide levels of A/AP in their flavors


They provide additional info about other ingredients in their flavors, such as Triacetin, Ethanol, artificial coloring


They don't use diacetyl anymore (based on independent lab testings)


High levels of Acetoin in some flavors


Bad reputation for lying about diacetyl in their flavors a few years ago


They use syrup and sugars in many of their flavors (more info here)
My opinion: Other flavor companies use questionable ingredients yet do not get near the heat that Flavor West does. Regardless of the past, after FW published their reports and changed their flavors i could say i trust them more than companies, who don't release any info about their flavors publicly.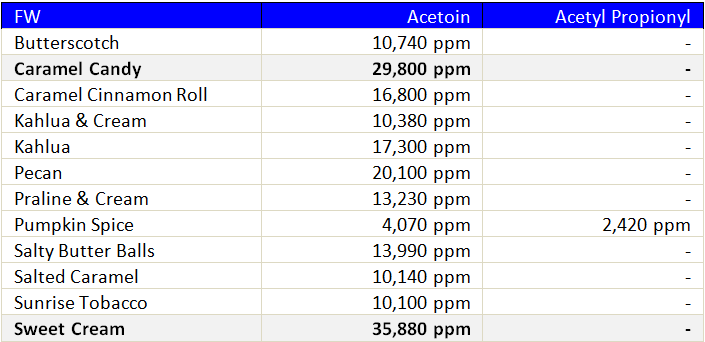 Listed are ONLY flavours with more than 10,000 ppm (>1%) of Acetoin.
You can find more info about flavorings with diketones here.
Edit: Their White Chocolate contains sucralose. Thanks @iVapeDIY.
 
OSDIY – One Stop Flavors

Flavors were analysed only for D & AP, but not for Acetoin


Their lab test reports are 3 years old.

Note: Shown are only flavors with more than 100 ppm of D/AP.
More info is here.
 
PUR Purilum

All Purilum flavors are DAAP-free


No lab reports + no DAAP information on their own website


A member of AEMSA
FR Flavor Revolution

All their flavors are DAAP free


No lab reports and no their own website.
INW - Inawera

Some flavors contain A and some flavors contain AP.


No testing reports provided on their not frequently updated website


No helpful information on their website about ingredients used, coloring, sweeteners, etc.


One of the most popular companies SHOULD BE more transparent and customer friendly!


Note: There might be other flavors that contain A and/or AP. You can find SDS of some most popular flavors on NicotineRiver.
HS - Hangsen

All Hangsen flavors are D-AP free


No testing reports provided on their website


Huge. More than 1000 employees worldwide. 1000+ flavors. More than 4 mio bottles produced every month and a lot of testings…


…but sadly, while probably great for business partners, they are one of the worst examples of non-transparent companies for customers.

Other flavors such as French Vanilla Ice Cream or Australian Chocolate don't contain DAAP.
AL - AtmosLab

They say their flavors do not contain any D/AP…


…but they don't provide any lab test reports on their website and no information about Acetoin is found.


Their eliquids, bases and flavours that do not contain any allergens and are gluten free, sugar free, GMO free and Nitrosamine-free.


Their Tobacco e-liquids are Pesticides free.


They work closely with Toxicology Labs of Medical School in University of Thessaly and Crete and they regularly perform toxicological analysis that go far beyond standard examination (TSNA, PAH, heavy metals, pesticides).


They use only the purest raw materials, far beyond pharma grade purity: VG (99.9%), PG (99.7%) and nicotine (99.9%)
Atmos Lab is the first ecig manufacturer in the world performed Chemical Analysis for Pesticides' Residue in Eliquids with Tobacco flavours and all their Tobacco Flavoured Eliquids are Pesticides free.
 
NV - NicVape

They say their e-liquid flavors are D-AP free.


No information about Acetoin in their flavors


Customers have an access to NicTrace™, a lot/batch number tracking system, where they can view view all lab analysis and testing results (CoA) from an independent (third-party) certified laboratory.
More info on their website.
 
LA – LorAnn (Lauren)

They provide information which flavorings contain nut and dairy allergens


No public reports yet, but they say they are not adding any Diacetyl to their flavors


Several flavors contain oils, which are very bad for vaping.


Several flavors contain artificial colorings, which are best to avoid.
Be sure to check this table (note: it's not LorAnn's official and several flavors are missing here).
 
GLF - Great Lakes Flavour

No Diacetyl in their flavours


No information about Acetoin


Very limited info about AP in their flavors can be found here.

Note: lab test results of some flavours are missing (Vanilla Swirl, Sugar Cookie, Sweet Cream)
Canadian company. Their website is here.
DV – Decadent Vapours

NO Diacetyl and NO Acetyl Propionyl in any of their 150+ flavors


NO information about Acetoin in their flavors
More info on their website.
Note: They had their lab test reports shown on their website, but they removed them (Aug 2017). I assume they are preparing new transparent information about DAAP levels in their flavors for their customers.
 
GS – Get Sucred

Their flavors do not contain any Diacetyl.


They say which flavors contain A and AP.


They provide information which flavors are artificial and which are natural.


They don't provide any numbers and lab test reports.
 
---

The following companies you should avoid if you care about diketones.

They didn't release any public report about diketones in their flavors, they either refuse giving any info or they say they will provide any MSDS sheets on a flavor if you email them (which is absolutely not enough; somehow i would rather see them publicly commit themselves with those reports, which they want to send me; also MSDS sheets often don't give any information at all about DAAP levels).

. BF – Baker Flavors


. CC – Chef's Choice


. CdD – Club der Dampfen


. CCW – CupCake World


. DIYFS – DIY Flavor Shack


. FE – Flavors Express


. GF – German Flavors


. HGD – Hangda


. JF – Jungle Flavors


. MF – Medicine Flower (Lotus Flavors)


. M&P – Mom and Pop's


. NF – Nature's Flavors


. SA – Solub Arome


. SAS – Sasami


. VT – Vape Train Australia


. VW - Vape Wild


. VZ – Vaping Zone


. WF – Wonder Flavours