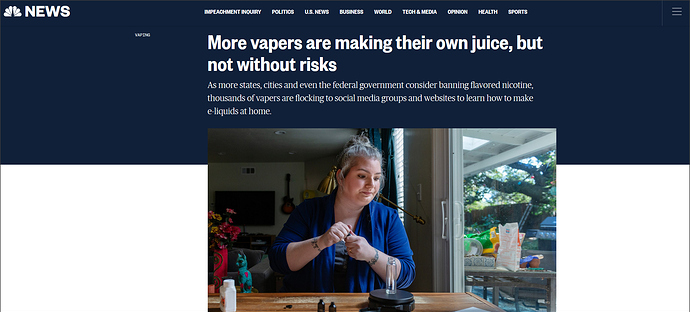 This is Jones' first attempt to make her own e-liquid after buying it for the past five years. Jones, 32, wants to be prepared for the worst-case scenario: a ban on the sale of the e-liquids she depends on to avoid cigarettes.
As more states, cities and even the federal government consider banning flavored nicotine, thousands of do-it-yourself vapers like Jones are flocking to social media groups and websites to learn how to make e-liquids at home.
Users on the forums — many of whom have been mixing their own e-liquids for years — describe the process as simple, fun, cheap and, with the proper precautions, safe. But if not done carefully, making e-liquids at home may pose risks including accidental exposure to high doses of liquid nicotine, the use of dangerous oil-based flavors and possible product contamination.
"To have people mixing their own e-cigarette liquid is crazy. These are very toxic chemicals," said Stanton Glantz, a professor of medicine and the director of the Center for Tobacco Control Research and Education at the University of California-San Francisco. "If you drop a little bit of nicotine on your skin, it can send you to the hospital."
Siegel worries, however, about the risk of contaminated products as some people use the bans as an opportunity to make their own concoctions cheaply and sell them on the black market.
"Who knows what they're going to put in there?" Siegel said. "This is just what happens when you use prohibition as a regulatory approach. What's really needed in this situation is actual regulation of these products to try to make them as safe as possible."

This story was produced by Kaiser Health News, an editorially independent program of the Kaiser Family Foundation.