The result seems clear, among the people who visit the forum. But I think yes, a lot of people use commercial coils …
I would add to that, that a lot of them (those who buy cartridges) have probably vaped for a year or less.
Once they see the tendency of manufacturers to end production of cartridges early (for things that don't sell like hotcakes), they usually figure out pretty quickly that they got unknowingly wrangled into a cycle of "oh, sorry! You've got to buy the latest and 'greatest' atty to continue to buy cartridges" game…
Besides being overpriced (for what you get out of them, especially with the oversweetened retail liquids that gunk coils in record time), they often learn that there's crap QC for a lot of cartridges (from ohms being off, to leaky, to…)
I feel bad for folks (with full manual dexterity, and good eyesight) that buy cartridges. It's such a huge difference in value using a non-cartridge atty (that you put in your own coil and cotton).
For the most part I use commercial coils, namely the FreeMaxMeshPro
Only because of the FLAVOR, (I'm not affiliated with FreeMax) I have plenty of RDA's and mostly use them for testing but I don't get the same amount of intense flavor as with the Pro's, longevity of the coils is amazing IMO (compared to what was available previously) I also have a collection of RTA's and their just too much work for me, guess I'm a little lazy when it comes to wicking

I only have 2 MTL tanks that use commercial coils, a Vapefly Galaxies starter kit which they sent me and a Innokin Zlide which I got as part of a trade.
Otherwise, I use RTA's as my everyday tanks, RDTA's as my back-up units and for squonking and a couple of RDA's set up as drippers for testing mixes.
The 2 commercial tanks get used so rarely I cannot even remember when I last changed the coils… lol
Yes, DIY

I accidentally hit no but yes I use a bit of everything.
I do use commercial coils but because of the regulations in BC when i run out of commercial coils my box mod device will no longer be legal to purchase coils for so I will then have to switch over to my pod system and then will be also switching to salt nic as I find I don't need the use of the vape as much due to the body getting enough nic to satisfy the craving and then I gotta play with the levels till I can get down to no nic level and then quit the vape to be 100% smoke free
I'm with @Rocky02852. I'm getting mad flavor from the Freemax Pro quad mesh coils and they last an easy 3 weeks before they get ashy. Online they're like $3 each. They now offer a 5 coil one I need to try next
Yeah @BoDarc, I can go 3 to 4 weeks on a coil, but I try not to exhaust them too bad, then I wash them and reuse. Probably have coils over a year old that have been cleaned / reused several times


.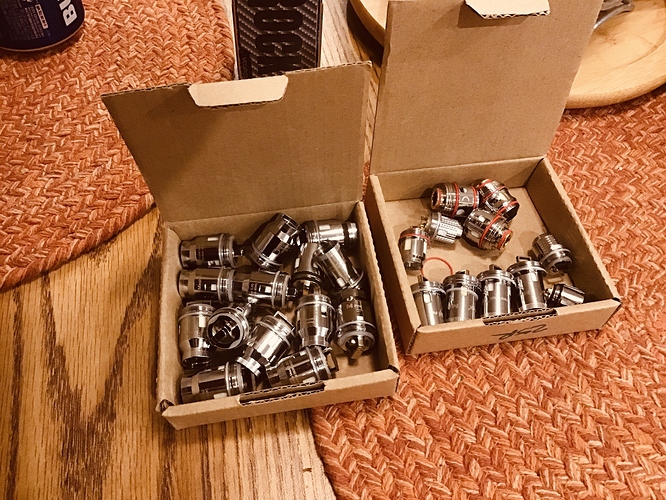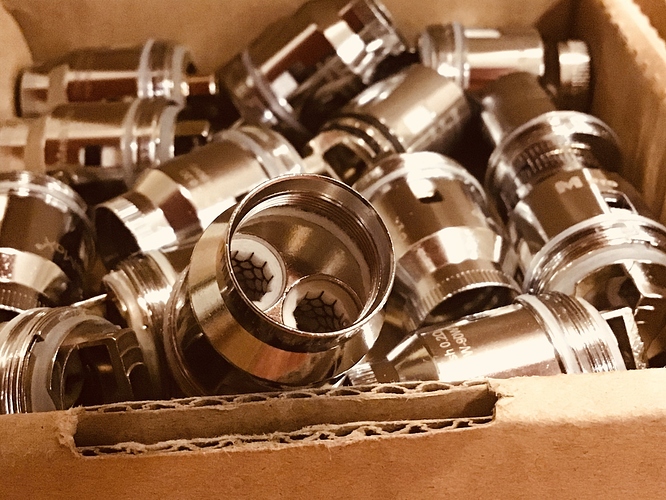 I'm impressed, as I started trying to clean and re-use since my Carto days, but I never had good luck, and went back to tossing instead of cleaning. Those pics sure do look clean though.
Please, share your cleaning method :).
My situation with coils same as @SessionDrummer. Always toss the old and put a new one.
When I started vaping I used a coil for a week the dropped in a shot glass of cheap vodka upside down overnight, rinse with water under tap and air dry. had coils last for months with regular rotation.
DoH! I never thought of NOT waiting for them to totally brown out …wow. Cleaning them? A q-tip cotton swab will go right down the holes to get off the crusty coil stuff and since they're mesh they're kinda sturdy (see pics) Cleaning the cotton seems a better bet when they're not stained with carbon. Thanks bro~! Ever tried the quad coils? awesome.
I only use the double or single coils at 60 to 65 Watt, I never stick anything down the coil, just rinse under hot tap water, soak in Stoli Vodka, then rinse again. I then wrap the wet coils in paper towels;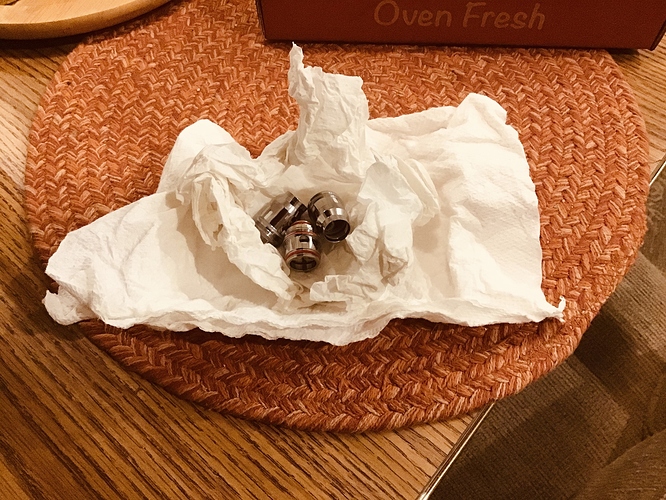 And put them in the back of my coil drawer for a week or so before I transfer them to my cleaned coil box;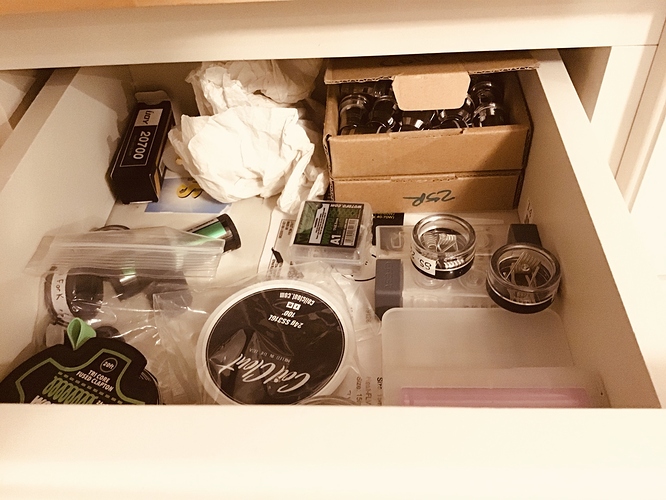 More boxes of previously cleaned coils;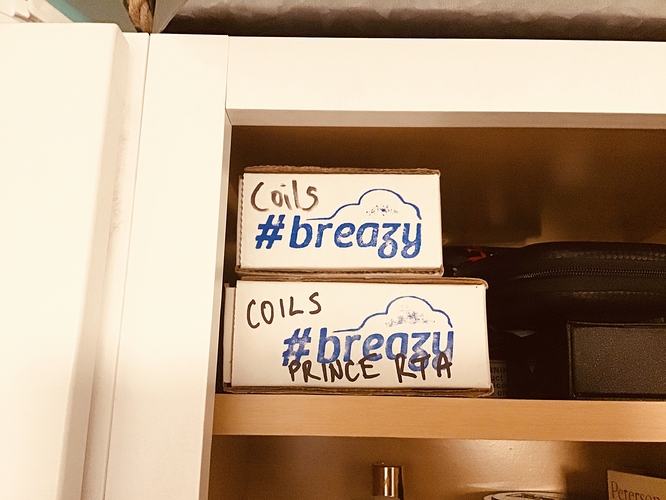 Did anyone else go a bit crazy shopping at Eightvape last month? Here's some of the coils I got there-

I haven't had that much fun since the fifty cent packs of Sense Screen coils at E-juice Steals. The cheapest packs I ever got were from Eightvape though last Thanksgiving. They had Uwell Rafale coils for five (or ten cents?) a pack. I got enough to last my lifetime.
How much vodka was put into the shot glass? As I live in a province where they have banned the sales of all box mods and coils
Just enough to cover the coil. Cheapest 90 proof you can find will do the job.
Same here;)… ALWAYS worked for me, until I was introduced to an RDA…, I'm impatient AF & hated waiting for complete saturation with sub-ohms…, a buddy showed me I could drip & hit, so the RDA is where I went;)