You're running "2" tanks- and accidentally fill your custard tank with your fruit juice… My 1st time!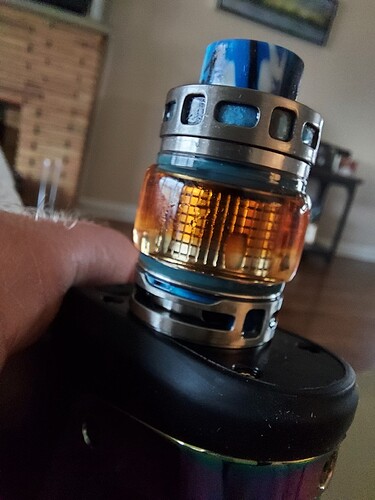 You might have created something new

. My partner does it and its good and gets my mind running
I do it all the time if I'm feeling too lazy to put fresh cotton in. Just gotta be mindful that the flavors play nice together.
Just finished cleaning up after my Don't Ya Hate It When moment.
Switching tanks on a mod. Didn't have a good grip on the base. I actually had the tank. Gave it a half turn, and then just grabbed the drip tip to spin it off. Well, the base stayed snug to the mod, and I was actually unscrewing the tank from the base. Sploosh… dumped the juice that was in the tank, all over the mixing table. Thankfully the tank was only about 1/3 full.
Complacency is the enemy! 'I've done this 1000 times!'… it's that 1000 +1 time that'll getcha'.
That's where good cotton comes in handy. I've been using kendo gold, you can change flavors no problem.
I just straight grabbed the wrong juice- and went to town! It wasn't bad at all, just a "Duh" moment.

Do it all the time on purpose. I'll take my Strawnana and fill the tank about 5/8 full then fill the rest of the tank with my custard mix. Sometimes I'll top the tank off with a little bit of my Vanilla cookie mix just to change it up a little.
Never liked the kendo never absorbed or lasted as long as the bacon plus my juices didnt taste as good as it did on the bacon. All i use is muji now
I've done that on accident all the time… I'd say at least twice every three months…, but… I've found tht some weird shit taste good together doing so.
Hmm, I still use CBP, it's all I've used but I tried Kendo Cotton Gold and besides a half tank of break in, even with priming coils, I've changed liquids without changing cotton or rinsing the tank, I'm really looking it. Absorbs liquids, can run it dry in an rda without burnt cotton taste. That's the beautiful thing about DIY, taste is subjective.
It was fine @SessionDrummer. The next 2 tanks rasted a little "fruity" but all was well.

I've occasionally topped up a tank with the wrong juice and sometimes I discover a new recipe that is better than what is in each tank.
Sometimes I'll vape from 2 tanks at once just to see what the flavour combination is like.

@DaveR1 I congratulate you. I however, have the OPPOSITE LUCK, and most/many times I (errrrmmmm) "accidentally" top off something with something else, I normally create train wrecks.
Emptying the wrong juice out into a small plastic cup and sucking it up into a syringe to put back in storage bottle and then vaping the tank until cotton is almost dry before putting the right juice back in tank works best for me if cotton was dry prior to fill. After a few pulls the wrong juice taste will disappear or never be noticed at all. Happens enough that solution is ingrained in my memory.
Keep in mind that if the cotton was already saturated prior to refill, most of the wrong flavor did not absorb into cotton due to cotton already being saturated so vaping empty tank until cotton is almost dry does not need to be preformed.
I hate it when the website that I've just ordered from has a big sale straight afterwards.
Some will give you the discount and/or a discount on your next order if you email them.
"Don't Ya Hate It When" You have about 7 too many beers- and you are hungover as fuck.
A shitload of Centrum vitamins and a qt of chocolate milk fixes that problem.
Or an extra large Bloody Mary!
Always found just drinking some more cured a hangover.