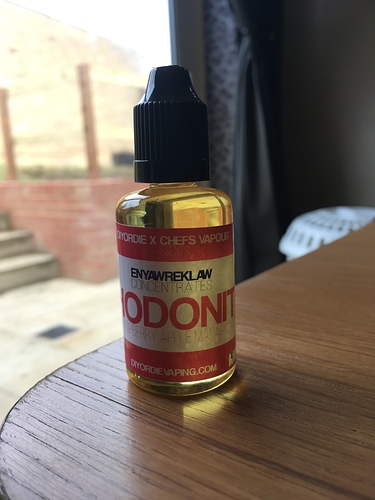 The recipe that started it all. Winner of DIY Ejuice's BEST RECIPE of 2015, and the #1 RATED RECIPE at E-Liquid-Recipes.com, Rhodonite is perfectly balanced Raspberry & Apple Macaron, topped with powdered sugar.
This recipe hits every note with masterful precision and makes for a beautiful vape full of layers and complexity, without being too overpowering. This is a recipe you must experience. BEST MIXED AT 9.3%, 70VG/30PG, and steeped for at least 3-4 DAYS.
---
Want to see my review on [ENYAWREKLAW]Pistacio RY4-U Flavour Concentrate? - [ENYAWREKLAW] Pistachio RY4-U Flavour Concentrate Review
Want to read my review for [ENYAWREKLAW] Funfetti Flavour Concentrate? - [ENYAWREKLAW] Funfetti Flavour Concentrate Review
I went ahead and purchased Waynes Rhodonite Concentrate 3 days ago from (UK) chefsflavours.co.uk also available in the US @ ecigexpress.com and said I would write a little review on it, so here we go.
Price (UK): £7.50
Price (US): $9.99
Overview (Results out of 5):
Price: 5
Presentation: 4
Packaging: 4
Quality of liquid: 5
---
Note: Vaped in a Griffin 25 RTA with a single Vaping Outlaws Clapton @ .35ohm and a KangerTech Subtank Nano with a Clapton .5ohm coil
Note: This is a Flavour Concentrate and not to be vaped on its own
Note: BEST MIXED AT 9.3%, 70VG/30PG, and steeped for at least 3-4 days.
Note: DIYorDIE has several other flavour concentrates available at the above URL's
Note: Find [ENYAWREKLAW] recipes here on ELR
---
First Impressions:
For the price, the packaging and label are spot on, I dont know if the labels differ in the UK / US but it is quite distinctive, simple and easy to find in my cupboard.
The Smell:
Sweet Sweet raspberry, really strong raspberry, not much else.
The Taste Test:
I placed a tiny drop on my finger and tasted it, very tart, raspberry is almost overpowering, sugary slightly biscuity taste.
The Mix:
I mixed a 30ml, I went with the recommended 70vg/30pg @ 9.3% with 50mg/ml VG based Nic @ 3mg strength, using the above Nicotine I calculated I can make nearly 322ml's of this liquid, 322ml's for £7.50!!
First Vape:
I vaped this straight away, raspberry was too strong, overpowered the whole mix, it needed a little steep, so into the cupboard it went for a couple of days.
Second Vape @ 2 Days Steep:
The raspberry had started to mellow by this point, the apple coming through more now and a lovely sugary macaron has appeared.
The 3 day Steep bottle:
Well, well well, completely mellowed out and transformed, from that tart overpowering raspberry to a perfectly balanced Raspberry Apple sugary Macaron delight.
I had tried Raspberry vapes before and found the raspberry to be too strong for me but after steeping this one, I would highly recommended it, if your after a sugary raspberry treat this is the concentrate you need.
Thanks to @Wayne_Walker for the work he puts into this flavour concentrates and for another new, very tasty ADV!
Happy Vaping!