lol i have to check out thimbleberry i have no clue what it is google here i come

I'm vaping mine right now. It's really good actually, except for the biscuit. It just kind of takes over a mix for me, but I still feel like it's needed in the recipe. I'm going to drop it down to .25% and leave everything else the same.
I must not be in the loop on the FW flavors… Something is wrong with them? What am I missing lol
Quite a few of them have sugar I believe.
I have a few at home so probably need to check those out
Agreed! Thank you gotta sort my stash tonight might be dropping some flavors in the trash
If you like the flavors don't trash them, just move them to the kitchen and use them in food recipes!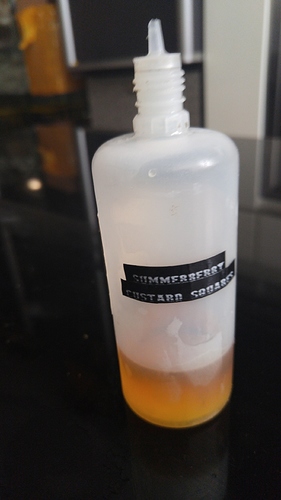 Just found this and wow is it good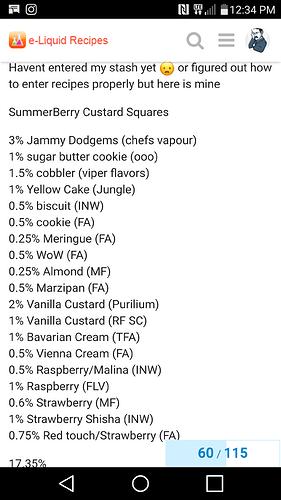 Was thinking we should do an October version of this. I was thinking anything with pumpkin. We should have a giveaway and i will put up a joyetech cubiod mini kit for the winner. We will need at least three judges (those with biggest stashes i assume)
Could make each contestant make a small donation to ELR…
@mixologist13 Maybe we could pick the judges first, obviously people who have very large flavor collections, and people can only use flavors that all the judges have…?
I really like this idea. Even if it wasn't for a prize its still something that would be fun!
Yes we need some interest here before we pick judges. I dont mind giving away the prize. Maybe if we can get 10people to compete with a 5$ donation each?
I'm about to make Sugar Rush as soon as I take a quick peek at the recipe again for blend ratios. Did you follow WOW's recipe verbatim? This will be my first experience with Butter Cream (CAP).
I dont, it is close but a couple subs for flavorings i prefer.

Well, I'm vaping it right now only after 4 days and I'm LIKING it! Luckily I made enough to last into the 2nd-3rd week. I wanted to ask you how I would find out about making a base or a one-shot (if that's what I'm looking for)? I'd like to be able to have all the flavors pre-mixed so I can just add my pg/vg.
Also, I'm vaping your Simple Custard w/o the caramel because I don't trust my taste buds and caramel these days but I like it alot. I used Holy Vanilla and it's been steeping for 4 weeks. I do have a small mix of Caramel (FA) with Vienna Cream (FA) that I could add to it for a test. That's been sitting for over 8 weeks.
If you click on the blue wrench on the recipe it will give you the option to "make one shot" - click on that and enter how many ml of oneshot you want to make and underneath it will also tell you how much eliquid it will create
My attempt at something something…

Hey, thx, Lolly! Does the oneshot steep like regular juice or does that process begin when you add your diluent?