its finally here!!!
http://www.efun.top/ehpro-billow-v3-rta-tank.html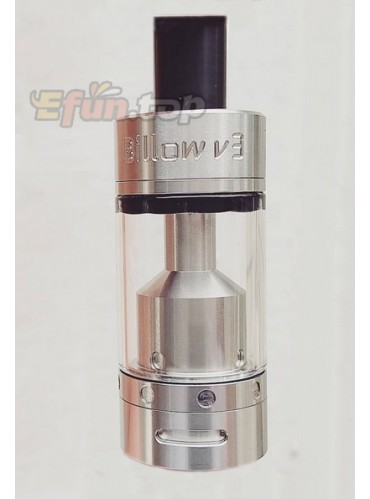 supposed to be released mid April, i believe.
just found out that the first v3 is 23mm and they will be releasing a 25 mm.
They just keep gettin bigger n bigger… o.O
Its gonna take a lot to beat v2
I'm hoping EHP & EC will take some of the redesign suggestions from the current YouTube reviewers and make some changes prior to booting it out to the market.
I've always liked the Billows (own 4 V2's); just hoping they iron out the rough spots on this one.

It does look promising. Hope they keep the billow logo on it.
I wish theyd make the damn thing shorter
I watched a video and a guy stated that the manufacturer said the barrel would be bare
I'm sure a month after the release of the silver V3, they'll come out with a black V3, then a silver nano version, then a black nano version…that's typically their M.O.

They get you coming and going!
I dont recall a nano for v1…but use my nanos fulltime on v2.
V1 really needed a nano!
Like the other Vs, look at that sad sad drip tip.
Btw, thats not the Billow logo, thats Eciggity's logo.
I got to check out a Griffin yesterday and was pretty impressed, although im not a fan of Velocity style decks.
But while I was checking out the Griffin, I couldnt help but see the similarities in the Billow v3 pics…anybody else think they look similar???
They look very similar to me.
Just followed that efun link…that pic of this tank next to v1 is huge!
And damn it!
Velocity deck…im out.
Here's Mike Vapes' vid on it…
I'm likin' it!..the nano will be awsome!
When I first saw it I was a bit let down by its aesthetics - I thought it just looked like any other tank! - the V2 is such a beautiful …& unique piece of work IMO. But now I understand why the V3 looks the way it does - its the top-fill …an obvious & necessary addition.
This, & other improvements do kinda make up for its aesthetic failings…
I have one on the way. Should be here on Wednesday. I bought the v1 and the v2 when they were released. I'm interested to see how it vapes. As of now my go to tank is the griffin and I'm hoping the billow will take its place as my #1
You have a v3 on the way? Where from?
Eciggity has them in stock. Silver and Black.
Use REDDIT10 for a 10% discount.
Purchased it from eciggity on sat. Says it will be here wed.
Great. Can't wait to get my hands on one.
I see they took Mikes advice about the location of the fill port. And they also went with the lines instead of the circle effect on the base of the glass section.
This IS going to be a winner.