… nothing wrong with sampling the goods!
Hope it turns out great!
It turned out well. I have filtered twice with three micron filters, I have mixed 40/60 to 10, 15 and 20%. After a week of mash it's nice … Better than some aromas I've tasted … Nothing special, but open the door to investigate this field. Very interesting. Let's see what happens with more time …
It is true that it leaves a lot of dark residue, maybe it's not the right tobacco. I want to try to freeze and decant, to see if I eliminate some waste (waxes, oils, or whatever) Thanks for the interest. I want to take some pictures, and prepare an explanation, but I have few resources, I am older, I do not see well, I do not speak English … Hahhahahhah
But I already have other lots working …
I have also made a simple recipes to see how they turn out.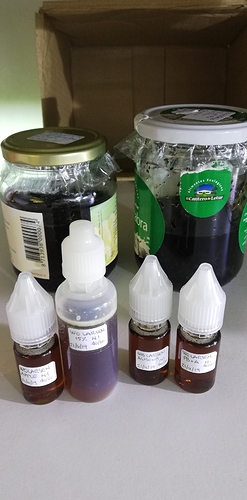 You are doing fine! NET's tend to gunk up coils quick and in a hurry. That is why I use RBA/RDTA's so I can burn them off and re use.
I'm a rookie, but I have fun …
Remember, if you visit Barcelona, in Catalonia, I invite you to a beer …
Thanks to all, I will inform you within my possibilities …
Been there long time ago. I was a young sailor and had the time of my life. Most of it a blur due to the "True Image" of a drunken sailor. We worked hard and played even harder.
We were in the beach town of Salou for a while and man, I think I gave Hunter S. Thompson a run for his money. What a blast!
Sorry, I don't understand…
Yes, I use Oumier nano rdta, and the cover is all stained…
Two images of how is the lid of the nano wasp and another of the cotton and the resistance (which will now change and clean)
I will try to freeze and decant the aroma … I think I will have to go to the extractions with ethanol …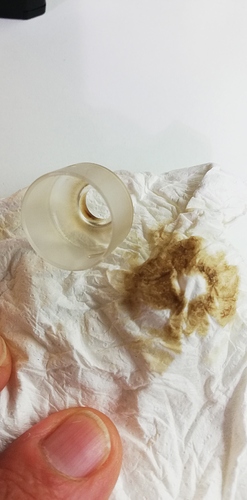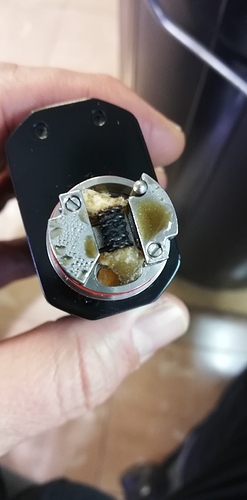 It will gunk up the coils. Be prepared.
That does not look to bad actually for a NET.
Mine look worse than that at the end of a day of vaping. I just pull the wick dry burn the coil clean re-wick and vape on.
Yup… that's gonna happen.

A wick change and coil burn is part of my morning routine as I enjoy my coffee. It's a small hassle for the big reward of awesome tobacco flavor.
You might be able to go a couple more days with an EA extraction juice before you need to rewick and coil burn. But, it is the nature of NET, no matter the extraction process, to gunk up a coil in a couple of days.
I will add… keep your coil ohms high and your wattage low for less of an issue with the gunk. I've noticed over time, when vaping NET using a 1 ohm or higher coil coupled with a mechanical mod (or VW mod in by-pass mode), coil gunk doesn't happen quite as quickly as when I'm vaping on a .5ohm or .7ohm coil at a regulated 20 to 25 watts.
I noticed in your photo, you have a 5 wrap twisted pair… and that's got to be roughly a .3 ohm coil.

What kind of wattage are you using to fire that coil?
While rather new to these things (coil and wick building, atomizers, and NETs), I am in my own experience finding that the maximum coil/wick interface temperatures reached matter where it comes to (NET) "sludge" buildup (on coil as well as in wicking material). I am using Rayon. To control those temperatures reached (at any given coil Ohms) due to coil Wattage, a "snug" fit of the wick inside the coil seems to be critical. Less so in the case of my RDAs - but in the case of an RTA (in my case, Tobeco Kayfun 5 clone), in addition to the importance of maximizing the amount of wicking-material that is stuffed into the areas where juice wicks-up to the coil, left-right symmetries (in total wick-material volume on each side, as well as in the shapes of the portions turning and entering the coil) matter. Even small amounts of tilt in the coil (to one side or another) appears to (due to forces of gravity) affect the temperatures reached in and around the coil/wick interface. Resulting "hot spots" are evidenced by "gunk" appearing non-symmetrically on one or the other ends of the coil, or the sides of the wick extensions. Check on, re-pack, and re-form the left-right wick projected shapes (I find that after warm-water washing and drying, when re-priming the wick with juice is the best time for that).
For my (single-wrap) coils wound with #28 SS 316L, 3.0 mm diameter, 15 turns (~1.637 Ohms), have found that backing-off (PWM regulated) coil Power from 11 Watts to 9 Watts - while it takes longer to initially warm the coil/wick interface from a "cold" condition, requiring some patience - is resulting in my (Rayon) wicks (in general, in RDAs as well as RTA) appearing to last longer, and can be warm-water washed a couple of times before re-wicking is required. In order to compensate for the use of these lower temperatures (in terms of Nicotine flux in the inhaled vapors), I use (after mixing, base) Nicotine concentrations of 12 mg/ml - and raise that as needed, rather than increase temps. Such a (coil/wick temperature cautious) approach makes sense to me. The cost of adding Nicotine is notably cheaper than Iron Lungs and other such fun.

Excuse my bad English, I use the translator …
The coil (khantal) gives 0.4 ohm, and I use it at 30-35w. I'm a novice and I still do not understand temperature control … I have to investigate more … I'm alone in this, my friends and family do not vape … I dedicate the time I can, but …
I understand what you say, I will try thicker thread, more turns, to make 1 ohm and vape to 15-25 w.
For the moment I use this, straight to lung, nicotine anxiety … I'm doing well with juices … and I have not thought about it. I know you use MTL and low watts, I think I've read it …
Thanks for the interest, friend.
I will try what you says …
And remember, if you visit Barcelona, I invite you to beer.
Thanks again to users of the ELR forum, now 9 months without lighting a fucking cigarette
Temp control is not for everyone… don't worry about it… I don't.

If you're paying attention to what you're doing, you don't need it.
A simple, spaced, single wrap coil is your best bet.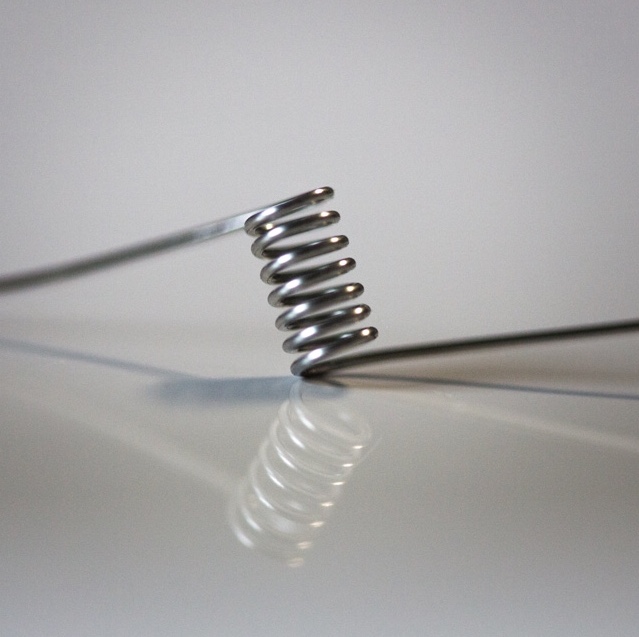 …but, yes… I also do a twisted pair on a few of my DL RTAs (typically, around .7 ohms).
I do both DL and MTL, depending on what atomizer I'm using at any given time. When I'm at work, DL is my thing. When at home relaxing is when I ease into MTL mode.
Don't worry about all that… we get what you're saying!

Just keep up the good work and enjoy whatever you vape.
First, and that I will never tire of saying, thanks to the users who selflessly publish their knowledge, without you I think I would still be buying commercial liquids.
Update: after a week of steep, it starts to be very good. Much better than the commercial tabaquiles I've tried. I made some simple recipes, to see how tobacco works with some aromas.
What I did:
Remember that "WO Larsen" is the pipe tobacco that I used and macerated according to the indications at the beginning of the post.
Recipe 1:
NET W.O. Larsen 15.00%
A taste of tobacco unknown to me, I suppose without combustion is the real taste of tobacco. Something sweet for my taste, I'm not able to notice all the nuances, I'm not an experienced taster … Maybe something nuts, but certainly better than the commercials I've tried.
Recipe 2:
Double Apple (CAP) 1.00%
Green Apple (CAP) 2.00%
NET W.O. Larsen 15.00%
Great! You notice the apple a little, mixed with nuts and tobacco. And it only takes a week!
Recipe 3:
AAA Magic Mask (FA) 0.50%
NET W.O. Larsen 15.00%
Peanut Butter (TPA) 2.00%
Let's see how AAA worked … I had not tried it …
For now, nothing … I'll wait longer.
Recipe 4:
Almond (Mandorla) (FA) 0.50%
NET W.O. Larsen 15.00%
Nothing to highlight.
Yesterday I did DaMomma's RY4 delight, by Alisa, changing the RY4 for the WO Larsen. I'll tell you in a few days.
I publish this to encourage anyone who wants to try NET, to be encouraged that it is easy; and to thank the experts, let them know that their advice is well received by the novices.
I'm a novice in all this, and if I could, I guess anyone can try.
I already have other lots macerating …
Thank you again and forgive me if I become heavy …
And for someone to visit Barcelona, ​​for the beer to heat up …
Thought:
It will not facilitate the extraction of flavors increase the percentage of PG in the maceration?
I mean, if instead of putting 150ml PG for 30gr. of tobacco, for after the extraction uses 15% (approximate), I put 300ml PG for the 30gr. to then use 30%, will it help to have more base so that they can "transfer" the flavors?