CAP Double Chocolate is good, but dark, FLV Deutsch is good as well, but has a coconut component.
@alexbmeist I wanted to keep them simple, without a lot of flavors. Maybe missing a bakery element if anything.
In that case, I'd recommend the marshmallow component to be 10% toasted marshmallow, 50% marshmallow and 40% meringue, it gave me better results than 100% marshmallow
So a made a boo boo on three 120 ml batches. I was pretty tired but needed to replenish my e-juice as I was getting low. Grabbed two bottles from my supply cabinet. One 500 ml and one 240 ml, thinking the larger was VG and the smaller was PG. Well it turns out they were both PG. So I made my batches with all PG (ok, maybe tired and a little tipsy). I figured my best bet is to make three more 120 ml batches all VG and mix them with the all PG batches. At least this way I can get a 50/50 PG/VG mix. I normally do 30/70, but have always wanted to try a 50/50.

Try this thread. MF is available in the EU.

You made my day! thank you a lot!
Looking for some help with one of my fruit mixes. My initial go at a pineapple/coconut recipe went south, quick! I don't necessarily want a "pina colada, but I love these two when put together. My short list of what I've got include:
Sweet Coconut (FLV)
Pina Colada (INW)
Pineapple (INW)
I really want to stick with just the two main flavors, but I understand that I'll likely need something added as a booster or a filler. The other option (and likely more interesting) is to go with a play off of the Tropical Smoothie Cafe's "Bahama Mama." It has both pineapple, coconut and includes strawberry plus white chocolate.
The only other flavor I have currently is Strawberry Ripe (TFA).
Sorry I'm not much help otherwise, but I'll greatly appreciate any and all suggestions. TIA…
I'm linking your flavor stash so others can see what you have and offer suggestions…
Hi - got a recipe i adapted from @Shawn - tastes pretty good, just missing a top note of something tangy to really make it pop - any suggestions? Current recipe below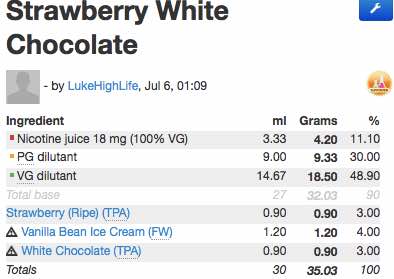 Maybe you're interested in taking out something from some "corazones blancos" recipe. You could add a bit of INW strawberry shisha, for example
Alright Mr. 50/40/10 man (@alexbmeist) I'll just try that out and SEE what's what.

Might try juicy orange .5-1% to give the pineapple a pop.
Strawberry as the only fruit doesn't work for me. I would add a kiss of raspberry. Just .25% would boost the sb and play nicely with the other two flavors.
I actually had juicy orange in my previous mix. I tend to think that's what I killed it with (too much). And, if course, I wiped the recipe.
Ugh…
I'm flattered that you try my proposal, you'll tell us how that was, in my smore recipes, that combination for marshmallow marked me before and after!
BTW, did you try CAP whipped marshmallow? it's from silverline series, I think it could be a solid option if you'd like to do some new attempts
Not sure if you just "free-handed" it while writing it in the forum, but IF you have it this way in your flavor stash, you've got the wrong one (though it will be fixed once it's merged). Until that happens though, and only IF you've got it as listed here, your search results are going to be quite limited as it stands.

Just a friendly heads up!
No worries! Making sure you have the right (correct structure) flavors added to your stash can sometimes be slightly difficult (depending on the brand, obscurity, etc) due to folks accidentally mis-entering names.
Glad you've found your way here, and hope you make yourself at home!
Help … this mix is sooooo DRY. Im think of dropping the pound cake completely , then lowering the Angel Cake , also dripping the FLV cream to FLV vanilla pudding , what do you think ?? the orange and cranberry are fine i may adjust those percentages a little but they are what im going to use …
I'd add a tiny bit of yoghurt (tpa/wf/flv) and/or cookie dough/cupcake batter/cake batter (flv/fw/cap) or any "moist" cake, for example (wf) white fluffy cake but be careful with this one, it has a slight butter cream filling, which is perfect to bend dryer cakes into more wetter cakes, but too much and you'll taste it. (Fw) creamy sponge cake etc.
All of these suggestions will add a "raw" layer, which might work in your case, if used sparingly, unless the dryness comes from the Orange or cranberry. I don't own both of these fruits to be able to say that.
Can't say anything about (flv) pound cake, I don't have it, but maybe just lowering percentage a tad might do the trick too. I wouldn't switch the cream for pudding tho, all that's gonna do is making it denser, and in most cases that just amplifies the dryness instead of taking it away.
The reason I list several brands, I'm not stuck to one, all of these will perform the same duty, it's just a matter of percentage and someone might have on hand or personally prefers. Hope it helps.