Thanks to @Vaptio_official for shipping out the ET AUTO Kit for me to review.
I know I promised an ET Alien Autopsy on this device. But this little ET guy turned out to be a nice companion and found a nice warm home on our planet with me. But heck yea… I'd still like my ET to have Black Lights instead of Red Lights. But I'm liking it as 3rd small pocket device to carry around. So I regret to say… There will be no ET Alien Autopsy this time, in fear I won't reassemble it correctly. - Boo Hiss!

Also regrettably… No Men in Black or Helicopters showed up either. So we could not get proof of their existence. But it's only been a short while.
So here it is the Vaptio ET AUTO Kit…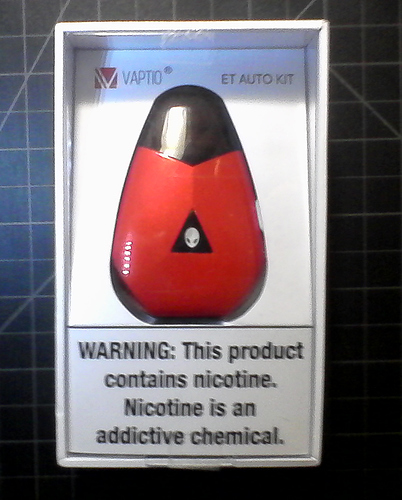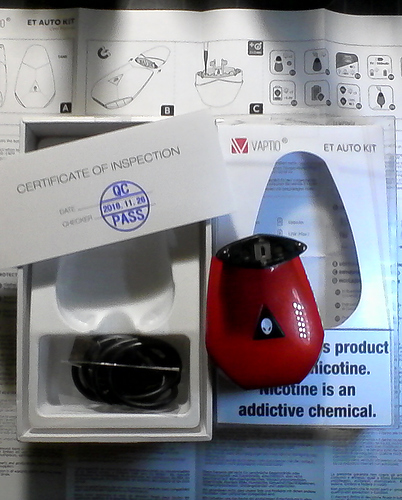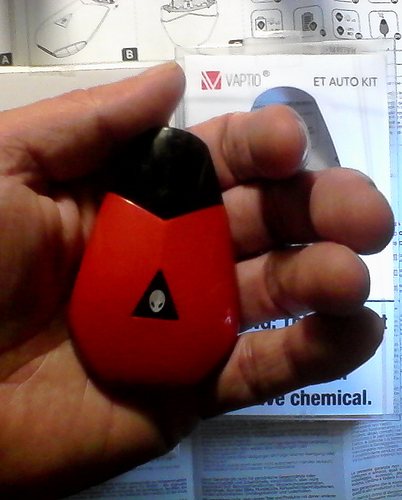 Does it do tricks? Well there's nothing up this ET's sleeve. Nope, you can't tap out Morse-Code with the Lights, and no rainbow colors when you shake it. The only thing our little ET friend can do is whistle. Yep, that's right, if you blow gently on an angle into the mouthpiece it will generate a high pitched whistle. OMG… If that doesn't make you want one then stop right now!

It is however a great conversation starter piece, assuming you like the person you want to start a conversation with, or among other UFO hunters/believers.


But Stealth is debatable. Once you Vape it. Those Big Red Lights glow every time. You can palm it easily enough and hide the lights. But who wants to hide something so unique like Bright Red Lights on a Collectible ET Spaceship looking Vape Device? Guaranteed anyone seeing it Vaped will inquire, or at a minimum give you a second glance, even if it is a weird looking glance.


Now I will and must call this a win and great redesign over other Tear Drop shaped POD devices.
Pros:
It's Draw activated and I experienced no leaking and I never once had to clean the contacts. Not sure how they managed that, but I don't care. It's nice not having to clean contacts.
The POD itself fits nicer with just the right amount of extra space. So the POD's do not get stuck like the Surion Drop. With the ET Auto Kit there's a lot of wiggle-room to fit the POD in (But it still doesn't rattle or wiggle in any noticeable or awkward way). So I'm guessing if you do drop the ET and dis-form it. You'll have a better chance of being able to get the POD into it again, and the powerful magnets will hold it good against the contacts. That's not the case with others.
You do not need to open both fill ports to fill the ET Auto Kit POD. Also you don't have to open a fill hole if one side gets all the juice stuck in it, to fix it. The juice flows between both sides just fine even when both fill holes are capped off.
The Magnets are super strong, even if you violently shake it… the POD will stay in. No worries about it is flying out. If you like flailing your arms around while you're Vaping and talking.

(look at me, look at me!)

The battery is a MONSTER for a pod like this at 550mAh. All Day Vaping with no issues. More below about the Quick Charging and indicator lights.
The no cotton Ceramic Coils, means you can fill and Vape with no waiting and you won't burn any cotton. Like if you accidentally hit other cotton POD's too soon… you WILL burn the cotton. So you can save money on buying replacement POD's with the ET.
If you like chain ripping on POD's, without worrying about burning cotton. This is the one to get. The ceramic holds the heat nice and will keep you ripping away and never burning.
It's a very clean and perfect smooth Vape for me on this little ET. It has a loose more airy MTL and a restricted DL. Plenty of vapor for Nic Salt Juices.
Battery:
Once the battery ran out… All it took was 2 minutes of charging to get it hitting again while plugged in.
Charging from Empty to Full charge - When first charging, the Red Lights will stay on completely for 20 minutes then they will start slowing blinking after the 20 minute mark. Once fully charged the light will stop blinking. It took (1 Hour 20 Minutes) minutes to fully charge the 550mAh battery.
Cons:
The only con's I can think of is… After not using it for a while. The first Vape when it's cold, will be minimum vapor. But it picks right up with the second Vape, and all after that. It's kinda like the first Vape is a warm-up Vape. Probably due to the ceramic needing to be pre-heated hotter for maximum efficiency.
I haven't noticed any over the top flavor explosion like I was hoping with ceramic. It seems to be on par with other POD's in it's class, but it is cleaner tasting. Still I haven't used anything other than a quick 1 flavor DIY recipe in it. And it's a flavor I never used before. So it could be my choice of flavor.
Final Thoughts:
It's not plastic it has weight to it, like the Suorin DROP, so it's very easy and comforting to hold and use. It just has that like-able feeling to hold. (You know the one) I did miss my DROP. But now that I have the ET Auto Kit device. I'm stoked, because it's better IMHO.
Basically, if you are looking at other Tear Drop / Spaceship looking devices, or retired yours like I did, because of burnt cotton and small battery, or if you dropped it and the POD's won't fit into it now, or keeps popping out. I'd definitely give the ET AUTO KIT a try, you should like it a lot.
No ET's or Aliens were harmed in the reviewing of this product. Just need ET to call home now and have them send more POD's!
Thanks again to @Vaptio_official