I've been using rayon cotton for wicking more and more frequently and the more I use it, the better I get at using it and the more comfortable I am using it on any and every build. So I bought a larger amount for a very affordable price. The package came in today and when UPS set the box on the counter, I thought "I'm not expecting anything large"
Anyway…to the point of this thread/offer:
If anyone out there hasn't tried rayon and would like to, PM me and I will send you a zip lock bag full of it absolutely free. I'll even pay shipping. And when you get it, if I can be of help in getting you started, as in tips on usage, I will do what I can.
If anyone out there is strapped for cash and you need some wicking material, PM me and I will send you a zip lock bag filled with rayon, free of charge and again, I will pay shippping.
Here is why…this box of rayon I bought at a very affordable price…my Vaporshark and Griffin for scale: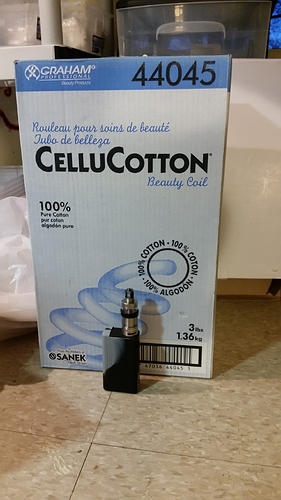 This box is filled with rayon…
This is a serious offer.