Still shows unavailable. I sure hope they allow us to order before the ban goes into effect.
Did you use the main site or the USA site?
Not much on the US except the Fireluke 2 and their coils.
Yeah, checked that too. There's never much on the US site for some reason. Still showing unavailable at FreeMax Chyna site

Their site has it available now but none on US side. Anyone know of anyway to get it shipped to USA cause it won't let me. Can't find it anywhere else atm either.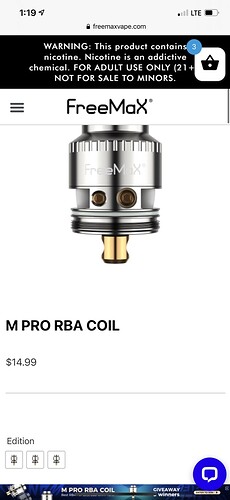 if they actually have any to sell, they will get them to FT etc, real quick. IF
Best bet is to email CS USA. Should get a approximate date. You can make your decision who you buy from then.
I just Pre Ordered 3 rba coils from Sourcemore.
for the price, I'll take a gamble they ship before the shipping ban.
My guess is they will be available very soon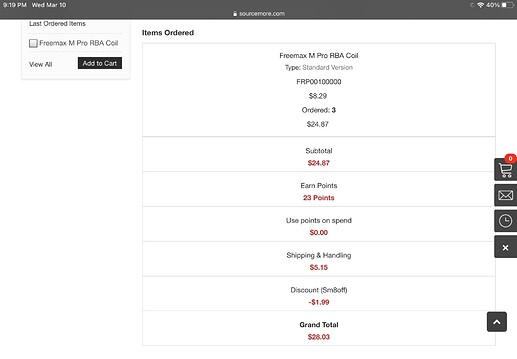 You k ow looking closely this one should vape pretty nice. I got 3 of the TFV18 ones from China. There's just a large hole straight up the middle. Looking at it, I thought to myself "They could've easily incorporated inserts". It's a lot of airflow. I've usually enjoyed honeycomb airflow because it adds a bit of restriction and smoothes everything out.
I pre-ordered mine too. I probably have more RBAs than most people have tanks lol. If I see them for any tank I have, I have to have it.
I wonder why they were only six bucks and change for me? Maybe we're in different countries or something.
This may make me want to try building again.
No they don't ship to US. I emailed them and asked lol
Who doesn't ship to the US? Ah nvm. Freemax I'm presuming.
I'm beginning to get impatient. Any idea when these are coming out? Pre ordered some…fingers crossed.
Yeah I hear ya @scifoc, I have them pre-ordered too, as soon as I get a shipping confirmation, I'll update

We ordered from the same place.

Just pre-ordered from sourcemore too, how did almost 3 weeks go by before doing so? Life is but a blur

I've pre ordered things from Sourcemore before that had me waiting 3 months. People stateside had their new item way before I did.
Looking on FT - it shows their pre-order ETA as 4/10/2021