Hi new here looking for fruit pastille recipe pls help
what is fruit pastille, can you describe this ty
Its like a mouthwatering explosion of fruit mate hard 2 describe have u ever ate a mouth full of rowantrees fruit pastilles that's exactly what the flabours like I can only get it in concentrate but I wanna mix it myself
i just looked it up , and it is a candy right ???
I mean that the search function on the recipe side works like a charm for those using it.
| Ingredient | % |
| --- | --- |
| Cotton Candy (10% EM/Ethyl Maltol) (TPA) | 1 |
| Fuji Apple (FA) | 2 |
| Kiwi (FA) | 5 |
| Red Summer (Watermelon) (FA) | 4 |
| Strawberry (Ripe) (TPA) | 6 |
Flavor total: 18%
Remember to rate it at
e-liquid-recipes.com!
Nice 1 mate I'll get that mixed up now and c how it goes cheers
No it's one i found on the recipe side and it says flyffygadz is the author
Its not the same as the concentrate iv had the fruit pastille concentrate is awesome this is just OK need 2 keep looking
i would give that recipe a 3 day to 1 week steep before judging it completely just my opinion
@Ian36 Hi mate where did you get the concentrate from would like to try it myself
Company Bigjuice sell Fruit Pastilles on ebay also sell direct but its cheeper on ebay
I don't know if I would like to buy flavor concentrates off ebay… not the brightest idea…


Just my opinion… seriously, purchase from the resellers that are authorized…
I know what you mean smoky they have a website and sell on ebay i don't rate there flavour tried it them when i frist started diy here is there website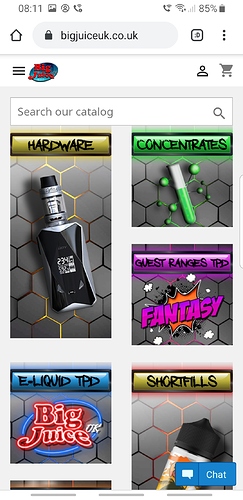 Most sellers on ebay are looking for quick cash and a way to make a name for themselves.
Nothing at all wrong with it… but for something I am inhaling or eating… I just don't know @Englishguy…
Just questionable. If you have your website set up right, people will find you. Just my thinking.
If you are truly any good… send samples to the resellers and see what happens.
Did you not read before i said i used them once when i first got into DIY and i mix from scratched now
I really was not replying to you when I posted that @Englishguy…
if you noticed… I was responding to @Top_rod

My point is that if it is just an ebay dealer… I would be worried.
tfa and cap both are sold in resell websites as well as ebay too…
buying an unknown company from an unknown individual… one never knows what they are doing, or if they are even doing things correct.

Maybe it is just me… but I wont buy flavorings off ebay. I like knowing who's fingers are in my flavors…