Hello ELR, I would like to share my experiences with Geekvapes new Pod Mod/AIO kit the Aegis Boost. @Heaven Gifts was kind enough to send me a sample of this product for review. You can find the Aegis Boost at the Heaven Gifts website here-
https://www.heavengifts.com/product/Geekvape-Aegis-Boost-Pod-Mod.html
These "Pod systems" are moving in a bigger sized, and more featured based direction these days. They're incorporating screens with VW control, RBA sections, and great mesh coils with these types of devices. Before this one I'd heard of the Smok RPM40, and Voopoo Vinci. Those are just two but they're both pretty boxy in shape. Geekvape went in a different direction and added this to their world famous Aegis line. It's small, light weight, sleek, and can supposedly take a beating.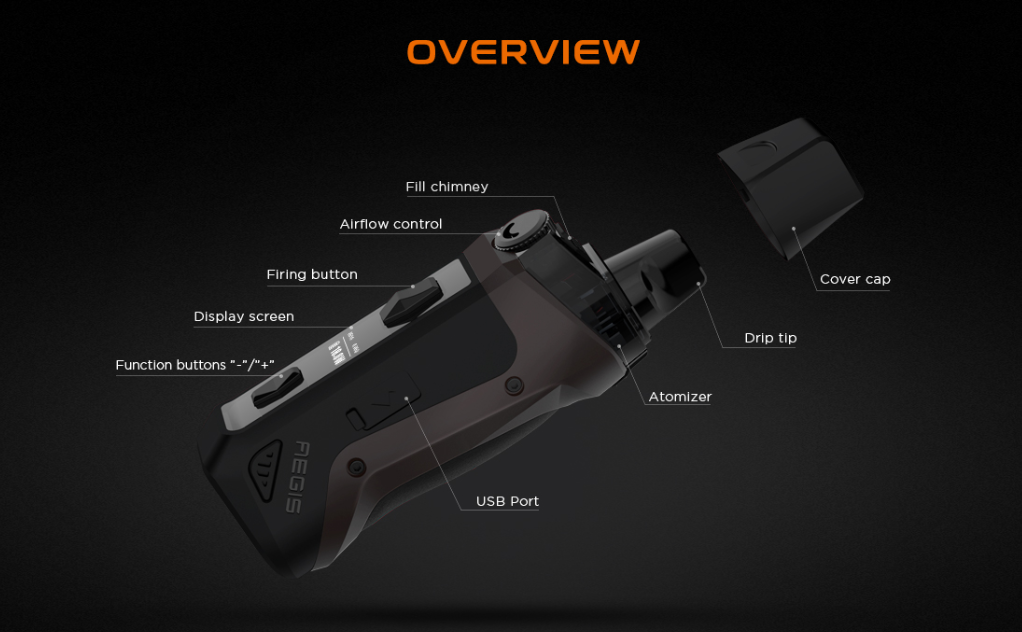 First impressions-
I thought it looked nice. The main body of the mod is made up of 4 parts. There's the screen, a rubberized grippy section that goes to the bottom, the Aegis styled border panel, and the Aegis styled leather back section with sewn seam. The rubbery part is nice and grippy. But it can also attracts lint or other dust particles. They wipe right off though if it happens
http://vapingunderground.com/attachments/1120191405a-1-jpg.151373/
The screen is nice and bright. I suspect the leather section is actually pleather but could be wrong.
What Comes In The Box-
Aegis Boost Mod
Boost Pod
.4Ω Mesh Coil (Pre-installed)
.6Ω Mesh Coil
Coil Tool
Flat drip tip
Round drip tip
Micro USB Cable
Mouthpiece Dust Cover
The Mod-
Its small and lightweight but also IP67 rated. On the top of the screen it shows a Puff counter (Top left), and your coils resistance or Ω reading (top right). Those displays are smaller than the wattage display setting. So your wattage is easy to read because its the largest portion of the screen. Lastly it has a "Bar styled" battery display on the bottom left.
The buttons on the mod are nice and clicky. The mod goes from 5W up to 40W in 0.5W increments. If you go past 40W it round robins backs to 5W.
My kit was a sample pack so I didn't come with a manual. It's pretty easy to operate though. I believe it automatically reads the coils resistance. When you put a different coil in it shows the new resistance. To power the device on and off, it's the standard 5 clicks. While the device is on, 3 clicks does nothing lol. So no options menus or anything like that.
I've discovered two things while pushing botton combinations.
Holding the fire button and the down button simultaneously for 3 second allows you to reset your puff counter if you wished.
Holding the up and down button simultaneously for 3 seconds allows you to lock your wattage setting into place.
Inside the mod is a built-in 1500mah battery. It lasts a good while and charges pretty fast. I don't think I've waited a full hour before it was already topped off.
The Pod-
The pod that came with my device is very dark colored. They lock into place securely. It has a nice big rubbery fill port. It also has an easy to use circular airflow control.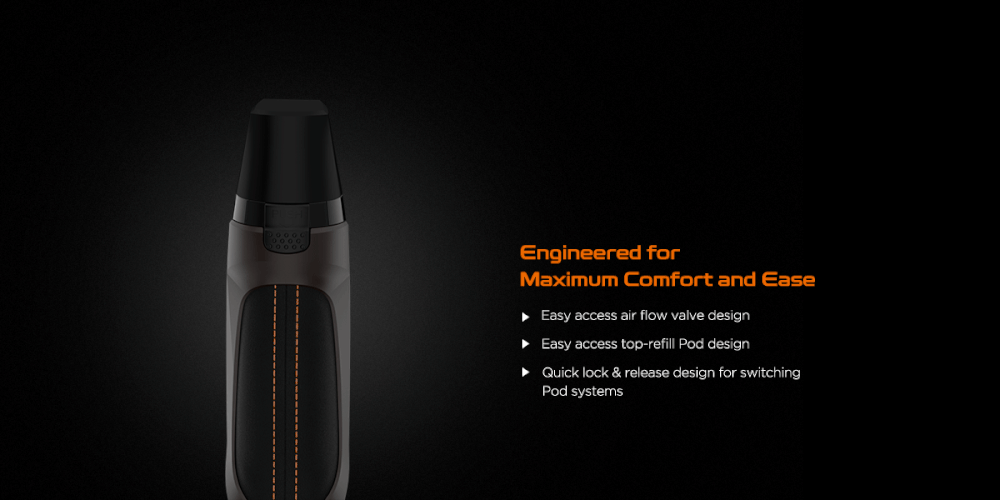 The drip tip cover is a nice touch. It kept dust and debris out while in my bag or pocket. The airflow control is easy to use and pretty easy to see what setting it's at.
http://vapingunderground.com/attachments/screenshot_2019-12-09-16-31-59-1-png.151382/
The Coils-


These coils fit securely and firmly. They give you a little wrech to help take them out. It works as sort of a wedge.
http://vapingunderground.com/attachments/1208191649a-1-jpg.151388/
These coils are a big part of what makes this kit great. There's two of them. One is supposed to be DL and the other MTL. But they perforn similarly in my experience. I wasn't about to choke the airflow way down to try and get my MTL on the whole time.
Ka1 Mesh .4Ω (25-33W)
http://vapingunderground.com/attachments/screenshot_2019-12-09-16-30-19-1-png.151385/
This is the one that's preinstalled. I'm sorry but I didn't photo these coils side by side while they were new. I'd used 30ML of liquid with the .4Ω coil before I took it out. In the photo its on the left-
http://vapingunderground.com/attachments/1208191646-1-jpg.151383/
They both have that same web styled mesh but the .4 has just a tad wider inner diameter. My liquid of choice was a Strawberry Cream that I'd made at 6mg (regular nic). I breezed right through 30ML at 28W the majority of the time. The coil provided a great flavorful vape with a decent amount of vapor for such a low setting. I had no flavor drop off when I'd changed it. I took some pretty long drags with this one in. I'd guess around 5 seconds or so per drag. It never once hinted at failure.
Ka1 Mesh .6Ω (15-25W)
http://vapingunderground.com/attachments/screenshot_2019-12-09-16-30-11-1-png.151386/
This one has a slightly tighter draw. It's hardly noticeable when using the airflow setting open for both. I started low and worked my way up to 20W. This is supposed to be the MTL coil but it performs similarly. There's two great things about this coil though. It burns less ejuice, and the battery lasts longer. I get approximately 200 puffs on this one while I was getting around 110-120 puffs with the .4Ω coil. I didn't close the airflow down to a MTL draw but I did close it off some while I ran the .4 wide open.
Drip Tips-
It comes with two drip tips. Ones flat and the others skinny and round. I didn't like the skinny straw styled tip so I used the flatter one. It swiveld nicely to where I'd need it every time. These are not 510 drip tips. They give you 2 and also the cover I'd mentioned so thats nice.
I think I got the gun metal version but they're making a variety of colors.
http://vapingunderground.com/attachments/screenshot_2019-12-09-16-32-11-1-png.151389/
There's also a RBA coming!
http://vapingunderground.com/attachments/screenshot_2019-12-09-16-33-07-1-png.151390/

From what I can tell it's a RDTA deck styled RBA.
http://vapingunderground.com/attachments/screenshot_2019-12-09-16-31-23-1-png.151391/
Size comp next to the Bident-
http://vapingunderground.com/attachments/screenshot_2019-12-09-16-28-12-1-png.151395/
Parameters:
Size: 106.8x 27.7x 39.2mm
Powered by AS chipset
Output wattage: 5- 40W
Kit set coil: 0.6ohm (20- 25W)
Input voltage: 3.0- 4.25V
Output voltage: 1.0- 6.0V
Display: 0.42" OLED screen
1500mAh built-in battery
Pod/ Tank capacity: 3.7ml
Material: Zinc alloy + Top grain leather + silicone
Features:
-Easy access airflow valve design
-Supports the usage of both pod and RDTA
-Over-discharge/ short circuit protection
-Output over-current/ overcharge protection
-Switch timeout/ over-temperature protection
-Quick-lock & release design for switching pod systems
Conclusion-
I like this little thing. Once I got to my desired wattage and airflow setting, I just cruised. I used the wattage lock feature and vaped away. These coils are of great quality. They provide really good flavor and last. I didn't really have to swap out when I did. I got ZERO leakage from where the coil meets the mod contacts. I know that's a big problem with some of these devices. That area stayed completely dry the whole time.
My biggest gripe with it is-
The pod is pretty dark. I almost burned my coil more than once getting dangerously low on liquid. I have to use a back light to see the approximateeliquid level.
The pros outweigh the cons by a lot though. This is a winner. I will be getting more coils for this and trying that RBA out. I have no idea how it stacks against the RPM40's and Vinci's of the world. But I'm guessing the Boost would hold it's own in a showdown.
Thank you for reading if you did. Thanks again @Heaven Gifts , it's been a pleasure.