I was sent this RDA by the lovely folks at Heavengifts to test and review. Its the updated version of the Loop RDA and the main improvement on the original Loop is an innovative "W" shape build deck incorporated with surround airflow design, which ensures efficient channeling of the airflow that significantly improves the flavor Vs the V1 while minimizing leakage. I must say I got zero leakage on this, even when I dumped a full 2ml of juice in the juice well. Also the W shape deck helps channel the juice into the cotton and juice well when dripping directly through the top cap. This process is so simple that I managed to rejuice whilst walking down some escalators. A feat that's not easy or recommended.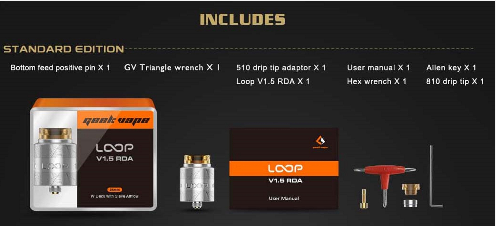 The special "W" shape build deck supports both single and dual coil building to meet different needs. This RDA comes with BF pin and numerous colours aside from the stainless steel you see below. it's also available in Rainbow, Gunmetal, Gold, Black and Blue, the Blue version comes with a Blue 810 drip tip, the Black an 810 Black Delrin drip tip, all other versions including the Stainless Steel version i received come with an Ultem 810. The drip tip is low profile but i also received another 810 Ultem drip tip with higher profile to keep those fleshies from getting too hot and a 510 adaptor, it's a standard 810 fitting so you can use other drip tips. The standout aspect for me is the machining. Geekvape have been getting better and better on each new release. This just feels right. The metal is thick and smooth, the O rings are sturdy and all the threading is faultless.
Build and Wicking
A breeze to build on, with only one gripe…those side screws tend to twist your coil tails when tightening, requiring a fair bit of adjustment. The screws themselves are tough and look like they wouldn't thread no matter what you throw at them. You also get two extra sets in the packet which is a great bonus. I tucked my cotton lightly into the deck which can hold up to 2ml of juice.
Flava flav
It's a flavor tank for sure. It can handle some big builds, but this is no comp tank for cloud chasers. I am more of an RTA guy, but I can see myself using this a lot. The airflow is just spot on, its smooth, no whistle, no spitting. My main issue now is that my zeus dual, creed, Bravo, aqua reboot yada yada just doesn't hit the sweet spot.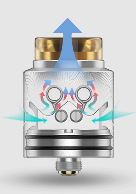 Parameters:
Size: 24(D) x 34mm
Type: Single Coil/ Dual Coils RDA
Juice Well Depth: 5mm
Drip Tip: 810/510(with adaptor)
Thread: 510 thread
Features:
Unique W-shaped build deck
Selective single/dual coil building
Upgraded sieve airflow system
Arrayed airflow design provides precise control
One-piece airflow cap placed in a fixed position(ensure airflow in the correct position)
Compatible with both 810 and 510 drip tip
The Tri airflow on the band but dual on the inner layer where it lines up with the correct position on the deck is an extremely clever fool proof design. The outer sleeve locks in place so you can't avoid getting the airflow exactly to the coils where you need it, and is sealed with double o-rings. This allows for dual airflow set up for dual coil builds with the middle airflow on the band left redundant or turning to line up the middle airflow with a single coil build and now the outer airflow sections will be redundant and the RDA will have airflow only one side. This saves the painstaking process of turning the airflow ring round and round, like you are trying to crack open a safe.
Pros
Excellent machining
Looks the nuts
revolutionary airflow design
Great flavor and decent clouds
Very Smooth airflow with no whistle whatsoever
Suited to squonking and dripping
Easy to build on but does twist your wire tails
Lots of spares included
Included BF pin
Standard 810 drip tips fit (comes with 2 ultem 810's)
510 adaptor

Cons
Its on the pricey side with a Retail price of $30+, but I am sure it wont be long before the offers appear at a more reasonable $20something