Sigelei 75w TC @ Origin Vape $54.99 w/ coupon code: 75wtemp04; and with free shipping I believe. That's over 20% off the retail price.
Needed to let you know, and others, the 100w Istick does not have temp control…
#The Sigelei 150w TC Mod is now in stock and for a limited time you can get it for $80.99 shipped!
To receive the discount, use coupon code sig150tc at checkout.
Customer service is top notch. They screwed up my order and I ended up with 2 free Snow Wolf.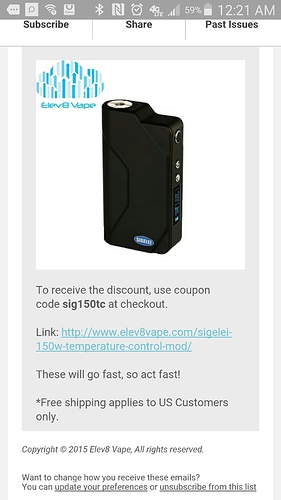 duhhhh??? wasn't paying attention???
Thx @Pro_Vapes, you pushed me over the edge, ordered it.
I'm waiting longer… I think it will get lower.
Is there a RBA for that tank yet?
The full kit should come with an RBA-section

Thought you said you were going to pass on the Sig 150?

It's Pro_Vapes! He said he'd get it when it reaches $60, just to say he has it




Crap, if it gets to $60, I think we will all own one at that price. Can't blame him there

Well you have a couple mods to play with, I have been waiting for a bit of a price drop to compliment my iStick 50. Maybe this will get me out of the mood for a week or two of wanting to buy another thing to play with… lol
I said if it drops to $60 I would get one.
One Stop DIY Shop - Coupon code Slick for 16% off their new juice line or mixing supplies. They will give recipes for their juices if you get one you like. That's pretty awesome. I might order a couple for that reason alone.
One Stop Juice!
Come try our new juice line
We are so excited about our new One Stop Juice Line that we are having a Sale!
We have our 70pg/30vg line and our High-VG line which is 70vg/30pg for drippers!
Use coupon code Slick to save 16% the new juice line and any mixing supplies you may need!
Try out our One Stop Juice line, 15ml for $4.99 after coupon code Slick! If you want the recipe for the juice, put a note in the comment section for your order or email us. We are happy to help you make it at home!
Exclusions from coupons as always are Clearance, Special Deals, Wholesale, and Artisan Kits.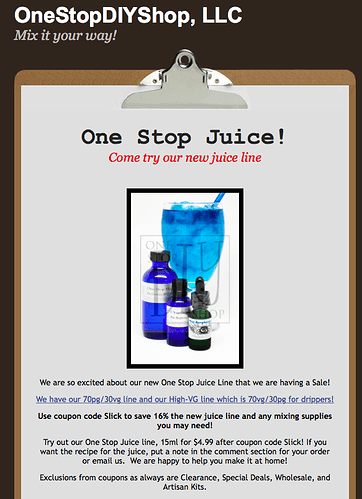 I just took a look JoJo. Tyvm.
AngelCigs is having a really good clearance sale. For Example IPV min for $29.00. Wow. I love mine. The button doesn't make any noise (click) and it's easy to press. (Not good if you put it in a pocket though).
PS. Sorry I disappeared for a few days. There's several replies I'll address soon. But, I didn't want you guys to miss this sale. Trying to make time to mix some new juice recipes. Have a "Try It" doc made with about 6 I want to make. One will be my first cereal vape.