I'm getting another one tomorrow… the black one.
Anyone found any good Fathers Day sales going on for the eVic VT 60watt mods (US Sellers)? I would love to get one of these for Fathers Day
Joye eVic VT 60w $56
They're advertising the white but they have all 3 colors.
From a vendor in our from
3FVvape Joye eVic VT 60w. China $56
Thanks NewDrip!
I found this one also, same price but a little closer to home and a little cheaper to ship.
Ask and you shall receive, I guess! That's a great sale…too bad I'm over my vudget. I guess I could make an exception, just the once.

Edited: Sorry, I forgot it is vudget…not budget.

Yeah, don't tell my wife, I'm a little over vudget too.
Bought me the eVic and then spent another 50 bucks on flavors at ECX, about the same amount on some Vapers Tek nic and some PG and VG, and then a few more bucks on some TI wire and cotton on Ebay

Happy Fathers Day

VaporKings has a sale going on…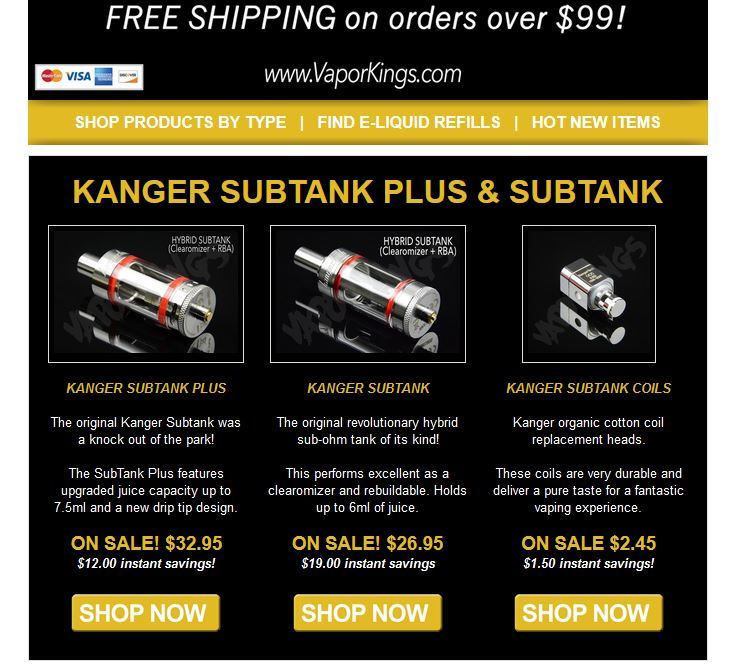 I don't see the mini as a sale item though… the occ coils might be of interest and someone my be able to get them to start giving members a standard discount also.
One Stop DIY Shop - Use code "fireworks" for 16% off everything but clearance, special deals, and artisan kits.
Sig 75w TC $58.49 Pre-Order US Retail (Register a new account for 10% discount and free shipping).