I'm not the best person to help so don't consider this a suggestion backed by great knowledge and vast experience because it's just the opposite of that

This is fun so here goes. I'm just going to list the flavors I would mix first without putting any percentages.
I say start with a base layer of Bavarian Cream mixed with a medium-small'ish amount of Sweet cream.
Then I would concoct a mixed berry blend of Blue Berry Wild, Strawberry, and a small amount of Raspberry. Maybe a mixed berry only ratio of (40% BBW / 54% Strawberry / 6% Raspberry), maybe even (30% / 64% / 6%)
Then I think I would finish with Gummy Candy.
My target is a thick full Berrylicious vape that is reasonable sweet.
I don't know man, that wounds like a pretty nice suggestion! Mmmmm, gummy candy…
I love a Lemon Cheesecake, although I'm missing these flavors, I would start with this;
.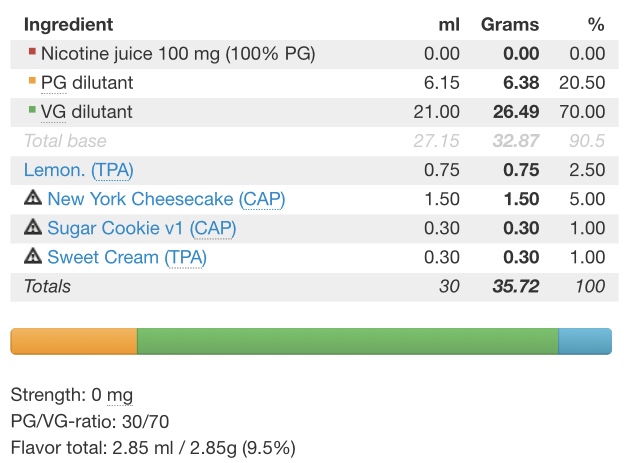 .
Not much Graham which is how I like my cheesecakes
Haha, thanks @anon70102222 for the support. I've never used the Gummy Candy so that one is a hail mary with only seconds on the clock.
Is there a gummy candy mix? I could try?
Is this a shake and vape?
Probably, but not in the list you posted.
I wanna mix something up, any ideas you could look at my list?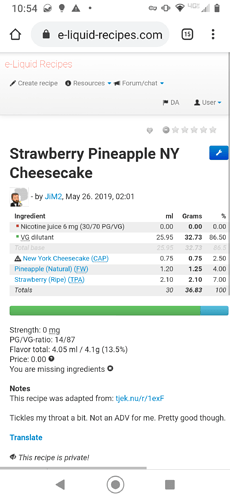 I found this in my recipes. You have a different Pineapple but it probably doesn't matter. My recipe here was just a cobbled together first version of someone else's recipe.
Anything else you would make I wouldn't mind making a cheese cake, but I wanna try other flavours in there
Those three suggestions look good. Are there any specific flavors there you want to use for sure?
You know, it might help us help you if you gave us an idea of what flavor profiles you like. Asking "Who's got the brains to help!" maybe wasn't a real good choice for a topic name.
Working with your listed stash I'd now make up a base of Two parts Vanilla bean ice cream to one part Bavarian Cream.
shake it and vape some, then let it sit and steep for a week and vape it, let it go another week and vape it. Now you got a base that you can use to target shank-n-vapes, on up to mature mix. For the record, I just stole that two flavor base combo by searching "Bavarian" in the recipes, opening a few to see if they contain any other base flavor on your list. It didn't take but a minute and I found three that used Bavarian Cream and some form of Vanilla ice cream. Of the three I found I noticed they all use roughly two parts ice cream to one part Bavarian cream. Next step I would wait till I'm hungry and stare at the list. Then choose a little something-something that appeals to your senses to add to your base.
From my perspective your list has some holes in but it's a decent start. To add versatility, when your ready to make another purchase, I would buy a couple of different tabbaccos, some bakery items (grains and flour; like waffle, crepes, muffin, biscuit, cake), some nutty flavor(almond, mixed nuts, peanut butter), chocolate, and some mint(wintergreen, spearmint). Also I would get lime and a couple of Apple varieties.
Of course taste is personal and subjective. I'm just trying to illustrate how you could add some diversity with just one next order.
.
Wow, vicious! Getting a little stabby now, eh?
Push that gummy candy up to 8pct or so …Use the Pineapple at the median pct sweeten
Is there a gummy candy mix? I could try?
If you scroll up pal there's a list

So what would you mix together??
If you haven't already, go to your flavor stash list on the recipe side of this forum. There's a search feature called What can I make. It will use all the flavors you have listed there and give you a bunch of recipes containing them.
Great suggestions here… any lemon or berry flavored cheesecake sounds yummy. js