Because different people expect/experience different tastes?
And then there's price-points. Different flavor molecules (at the most basic level) have different costs. In a business sense, if there's a market to be served, why not tap into it (if you have the resources to)??
Same reason MF extracts are made I'd wager.

Because they are different. Just like their can't be just one apple or one strawberry. Sure it's strawberry, but there is something difffernt between the two.
Guess I worded that wrong!! My Bad!!
Why all these on the flavor list? Was this renamed or reformulated at some point?
Hence the History Lesson?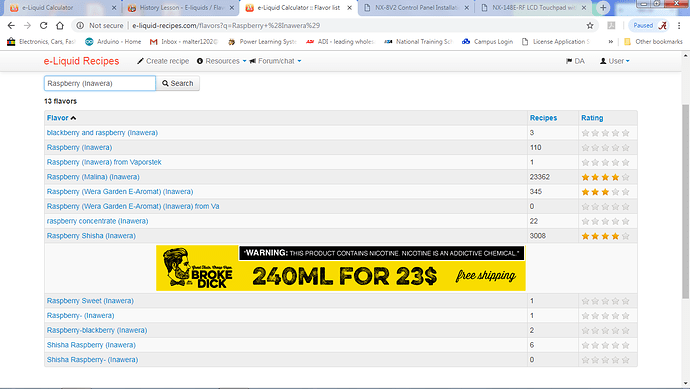 bc thats how people entered them … but INW does have multiple raspberries like shisha , wera garden and the malina koncentrate or whatever im pretty sure there are more though
this may be what is confusing … im not sure why there are only two on the website , thats something INW would have to explain , they may have also dropped one or two from their line INW has been good at changing things lately
Yes sir!
In an effort to help educate folks on the recipe side I have been helping @TorturedZen and this is one I run across quite a bit and was curious about the Molina and Wera Garden? Were these additional lines from Inawera?
Aside from the usual entry errors listed.
great question … im wondering if they are separate like the shisha line hmmmmm an answer i dont have , will be watching to educate my wee little brain lol
Malina is just Polish for Raspberry. Someone got a bottle with Polish / English and entered it that way in the database.
It's just "Raspberry INW"
Wera Gardens is a range of flavours. Just like with FA UK, they separate their flavors into different sections.
http://www.inaweraflavours.com/en/27-wera-garden-flavours
Inawera only has 2 raspberry flavors. They have their regular, then they also have a shisha line that has a raspberry shisha. Much like they have a strawberry, and then a strawberry in their shisha line.
Everything else you see is just noise, basically. I most definitely wouldn't base anything off the database here on ELR. I could enter "INW Raspberry dingleberry" and then it would become part of the flavor list. Mmmm… raspberry dingleberry
LOL @atssec97 Now I'm confused. Going to have to run to the rack hoard and check.
Excellent! I love learning new things! Thanks for the definition and the link! Another DB item that needs a merge!
New thought for a recipe!

So sorry! It's all straight now! Or is it?
LOL I only have Malina, had to check …
Bull City Flavors sells 3 different INW Raspberries
InW raspberry ( malina )
Inw raspberry WG ( wera garden )
Inw shisha raspberry
Can anyone confirm that these are actually 3 different flavors?
Shisha is definitely different, but IMO, Raspberry (Wera Garden) is the same as Malina is the same as Raspberry is the same as Raspberry (Malina).
There is no such beast as Inw raspberry WG
as far as I am aware as stated previously there are only 2 - shisha raspberry and raspberry
Ahhhh… The 2nd pic helped!

Mis-keys, extra spaces, typos, etc.
Basically "dupes in waiting" good sir!
They actually have 2 different product pages


The Wera Garden is the proline maybe they used to have raspberry in it but I don't think it is there anymore - INW change their line like the wind.
E-AROMAT : "House" flavors. Highly concentrated, but easier to use. Gold/Brass coloured label with a coloured panel in front and an illustration of the flavour. Often useable as a single flavour mix or with little adulteration.
WG : Wera Garden - the "Pro line." More difficult to use, but intended for professionals to use in blends, geared toward tobacco. Rainbow coloured label, with a big brown drop.
TDM : Tino D'Milano - this line is intentionally similar to FlavourArt's flavours: similar flavours, rumoured to be designed by former or current FA flavourists. Plain looking yellow label, big brown drop.
SHISHA: Blended flavours, intended to be suitable as one-flavour mixes. Based on the flavor of the sweet shisha tobacco used in hookas. Full color images of fruits and different background colors to match the image on label.
DUETS : Blended flavors, intended to be suitable as one-flavor mixes. Based on classic real-world flavor pairings.
CLASSICS : These seem rare, and I don't know if they are part of the other lines or not. White labels with "Yummy classics" on them and an image on the package. The only one I have is rhubarb, which says something about "classics," but I'm not sure what.
Source