I use fishing tackle containers, acrylic stands, and more tackle containers lol. I also have small bins that I use to store the ones I haven't used yet…
I just started doing the medicine bottles. Your post barely made it before I was going to share that idea. I wrap them in a paper towel and put them in so they won't rattle around. Then I label them. If I have a bunch of accessories and spares like I do with my Steam Crave tanks, I put the accessories in another pill bottle and label it X tank accessories or as specific as I can. For example, I have one bottle with six or so build decks labeled "SC Aromamizer Plus build decks, 1 of 2". I still haven't gotten past the proof of concept stage. Most of my stuff is still thrown in whatever box, or sprawled out in the open in classic hoarder fashion.

Oh, and @MisterSinner , you setup and display is fantastic

Thanks Jim. I appreciate that. I also label the bottles. Helps for sure. Every couple of months I go through the racks and see what I dont really use anymore and store them away in the original packaging. Then those go into larger boxes. As far as the spare parts etc, I have smaller storage containers. I'll take an up to date pic in the morning.

I store mine out in the barn, hehe….


Oh…you meant Atomizers and tanks


For now I just store them on top of Mods.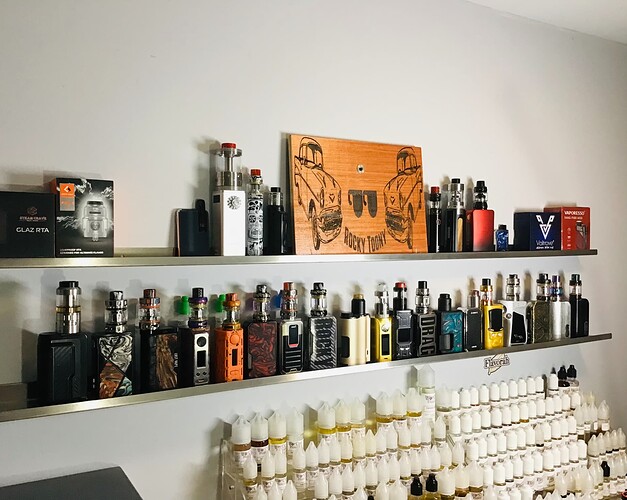 I do save all the original boxes with the spare parts
I use the drill method too: Anything which will take a hole without failing to do its primary role got one.
Even my beard brush can accommodate an atty.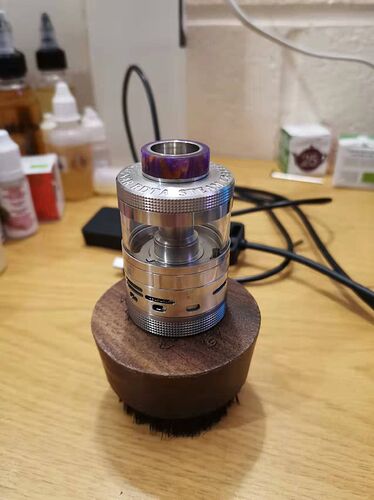 What's the difference between a normal "tank" and the steam crave "aromitizer"? Did I even spell that right?

hope so…
Wow! So organized!
Not me, mine is more like organized chaos!
Steam Crave are regarded as the ones to come up with the RDTA: A dripping atomiser with a tank. The key distinction between an RTA and an RDTA is that you can still drip directly onto the coils with the tank locked off. So, it is possible to drip one juice and store another for later - if you're so inclined.
@JiM210 the small organizers on the side are what I use for the spare parts etc. Found them cheap at Harbor Freight and Lowes. This is the current arrangement.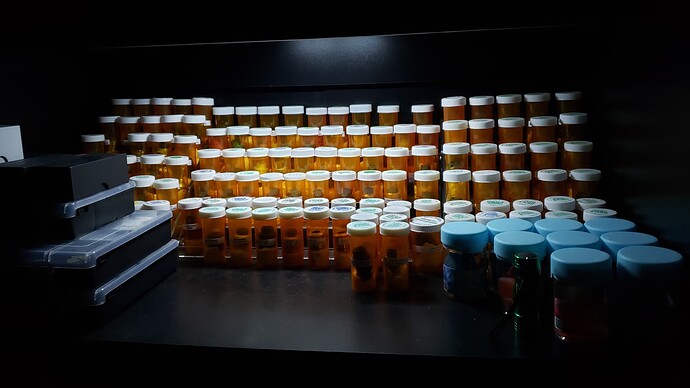 That's the creepiest collection of urine samples I seen so far this year.
I had atomizer stands made. I have a 2 story one that'll hold 20 25mm and a single one that holds 18 25mm. All my others go into their prospective boxes until I'm ready to use one again. You don't even want to know how many RTAS/RDAS I have lol My Steam Craves take up most of the stands.
@MisterSinner This is a WOW display. So organized. Absolutely outstanding.
@Rocky02852 Not sure which of your tank organizers I like the best, but am leaning toward the barn.

Thanks. I appreciate that.


Did you also design the lighting yourself? They're great!
They're battery powered motion led bars on magnetic tape.