I am having a terrible time organizing my flavours how do some of you set this up? I'm getting confused.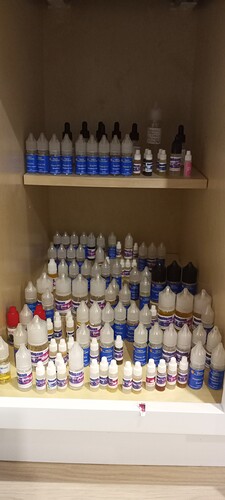 @ladycrooks you'll have to find what works for YOU the best, but I can tell you that with over 1,000 flavors in my hoard, there was only ONE way to keep my sanity. I have multiple racks, and organize by MFG, then alphabetically within.
There are a ton of pics and ideas here:
Arrange them by how you mentally group them.
I group by rows and strength.
So I know that top left will be a light botanical and the middle row will be a medium concentrate (FW Milk Chocolate according to my ordering).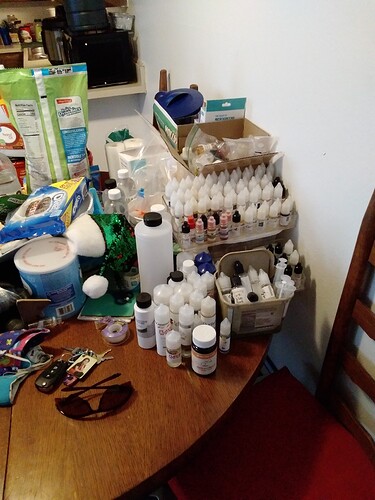 What organization?



That went out the window after the first 50 flavors arrived, hahaha! I live in a two bedroom apartment with my daughter and husband, with no space for a mixing station.
So my stuff lives on the dining table, that we don't use for dining, except when we have family over for supper or something…which is only a rare occurrence.
My mixing stuff is slowly taking over the dining room,

Wow, you have a flat surface to put stuff? I'm in a small apartment, so I don't have much in way of counter space and forget about a kitchen table! I live like a bachelor (forgive the sexist comment, guys)

and eat in front of the TV.
Organizing Alphabetically within each Brand makes sense to me, like how @SessionDrummer does it. Where to PUT the flavors is my problem, though. Right now they're all in a box under my desk.

I've thought about getting one of those kitchen carts on wheels. I came up with the idea when my freezer died late last year and I had to rush out to Walmart and bought a couple of styrofoam coolers. I had to stack them on top of each other 'cause there's no room in my kitchen. Now I'm using them like a ghetto kitchen island. Since smoking/vaping isn't allowed where I live, I'm using the top cooler as storage for my PG/VG.
Im in a 1bdrm with my bf but I found a good idea on here and. Its a acrylic nail polish wall mount or stand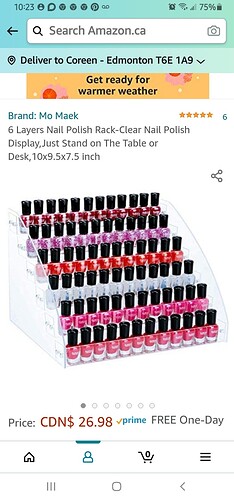 but ill need at least 2 mabye 3 by the time im done.
The two nail polish organizers shown in my photo…? My 11 year old daughter gave them to me, haha. She had them from her dad's house, when I obtained custody of her. She saw me moving my stuff in and out of boxes, when mixing and she offered. She is such a sweetheart. I still need several more hahaha
I don't like those display thingies because I want to keep my flavours out of the sunlight. Make sure you can keep them dark and cool
@ladycrooks obviously, the more flavors you have, the more a "system" matters LOL.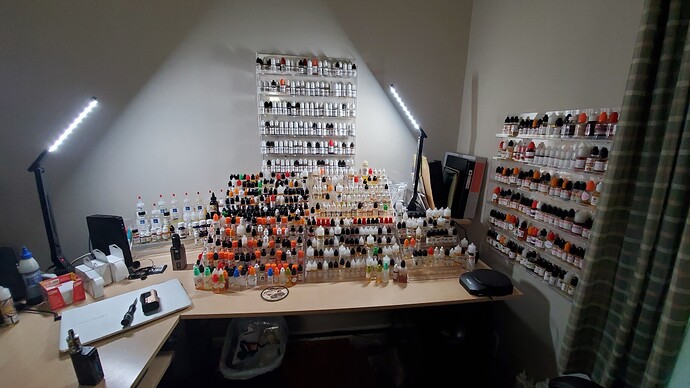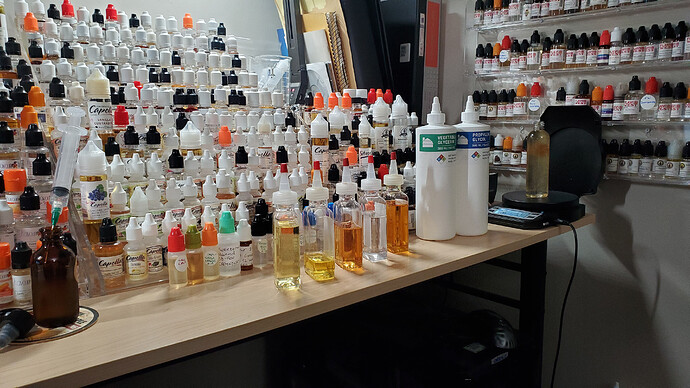 I quickly gravitated to nail polish stands.
My dining area is the innermost room away from sunlight or heat… very enclosed.
Lmfao


…, u'll NEVER be done…, welcome to the rabbit hole;)…
For starters… mine were in a box in my closet…, then I had to atart storing flavors in a filing cabinet…, then I made a corner shelf for them as my hoard grew…, I ended up using a portable closet afterwards & now I need ANOTHER upgrade, as I have NO room left for anything else really :(…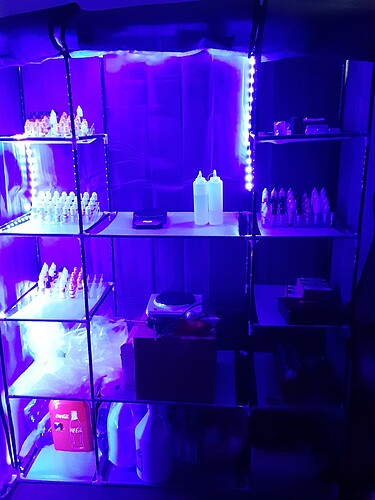 even with this, I STILL didn't have enough room, I've still got shit in boxes & I've recently purchased more:(…(flavors)
Nice. Wow, this is a deep rabbit hole. I never knew. …I see what's happening…this is me after 3 orders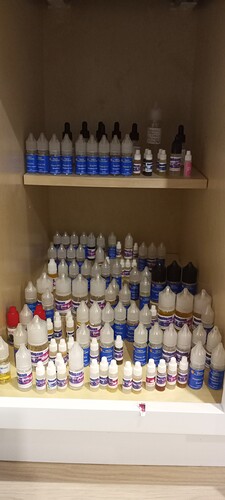 I was thinking the same thing. Actually thats why they're all in a cupboard.
Wow! That's quite the set up.
Is your BF copying my style?

I use lipstick display cases for 10mls and tall 30mls.