Thanks. you too.

I remember when I first got it and the Baal RDA. I was the coolest vaper around lol. Cost a pretty penny too. Now I can't even give it away.
My wife got it for me for Christmas one year. It is a unique and badass looking mod,
That, my friend, is truly badass.
Thanks

I can't wait for you to get your prizes!
@TW12 what a very generous offer and one I'd like to take you up on.
Unfortunately I don't have any experience with mech mods but it was my next step in the vaping journey, hence why I entered the raffle.
These are my sad wee vaping devices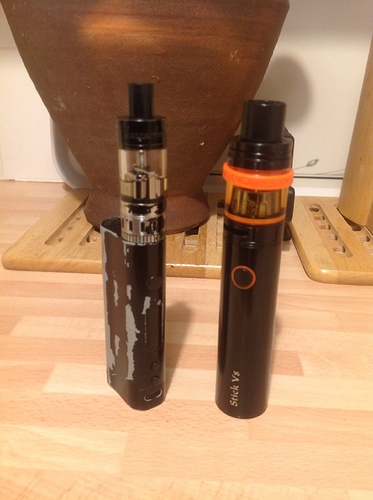 Good luck everyone!
BUMP

is that a kbox 120 or 200 on the left ?
…petals. Fixed.
@Lolly, you have to add some derivative of 'petal' in every post. It's so cute and @Lolly that, well, it's your trademark and I expect it.
those pics are depressing. I am not in the action, just following it, but if i had a vote it be for you bud!
She needs a nice pic flower petal on her tag
This is so very generous of you @TW12! An amazing example of what people here do for each other.
I do own a mech mod, which I have been very careful with. I don't own a WR, but sadly I didn't enter the raffle!

Lol!
Good luck everyone!
A Kangertech Subox mini.
Had it a couple of years now.
It does the job I suppose?
LOL
yes i like them. i have a mini as well and they all are still ticking i dont use them but i can they were actually solid devices for the time
Why thank you! LOL
Unemployment for a while affected what I could spend any spare cash on and what spare cash I did have, I did spend on was concentrates! Getting on my feet now so that should and will change? They have served me well!
your in England or that area ??? sorry my brain is dead
I was in England for a few years but back home by the Bonnie Bonnie banks in Scotland.
Woftam
MisterSinner
Steampugs
SmilingOgre
NChris
Dan_theMan
Chewy
mrpipes
Jenny1978
Right petals…list above…holler if I've missed anybody and hurry and enter if you want to before @Whiterose0818 rocks up and does his randomiser magic