Whether you use Liquid Barn liquids in your eLiquid or your favorite recipe, rest assured that the product you're enjoying is of the absolute best quality and will continue to be available to you. Before these new FDA measures were even in place, Liquid Barn was – and will continue – complying with all regulations.
Whew! There are quite a few LB flavorings that i use in my mixes now, their creams are incredible. This reminds me, i need to place an order…
Thanks @LiquidBarn
yeah my mom cleaned me out of my lb flavors, i need to place one but wanna make it worth it. Any promos @LiquidBarn lol
There is a discount code on the resource page for them. I dont remember how much it is for tho.
I have three recipes that use only there flavors
I have a few myself, i havent released many of them yet as im a bit of a perfectionist. Their tobaccos are excellent as well.
Haven't tried those at all. All I used is what came in the starter kit. And I like them so far
Mmmm, I'm getting a bottle of their sweet pipe tobacco for my birthday

Its pretty darn good but that is coming from a tobacco ejuice n00b. I really like the Vanilla Tobacco and Butterscotch Graham Tobacco.
You might be that, but I'm sure you can tell the difference between a good tasting tobacco juice and @ss juice

Ass juice, yuck! hehe
Euro-Flavors has some really good tobaccos too. I LOVE their pipe tobacco.
So yer an August baby too? My 45th is on the 23rd, cant believe i made it this far with all the bad things i have done to this poor body.
Unfortunately unlike the name suggests, Euro-Flavors are not for sale in Europe (yet she says hopefully) and they don't ship to Europe either

Let's give each other a big handshake brother. People that knew me in the past never expected me to make it to my 21st birthday, me included, so the last 34 years have been a bonus. I laugh my ass off every year when I add another one.

Ahh yeah, for a second there i forgot you are from across the pond, hehe.
Hopefully vaping has given us a few more years to watch the wonders to come!
out of likes again and off to bed, it is 12:30 AM here and I have a birthday to attend tomorrow/today, darn, it is my own!

Happy b day

Happy B-D @Josephine_van_Rijn~!
I believe I'm punished with a like ration

I can only give a few and than have to wait again, and again, and again

HaPPy BiRThDaY @Josephine_van_Rijn !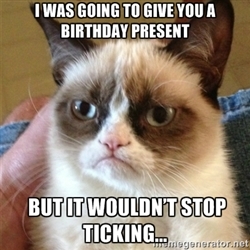 That is why customs has your mod!

Happy birthday @Josephine_van_Rijn hope you have a great day.





️:yum: