Has anyone tried these flavors they just showed up on ecigexpress?
I just checked these out. They must be very strong @ $10 plus shipping for 5 mls. Single flavor mixes need to be .5% and spot on to justify this price.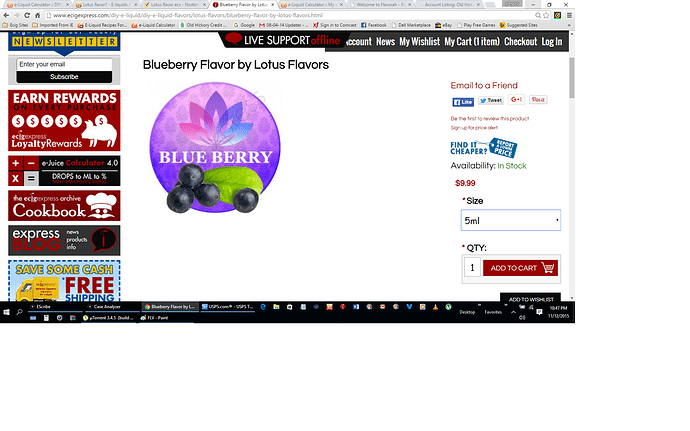 No ??? Hmm you know imma check'em out thou

Interesting ! Thanks !
What ??? 9.99 for 5mls really ? No way it better be liquid gold for that price. I realize quality and I for one have bought enough garbage that I will pay top dollar but this seems steeper than average.
Ah says its medicine flower ! They're all organic and are pretty legit so I've read.
Soooo I just may retract my above statement hee hee and may grab a few ?
Lotus Flavors
Lotus Flavors is the brand for you if you want to vape with the world's best collection of certified organic, all-natural aromatic flavorings. Manufactured by Medicine Flower, America's premier aromatic oil and flavoring producer, and designed exclusively for use in DIY e-liquids, Lotus Flavors provides the best aromas, the best all-natural flavors, and the best vaping experience you can put in a DIY e-liquid. Lotus Flavors are obtained through a proprietary sub-zero technology, making them up to 30-70 times more potent than other flavorings. All Lotus Flavors products are water and oil soluble, and contain no sugar, colorants, diluting agents, or preservatives.
I been wanting to try MF flavors. I'm giving them a shot.
I'm hoping to dilute these to 50% and then use at .5-1% single flavor. I'll try it with 1 gram 1st before I ruin a whole bottle.
I agree. Once I seen it was MF I thought well that's probably a good price. They supposedly uber strong. Ken o'where was the only person I know that used them often but we know he is Mia for now. I'll be interested in hearing how your experiment goes !
Score ! But what if your not really into that flavor ? ewhh 22$ for something that maybe great …or may not. However they have a superb rep.
You and I both have been at this long enough to know thou quality is where it's at !
I may play it safe and get a few 5mls and check out my favorites like strawberry and other fruits b4 I get fully involved.
I'll take those points off your hands

I'm not sure anything can justify that price for me. Organic in the vaping world has made me chuckle a little bit and organic or not, $2 per ml is crazy.
Sorry that's just my opinion of course and I know quality this and quality that but unless all I need is 1 drop per 30ml mix…pass

I'm trying to let them accumulate. This order should give me about 115.
That's in the ballpark. I use to economy vape… but I like the premium end a lot better. For me this premium stuff really payoff. I like taking the guess work out of the picture.
35 drops per ml x 15 mls per drop = 525 mls of eliquid for $2 of flavoring…
1ml should make 500+ mls of finished juice.
More power to ya! I'll stick to my economy FA, INW and FLV for now. If it turns out that indeed 1 drop flavors 30mls or more, I may get a bottle out of curiosity. I still feel like they are just taking advantage of the consumer but to each their own
Just my opinion but Blueberry is spectacular.

I agree, but by economy I mean TPA, Cap and FW… I consider these you posted to be premium also.
This is also available for $22 for 15ml at Medicine Flower. I just want to try it before I knock it. I've been wanting to try these for a while. From what I've read nothing comes close.
You aroused my curiosity about MF flavors a long time ago. I finally get to try them before I go all in. As you can see some don't see the value in these flavors.
They are very potent but i do like my flavors on the lite side. I use just a few drops in my Blueberry Custard but i also use Billberry in it.
I was reviewing your post and it sounds you're a little offended…
Sorry you feel that way but I have nothing to be offended over