Wow…simply beautiful…stupid question, is it 8pm on the 4th or 5th? Just trying to figure out the time difference from you to me…it is 4:45 a.m. on the 5th on the east coast of the U.S. right now…oh and it gets dark by 5:00 pm nowadays
Summer daylight savings on the 5th we are always ahead of you. Always.
Ah…good to know! I wish it were summer here…but it is a bitchin' 31 F or a little less than 0 C right now…I hate the cold…
A beautiful scene from the future!
Its colder than witches tit here, and grey, on a scale 1 to 10 how jealous are you right now…
@Volition did you get that weird ass rain over there it rained here and there was not a cloud in the sky and I left the damn car windows open lol. After than it was/is a lovely evening.
No weird rain this way. Hot day today 36°c but the sun had some energy behind it.
"A land of sweeping plains"

-25C in Germany at the moment. I'm almost glad to be in the UK where we have just under 0C at the moment.
At least you can as vapers warm your hands with your mods. Try that with a cigarette. I have not done winter whilst vaping yet. Vaping with gloves no problem, another pro. Yes.
hehehe I went one better this year attached a tube to my mod inside my ski jacket and fired it as I was skiing sucking on the tube (probably not the safest vape ever but neither was the run I was on lol) but I was downhill vaping all day.
too much… much too much. love too much.
Beautiful mate.
Sure do, 100km away same water system. Our lakes are at the junction of the Goulburn & Broken river.
This lake is only the Goulburn.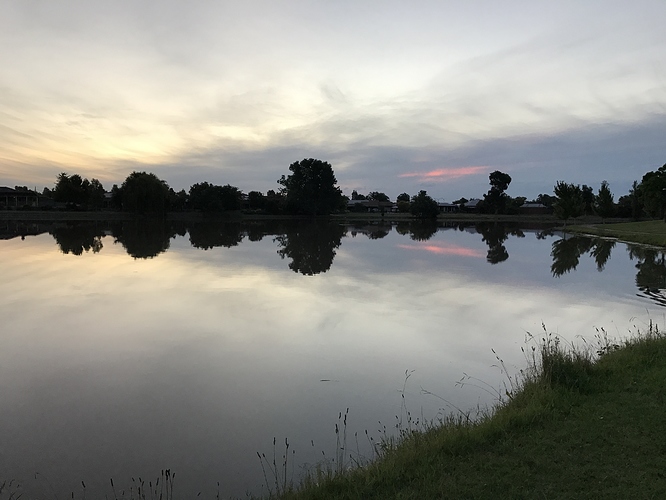 When i look at these pics and think 38 degrees i can almost hear the mosquitoes.
Ha ha ha, was just thinking the same thing! But also, what a lovely place for an evening walk.

Well, the heat, the mosquitoes and the fact the every 2nd living thing you come across is probably deadly venomous are the reasons why i never considered Australia as a holiday destination. And of course the 24 hour flight.
@woftam have you bought anything from fasttech. I'm wishing to get 2 OBS engine RTA tanks & no one I can find in Australia has them. I had a look at elegomall and also vapesourcing with no luck either.
They also have a some little parts is like to get to make some stands. Not a priority, I can get them from elsewhere if you think fasttech are a no go.
Anyone else used fasttech?
They are about $17 us + shipping (works out about $44 for 2 inc shipping I get wholesale) once you log in they dont have silver only black
No I have never used fasttech before