Liquid Barn has 20% off all liquids and flavors with code Memorial.
Nicotine River has free shipping this weekend with code Happy.
I was about to order a couple flavors yesterday… I'm glad I waited.
Thanks for the share @JoJo!
Well that sucks! I just received my order of Nic and flavoring's from Nicotine River. Figures
Could of saved some cash on shipping.
Thanks for the heads up JoJo. I'm going to order some more flavs.
My nicriver free shipping email was in my spam filter for some reason. I would imagine other gmail users here never saw the message.
https://101vape.com/ is having a sweet sale on batteries. Not just LGs
I just stocked up. And from previous experiences, 101vape is on point with fast shipping and customer service.

70% off Inawera with code INAWERA70
Ecig.com is having some great deals right now. They have a 20% discount code Mday20 but you need to go through this link for the code to work. http://www.ecig.com/?a_aid=FORTHEMONEY
I picked up a VT133 for $70.40 before shipping!! If I would've remembered to order batteries shipping would've been free.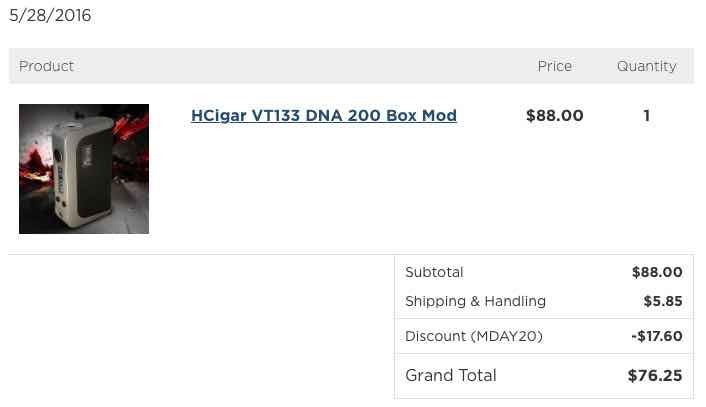 How are you liking the vt133?
Just ordered today. I'll let you know when I get it. Love my other DNA200 mods, but honestly since I prefer Temp Control and I never go above 100-110 watts in power mode. I think it will fit my needs very nicely.
Kidney Puncher 20% off sale. Code: MEM20
Get some of that annealed SS316L wire!
I'm sure it has been mentioned already but BCV has 10%
another list of sales for today 5/30 with coupon codes: