Yes - that's totally it - you've got it dude!

You could even use more that 10% or 5% - this is just a starting point I use - make it using whatever strength suits your needs

Now I understand to use flavours with percentages thank you so much
What you think about this recepie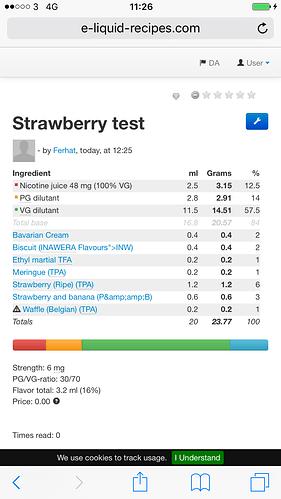 I see biscuit average mixing quantity 1% but I use 2% it might can be too strong well I will do 1%
Theres a quality answer for you right there.
Who makes ethyl matilda?grrr more stuff ive got to buy lol,sorry couldnt help myself.
Good to have you here,your defo in the right place.
I personally don't care for biscuit higher than 1%, so if it was me I'd start lower than 2% on that one. Other than that, your recipe looks pretty good! I don't think it will be too creamy at all. My only other pointer is to be careful with the ethyl maltol, it can mute your other flavors especially over time. Maybe make one recipe with the EM and one without so that you can compare them.
Sorry my mistake should be ethyl maltol tfa

I used biscuit 1% !
Next diy I will with out ethyl maltol ! You right I just read some about that concentrate ; it can kill all other flavours says! I bought ethyl maltol as a sweetener but if you guys have better one I want to buy and try
Best Regards
Ferhat
Hi my wife want to buy ultrasonic cleaner to me for steeping my liquids!
Is this really matter to be cold water or hot water ultrasonic cleaner
Best Regards
Ferhat
I know i was just teasing,your like me a little unsure when u first start out,dont be,these guys are amazi g when you need help or want to ask a question.like i said your in the right place ask away you always get an answer.
I do occasionally use EM, but only if the flavors I'm using are harsh and very strong. For sweetening I usually use tpa marshmallow around 1-1.5% or pyure stevia at around .5% (half of a percent) give or take.
@WhiteRaven is selling an Ultrasonic cleaner btw.
I don't anything about the subject, but if you type "Ultrasonic steeping" or "Ultrasonic cleaner" in the search bar, you'll find a lot of opinions.
Hi
After diy recipe can I add extra flavour into bottle ! For example thing I diy banana liquid after two days there is a not much banana taste and smell so can I add some more banana flavour into bottle 4or 5 drops ?
Best Regards
Ferhat
Yeah you can totally do that. But I suggest you write down everything you do so that if you love the change you can replicate it.
It is good idea to write down thank you
I do it by weight, tare an empty bottle then the partially used bottle so you know the net weight of the e-liquid. and you already know the total flavor. enter that onto (you guessed it) CosmicCalculator on the Adjust tab see "flavor add to mix up". you can calculate how much flavor by weight to add to get to your desired total flavor percent.
NEW on ELR: to change the entire recipe you don't need my calculator now, ELR has that tool on the wrench!.