Joyetech eGo A|O ECO Kit
Compact modern attractive all in one pen that is good for new vapers; it delivers great flavor and constant power at an affordable price. This device could change the way we vape to low power and high nicotine?
STEALTHY: The new EGO ECO is the smallest vape I own, about the size of a small cigar. It measures only 14mm (0.55 inches) diameter by 113mm (4.44 inches) long. And it weighs only 37.5 grams or 1.3 ounces.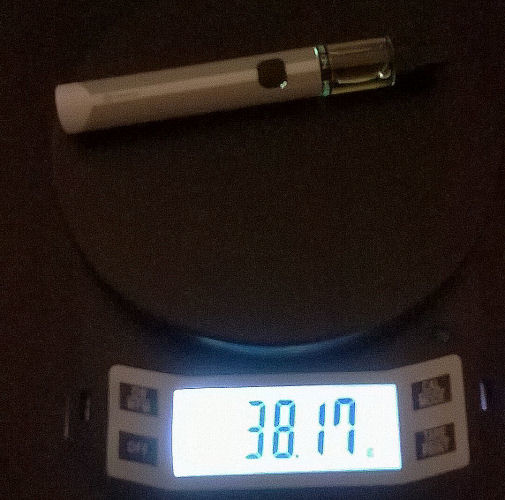 MOUTH TO LUNG: It has a tight draw that is great for those just making the transition from cigarettes. You can MTL (mouth to lung) draw on the device and it gives a pleasant vape that is comparable to the amount of smoke from puffing on a cigarette. With high nicotine E Liquid you can get the satisfaction you expect.
FLAVORFUL: The coil is double wall construction that allows the airflow to come in the top of the pen, along the outside of the coil, and then up through the middle of the coil to your mouth as you take a draw. This design in my opinion is superior to other designs that do not add that layer of insulation between the coil and the juice. The juice does not heat up and degrade as you use the juice in the tank, so the juice will still taste good when the tank is almost empty.
LONG BATTERY LIFE: It is advertised as being optimized for high nicotine e-liquid, And I would suggest that for this device. In my opinion you should use higher nicotine by doubling or tripling what you are used to. The reason is it only outputs about 6.8W to the ECO micro coil head; this adds to battery life but produces fewer vapors than most of the larger box mods. Even though it does not produce a lot of vapor, it is not short in flavor.
CONSERVATIVE: This device has a small volume tank, only 1.2ml. And a low power 650mAh battery, pushing only 1.85V. But the computer in this mini-pen causes the device to be completely consistent, with no voltage output drop to the coil, from the time it is first charged to the time the battery is about to die. And with the low 1.85V power output it will run a very long time, to me it seems almost two times longer than a single 18650 battery mod.
SIMPLICITY: Easy one button operation, turn it on to use it, turn it off to put it in your pocket. No settings to mess up. No display or complex numbers to confuse you. The only thing you can change is the light color for the built in LED that illuminates the tank when you vape. Nothing else to think about, just charge it up, fill it up, turn it on, adjust the light to your favorite color, KEEP CALM, and VAPE ON.
SMART: Although the device does not talk it does communicate. When you turn it on the light flashes 3 times, then slowly becomes lit, to let you know it is on and ready. When you turn it off the LED flashes 3 times then goes dark. When the battery is finally getting low the LED will slowly come on and off to tell you it is about time to get a charge. The lower the remaining voltage in the battery, the faster the light flashes.
SAFE: This device has Joyetech's dual circuit protection. This includes Protection from overcharging, over current and over discharging. This means if you forget to take it off charge the device will stop charging automatically. If there is an accidental press the fire button the device will turn itself off in 15 seconds. And the device will not over power the coil and cause the battery to explode if there is a short in the coil.
AESTHETIC: The device has a beautiful LED light that illuminates the tank when you vape, you can change the LED color to your favorite. You change the color by turning the device off then hold the fire button till the light indicates it is ready. Then press the button to change between blue, green, cyan, red, purple, aqua green, light blue or white and no light.
CHANGE THE WAY YOU VAPE: We all know how dangerous smoking a cigarette is. And we know that vaping is safer but still may not be perfectly healthy. This device allows us to use less power and inhale fewer vapors, and by using higher nicotine e-liquid we can still get the satisfaction we want, without sacrificing the flavor that makes vaping an enjoyable experience. I mixed some 27mg e-liquid that I found quite enjoyable using the AiO ECO.
CONCLUSION: I am too deeply rooted in my high volume 9mg vape habit and will probably not completely convert to this new high nicotine style of vaping, but I will be mixing some high nicotine juice and will use this device for quick trips when I don't want to carry a larger mod.
SUMMARY: This is a fine device, very small and lightweight. Its small size and colorful light will make it fun to use at night. The price is low. It has a top air inlet with thru coil airflow. It has a removable glass but not a threaded tank. The airflow is tight which will appeal to mouth to lung vapers. The airflow is not adjustable but can be changed by installing the optional MTL top cap with smaller air inlet holes. I do recommend this device especially for first time vapers.
SPECIFICATIONS:
Diameter: 14mm (0.55")
Height: 113.0mm (4.44")
E-liquid Capacity: 1.2ml
Coil head: BFHN 0.5ohm head (6-8W)
Max charging current: 1A
Output mode: constant voltage (1.85V) output
Max output wattage: 6.8W
Battery capacity: 650mAh
Available Colors: Red, Blue, Black, Grey, Green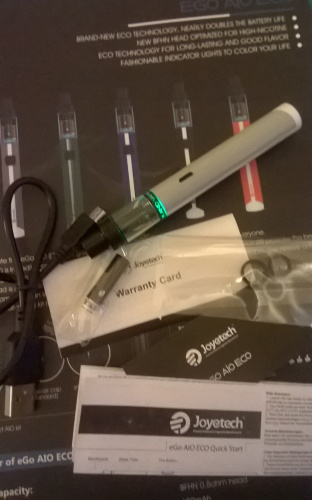 KIT CONTENTS:
1x eGo AIO ECO
2x BFHN 0.5ohm head
1x USB cable
3x Silicon ring
1x Manual
1x Warranty card
1x Coil Information card