Capella Super Sweet is an essential must have for any new mixer.
My 2 bobs worth…FLV Sweetness is the only one I've used more than a few times
I didn't use super sweet or any sweetener until I'd been mixing more than a year and it just tasted like I'd dumped spoonfuls of sugar on top.
Where as FLV works through the mix and I feel provides a more balanced sweetness overall.
Yeps… sounds like you enjoyed it too, @marsh8 …
have to admit, first time in years I have heard of a sweet tasting like ear wax


At 3% it probably tastes like candied donkey's ass, and no, I won't experiment. Not even for science.
@marsh8 Sweetness flavoring concentrate formulated from the ground up for vape manufacturing and creating DIY ejuice recipes. FLV Sweetness is a flavorless sweetness enhancer. It will not gunk coils like other sweeteners that are formulated for beverage and contain sugar buffers and fillers. No fructose, dextrose, maltodextrin. PG base.
Thank you for the thoughtful responses. I appreciate you taking the time. I received my kit in the mail and now I am super excited to mix. However, I am still lost in that after I have added all of my flavors it returns no recipes for my stash. I have my pg, vg, 3 mg nic and 17 flavors but not sure where to start. What if I just want to do a basic recipe with just one flavor (Toasted Marshmallow TFA for ex.), how do I go about it? I'm looking through the recipes and not sure what to do if I don't have an ingredient. hmmm, I will keep researching throughout the day and hopefully can find the answer on my own. Thank you and I hope you all have a nice weekend.
@torch100 well we can't build it for you, but we can help. First things first, let's see what you've got. On the RECIPE side of the site (not here on the forums), go up top right, User > My Flavor Stash. Once there, check the checkbox for "Allow others to see my stash", and copy the link here for your Flavor Stash, so we can see what's you've got. It will look like:
https://e-liquid-recipes.com/publicstash/71311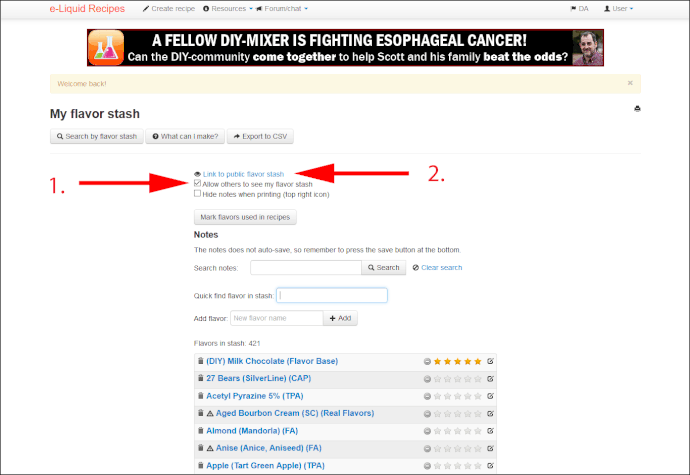 And I do suggest, try all your flavors as solos… start low… work your way up till you can taste it… and take notes.

already posted that

Yes. I read that, thank you. Maybe I just need to start experimenting, take note and see what happens. A bit overwhelming.
Really it is the best way… You never know, you can come up with some mighty tasty recipes

bickford and flavor west are the only ones that sets off some warnings… you may want to research those.
the rest you can solo them… start around .25% and work up.

Hey torch if I learned anything its base flavors lead to stupid amounts of flavors that are not in the base🤣