Couldn't have said it better @woftam.
Those changes would have prevented me from making the mistake I made. Great idea.
Excellent work @Nicotine_River! Thanks for keeping a lookout for your customers. Do you anticipate a release date for update?
Estimated to be 1-2 weeks but that is not currently a definite time frame. It may be longer or even sooner!

That's a pretty decent time frame-frame- Thanks!
Excellent, and thank you for listening to the community!!

Hey everyone! We're having a weekend sale!
25% off all nicotine & clearance flavors! Check it out!

Ends: 10/06/19 @ 11:59 PM PST
No Code Required
Enjoy!

Is the site going out of business? 25% off nic plus 25% off a metric ton of clearance flavors. I still haven't seen all of them because the page keeps loading with more flavors. At first I was happy but it kinda looks like they are getting rid of everything.
Hey Frank, no we are not going out of business.

Regarding the sale, the clearance flavors are just flavors that we have an overstock on. We will continue to carry these in the future, they're just being put on clearance until the excess inventory is sold. The page of flavors did get larger, due to the lowered thresholds for inventory we have implemented.
As for the nicotine, we had an abundance of nicotine to mix and we thought it'd be a good time for everyone to take advantage!
All in all though, Nicotine River will be fine.

If you need anything please let me know!
Gotcha… Thanks for the reply. I was honestly a little worried for a minute because I was only expecting a handful of flavors on sale. Getting my order ready now

Of course! We hope you enjoy the sale, thank you for your support!

Are you doing Age Verification at the end of orders in order to process them? For the states that are 21+?
Yes, all orders go through BlueCheck our age verification platform and are also manually overlooked by our staff. Since we are located in California and the legal age here is 21+ we are focused more toward abiding by our local government law. Even if the customer is located in a state that allows vaping at 18+ for example, you will still not be able to order from our site.
All orders will be flagged and the customer will be contacted if the system notices the customer is possibly under 21.

I'm guessing that the new site is in process of being rolled out (noticed changes from the mile long list of flavors in a single page, to being listed by pages with numbers, which allows us to skip around!!

) or has been rolled out (and is in the process of being tweaked).
First off, noticeable improvement to being able to browse (Android), however it's still a bit slow (which I would expect as things "solidify" server side).
Had a few issues though.
I had to reset my password (which I'm pretty sure should have worked). No biggie though. Even that was a smooth process.

Second was that I could not apply my military discount to the regularly priced items in my cart.
It said only one code could be used at a time (i understand not wanting folks to layer a discount on an already discounted item, and I consider it a bonus when some businesses do allow that), even though there is no code necessary or entered by us for the clearance items.
I do appreciate the fact that you offer a military discount, but I wanted to ask whether it was an oversight (during the assumed transition), or if it was a conscious decision, and it's actually working as intended?
I mentioned this in my order comments (as well as included the VerifyPass code), but that brings me to my last observation.
After the order was placed, I promptly received the email notice. At the bottom of the email is a wonderfully convenient link to "CLICK HERE TO DOWNLOAD INVOICE".
Unfortunately it does not work (as it is now).
I was not logged (on a browser) the first time I clicked the link. The result contained in the pdf was "the account is not active".
So I assumed I needed to be logged in to NR first (so I opened the browser and logged in). I then went back to the email, and clicked the pdf link again (as I was trying to find out if my comments were included on the order), but the result was the same as not being logged in.
I'd upload the pdf, but it's not permitted here sadly. I can email it if you like though!
Bottom line, thanks again for the clearance items, and I look forward to seeing what the new site brings!
PS: you could completely omit the pictures in the cart view (for mobile devices), and kill two birds with one stone! (Save bandwidth, and make it easier to view what's in the cart without a ton of scrolling!)
Hey @Sprkslfly thank you for your feedback on all of this.
I apologize that the website was acting up on you. It's been a bit buggy lately, but thankfully we expect the site to launch soon! With the launch will be a roll out of bug fixes immediately after for anything that persists to be a problem. We appreciate your feedback greatly! Also, what is your order number so that I can email you a PDF of your invoice? For the veterans discount I will look into the app that we use to see if there's anything unusual. Moving forward as well, the Clearance section will be code required so that customers have the ability to choose either a veterans discount or clearance. We're excited for the new launch! Can't wait for the new additions to the site as well!

Hey everyone! It's been a long time coming, but we've added on some new popular additions to Capella!
Enjoy!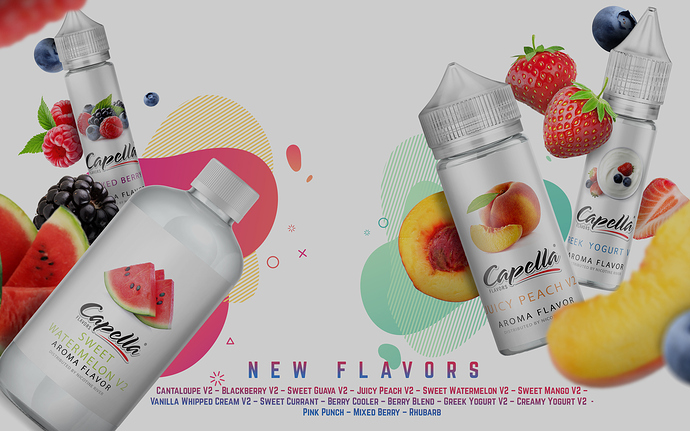 @Nicotine_River
I see you are adding new lines which is great! Are you also doing away with some products?
I couldn't find a few that I have ordered before, one that I use a lot TFA - Crunchy Berry Cereal isn't listed.
https://www.bullcityflavors.com/crunchy-berry-cereal-tfa/
I do hope that you will be stocking this.
I also would like to say this is the first time in months that your site has worked PEFRECTLY. Nice and smooth and fast. Congrats on that
Hey Jerry, thank you! There is a collection on our website currently of flavors we plan on discontinuing due to lack of popularity which you can find here:
Also! Regarding the Berry Cereal TFA we do offer it here:
Thank you for the positive feedback regarding the website. We do plan on releasing an even newer version soon which we hope everyone will enjoy!

@Nicotine_River
Must have been the name change, because i totally missed that.
I just placed an order about an hour ago, is there any way I can add to that?
Hey Jerry, unfortunately making changes to orders after they're placed is a bit tricky. However! For the sake of making sure that delicious flavor is in your hands ASAP I'll have a sample 15ml bottle put in the package. Please feel free to let me know your order number so I can make this happen!

I didn't think so, just wishful thinking. My ORDER #160193
Thanks for the sample.