Just got NicVapes entire line of Flavorings in!
Any pearls of wisdom and or experience please share. Thank you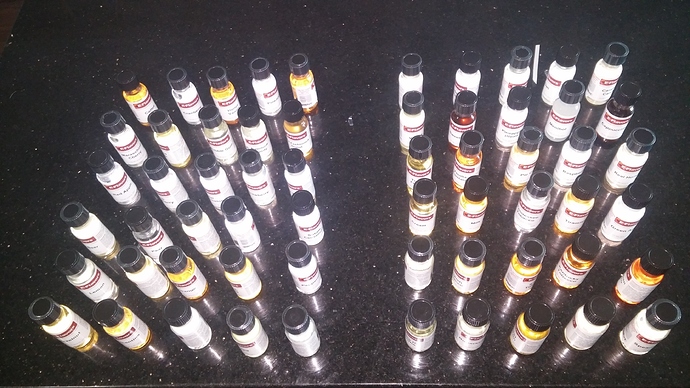 Cool! That's some serious single flavour testing to get through


I know right. I will make 10ml SF bottles properly labelled and stored. I have an idea of where to start percentage wise but am looking for others experiences as well

Wish I could help! Look forward to seeing how you get in with this
NV green apple. Mixed 3.5% 80VG 20PG. Presteeped initial impressions are good. Flavor is bold and no off notes. Leaning toward a candy type flavor, more sweetener and the addition of malic acid would most likely yield a jolly rancher type profile.
How did your flavor testing turn out for you? I am curious since I am a fan of the NicVape flavors I have so far. Thanks
I am curious too. Just found JoJo's notes an am even more intrigued to try a few, especially clementine and dark raz. They are expensive but they do send out great coupons.
I SF tested almost all (about 85%) of Nicvapes line at that time. They have since added several new ones, most of which i have as well. Are there any paticuliar flavors you are interested in? Would gladly give my thoughts/results on them…
Which ones would you recommend ?
They have very few outright duds once you nail percentages down. I think many start to high % and experience fade/muting. A few are even in my opinion SCs with as little as 0.08-0.17% noticably standing out in a mix (oat circles comes to mind) and many are good in the 0.75%-1% range. With high end % around 3-3.5% IMO
Flavors i use most often and therefore can recommend are:
Dark razz: A different take on a raspberry, very dark, little to know tartness,not sulphury like INW or TFAs versions, borders on hard candy at higher %s but can be bent into a jam or used as an accent. 0.75%-1% as an accent 2% as primary flavor 3.5% SF
Pie crust. TFA's is too dark,too strong,too spicy and cardboardy. Nic vapes version is far superior imo. I use 1%-1.5%
Old fashioned donut (glazed donut,somewhat of a cinnamon note until fully mature 1.5-2%
Honey crisp cereal , strong! Woody at higher percentages but a delicious carmelized puffed wheat flavor (sweet spot still unknown

excellent tobacco additive…
Blue Razz Has that dark blue aspect that all other versions have lacked. Chemically at % percentages. 1% rounds out a blue razz profile nicely tho.
Noisy elf (strong!) lucky charms on steriods
Pineapple (real)
Pomegranate (real)
Wild blueberry
Rootbeer = buy this! 3-3.5%
Red apple
Too many to list.
Great thank you. I think ill pick up that rootbeer, although i do love LB rootber. Jojo said she really liked the honey crisp, i think i may give that one a try also . Thanks for the info.
Ordered:
clementine
dark raz
dark fruit
plum
tootie frootie
Their shipping is reasonable, on the fence about only glass bottles offered.
I love the glass bottles, and the fast shipping, my favorite is the honey crisp cereal, and apple fritter alone it is great at 8% ( i like mine stronger sometimes 10%) AND they always have some kind of deal (40 or 50% off )
Boy their site is broke AF on the current version of chrome…
And…
7-12% recommended usage of a single flavor??
Anyone else here confirm that?
I can confirm that that is to high for sure. Most of the flavors I have tried of theirs I do between 2 - 3% but JoJo did some notes if your interested.

Use them low… from .4% up to around 1.5% [nicvape is in my back yard]
I've only used their tobaccos… find that around 3% is the magic percentage ratio.

I thought you were strictly FLV.

That might actually be an idea for @Ricks too
I am…
but I am also close to Nicvape and their crew. One of their shops is less than 2 miles from my house.