Ok i like the screw hard ware. Most hex and phillips head strip out. Those look hardy.
Have you tried it? Do you love it?
Looks sharp! A good MTL RTA is hard to find.
as far looking the deck looks like a very promising MTL rta

Expert design! Covers so many check boxes… Domed top, single coil, Genesis style wicking with easy access channels, healthy reservoir size.
Digging it! And I haven't done MTL in a looooong time! Nice job Phil!
Looking at a reddit post I may be available at the end of November.
I'm not sure I'd set my schedule by Reddit…


It would be great though if it was available by Black Friday !!!
I'm sure that's what he's shooting for!
I was just having a laugh with the auto-correct bloopers as usual.

Yup. Leave it to my big fat thumbs to do some damage. Lol.
Not just that… Predictive algorithms have a mind of their own (that is their job after all…). But I swear, what's intended to be an assistant, frequently turns into one more thing to babysit. /sigh
So I'd rather laugh at it

It's the little things that make my day go smoother, and faster!

I've been waiting for a MTL RTA to come out that has some input from someone who knows what that means.
Would love to have seen:
Knurling on the parts that need unscrewing.
A bottom feeder rather than mid.
I like the quick access fill port as long as it is wide enough for a glass dropper.
Deck looks nice and simple to build on
24th November its a Friday

I thought I recognized this tank… Very similar…

Don't forget the cotton guides to keep the juice from the airhole!
That's what I was referring to by "easy access channels"… At least I think we're talking about the same thing


Lol, you say potato I say potahto!
I bought a Coilart 24 mm RGA Mage a couple of weeks ago. It is remarkably similar. Single coil deck, Domed . While I don't think it was intended to be MTL, it can be dialed back to a restrictive airflow. I really,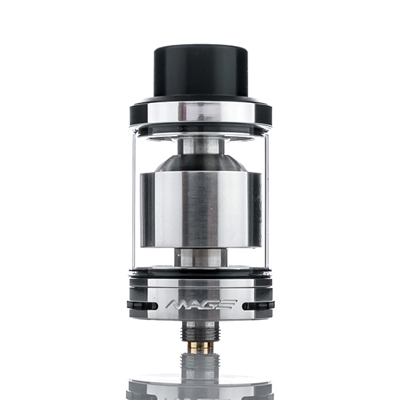 really like this . Great flavor.
Risking upsetting Phil ( I love his in depth reviews) but having recently bought the Ares I have two problems with it.
I find the air adjustment very loose and find I have to check it frequently.
Top fill opens too easily, I tend to keep it in my trouser pocket and when I am bending a lot have ended up with a near empty tank and a wet pocket.
Apart from these points I think it's a great tank, easy to work with and produces a good draw on the mid size single hole. Also getting good flavour and no leaking with 30/70 juice (except when point happens)
Yes. Skinny jeans are the root of all the problems with leaky tanks. Lol.