I recently had a moment of big brain time and found out, that my Labelprinter can print screenshots of any ELR recipe.
So here is how i do that and what you need.
I use a Brother QL Series Printer, the one i have is the QL570, but i don't think they make that one any longer, but there are others in that series liek the QL700.
I costs around 100$ and i use a non-paper label on a roll like the DK 44605.
One roll lasts you ages.
There is Brother's own software suite and it's where you print the label.
You have to set the properties to:
landscape format, 62mm by 42mm, high resolution
you then choose import picture, but you choose import screenshot, and you can screenshot the recipe on elr.
maybe you have to stretch it a bit, but leave about 2mm around as the printer does not the outer rim.
To make it more visible i recommend to us ELR in dark mode, the readability is higher in this setting.
The DK 44605 is not paper it's like a plastic print film, you can easily remove the label from the bottle after use.
This way you can re-use the bottle for new recipes and the print does not rub off cause it's themalprint.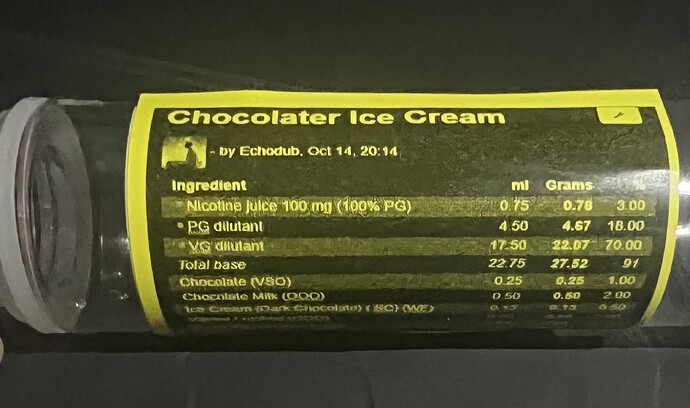 Why i do this you may ask?
Think about givig out a bottle or two to your friends, they can easily identify the ingredients in your mix - you can easily track down your notes and variations and it looks quite cool.