Hi Kids. I'm looking to get a new rdta. Does anyone have any recommendations?
If you are looking for a huge one -
Steam Crave Aromamizer Plus
or cloud chasers bfdft - I can't find a gen one but here is a clone
If you are looking for something more modest
Obs engine

or

If you are looking for something expensive but awesome
http://dotmodretail.com/collections/tanks-website/products/rta-tank-pre
clone here
I only linked fasttech because I had the site open and the info they have about the items is quite good.
That is assuming you mean rdta rather than rbta (not even sure rbta is a thing lol)
Wow … a lot of options goin' on there. Thanks woftam. Looks like I have some comparison shopping to do.
Oh i could throw out a few more but I own these (no clones) and I love them all.
wismec theorem, Ijoy limitless, smok tfv8 (with rda head) - are also very good as are a heap of others
When I first read this I thought "who said anything about rbta". Then I actually read my post. Oops
I'm blaming autocorrect
Wotofo the troll rta is amazing! Much better than my obs engines, even on par with my petri rta
For rdta the ijoy combo
wotofo serpent mini cant go wrong im liking the conquerer mini as well
If you like their serpent their latest tank the troll, holy moly, next level flavour for that price point. You will not be disappointed @fidalgo_vapes
I second the OBS engine. I've had a ton of tanks and this one is by far my favorite. Easy to build on, very easy to wick and zero leaks. 1st tank I've ever had that does not leak, ever.
Can't rave enough. The troll is better then my engines and I love my engines. No leaks and so much more flavour. The engine is very muted for flavour in comparison. Can't gush enough.
If you are a flavour guy, I suggest Ammit and Merlin mini - and they are easy to wick too

If you go with the iJoy Limitless I'd recommend the Plus version (old version) over the newer one that takes prebuilt coils. The Plus is much easier to build and regulate being a much simpler design and runs about $22 from FastTech.
You can also check the link shop on my site man there's a few good deals on there too and reviews on some of them 🖒
www.steampugs.co.uk

I also have an ammit great bit of kit I use a lot. Very good, but still not as good as a troll rta.
In all fairness, I haven't tried the Troll. It sounds promising and I might have to give that one a try in the future.

Thanks!
I love my Serpent Mini 25mm. Comes with extra glass and 2 build decks-single and double. That single coil deck is one of the sexiest around BTW.

shorter than a baby beast, but fatter, it holds 4.5ml so not bad at all for a shorty tank.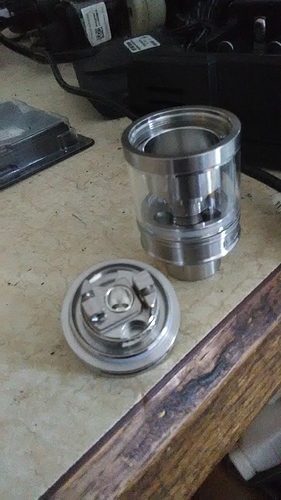 the cleito 120 is fantastic imho. i also have the smok spiral on the way, heard some good things on it. wish we could have them ALL…

Was really excited about the OBS engine and when i finally got mine in i was pretty disappointed. Dont get me wrong its a good tank but the flavor is very muted. after a week or so with the engine i decided to get the coil art mage GTA. the flavor on the mage is way better than the engine IMO. Limitless plus RDTA is a good one as well.
The obs has to be wicked just right I find or the flavor is muted - not saying that is what is happening but it may be worth a retry - just my 2 cents.
+1 for the limitless plus it is a great tank.