hello guys, is there any clone for this juice?? thank youu

Description from http://www.mountainoakvapors.com/product-p/mocl-1.htm:
Red Drop™ is a Mountain Oak Vapors™ take on a Raspberry Limeade type flavor. This is a tart & sour limeade with a healthy splash of raspberry, the combination makes for a refreshingly flavorful vape! If you love drinking limeades, don't miss out on this! It is sure tickle your taste buds and satisfy your flavor cravings. Red Drop has been our best seller since the day it was released, find out why today.
A few results on the site for a raspberry limeade.
I've never had it or tried a limeade recipe. I might start with a regular limeade and try to adapt it with some berry/raspberry. Chances are you'll wind up needing more than just a raspberry to really get the full effect. Maybe use some raspberry and strawberry or boysenberry.
When I used to use MOV when I started to quit cigs it was one of my go to liquids.
thank you for the replies


whispers mountain oak vapor… haha my past white buffalo, yet since then I have sighted it presence and moved out. [REQ] Red Drop and Blue Drop Clone
Also might use something like citrus punch, Italian lemon sicily and key lime/FLV lime as a base for your limeade (other websites load it as a lemon-lime flavor) based on the amount of sour ive seen reviews of it in, i'd load up on the sour and maybe sweet & tart, but… …also the general conscious of that review is like 3 stars… maybe find a limeade and add sour to it to make something better for yourself, that's just my opinion though. I love MOV though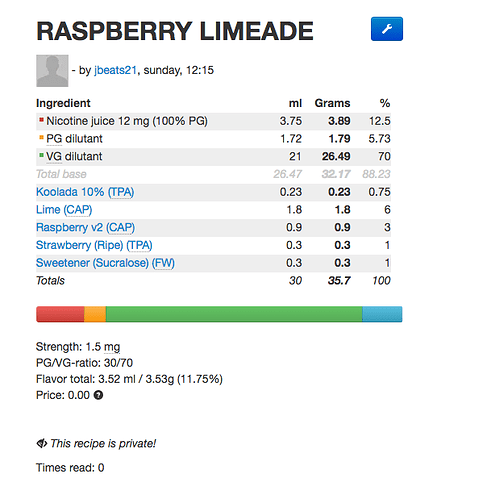 well i remake this , its similar to red drop, but if it was more fuzzy will be better .
what flavor can i add to make it more fuzzy?
Does fuzzy == fizzy ?
Champagne (tpa) or Real Flavors Soda Base may get you there
yes sorry

and thanks hahaha

I know this is an old thread, but Red Drop is an outstanding vape. @jbeats21, try Lemon Lime Soda by WF in the neighborhood of 4% so to provide a citrus fruit base with some "fizziness". Let it sit for a few days before you try it.