Hi, have anyone recipe for Rope cut dark thirty? Or to suggest some recipe closest to it? Thanks
DARK THIRTY BY ROPE CUT ALL WEATHER VAPE
A rich blend of raisin and plum tobacco with a hint of rum.
Raisin? Oh, @Steampugs, help out, eh? You're a massive raisin fan, right?

Sounds like they should have named it "Go spit, Riggs". (sounds like a chaw for a Montana cowboy… lol)
Hi,
Mark, i know these ingredients you mentioned. But i am not sure whether they only contain them, and most importantly, their quantities.
For that i asked, if someone knows about recipe, or something close to this.
Thanks
Mark was simply trying to give other mixers a base discription of the juice to help other mixers help you.
Check out this thread and provide as much info as you can to help.
They are the Devils bogies…I have nothing more to add…

My apologies. I wasnt think of it this way. So now, i must create a new topic with clearly informations with the e-liquid, right?
Because i search on the google with no results for some recipe.
Sorry, its my first topic and my english is too bad, so i am with google translator.
I hope to understand me.
Thanks.
No need to start a new topic. Everything is good. Any additional information you can add will be helpful.
I am almost 100% certain that the guys at Ropecut are using NETs for the tobacco flavour, most likely their own concoction - you can always try Stixx Mixx, they have tons of different tobaccos.
Ropecut is pretty hard on coils if memory serves me correctly, I vaped a lot of it before DIY
Like @Steampugs I'm raisins biggest friend
I've never bought a commercial juice in my life and wouldn't know where to start when it comes to cloning.
Good morning guys, i wish to all of you a good day.
Thanks for your answers.
I'm thinking to start playing with 4 basic concentrates and who knows, sometime maybe i have the closest recipe to it. I know it's very hard to succeed it but it worths a try.
So I have a photo with the 4 concentrates.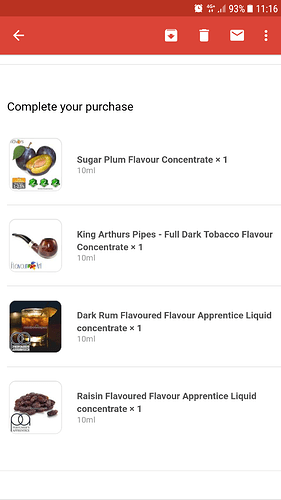 Any idea and proposal accepted to make it best
I've bought King Arthurs Pipe once because I liked the name, didn't like the flavour very much.
Maybe you could switch it for Black for Pipe, has a plum note at higher percentages.

snicker snicker (juvenile sense of humor activated)
I remember INW Am4A tobacco having a bit of a raisin note. I could never abide the TFA Raisin at any percent. Your suggestion of INW BFP is a good one for dark fruit notes.

Who the fuck are you and what have you done with Joel…