Today I'm looking at the Fuchai Squonk 213 from Sigelei. This mod is available from @HealthCabin at their website. Inside the box you'll find the mod, manual and other reading materials, a micro-USB cable and a windowed squonk bottle compartment door (attached to the mod) along with a solid door to cover the squonk bottle compartment.
First, the specs -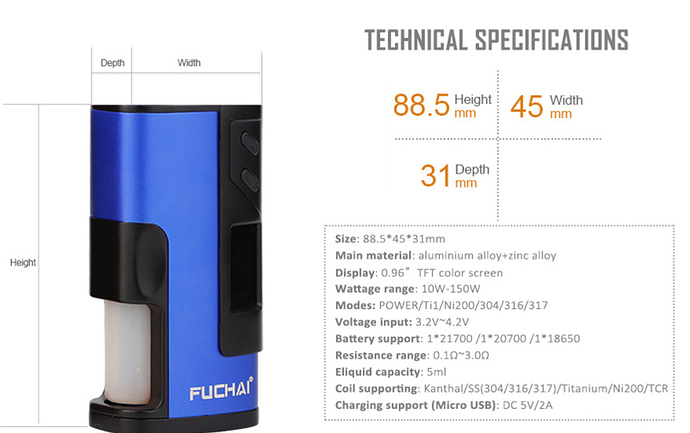 First impression opening the box is…this is a really nice looking mod. It's a bit beefier than most single battery mods, but it certainly has an appealing look - kind of modern and slightly industrial. The fire button is in the usual top/side position. The only other buttons are the +/- which are near the fire button on the front of the mod. This is an advantage as with other squonkers you often end up inadvertently hitting buttons when squeezing the bottle. Here that's not an issue. Loaded with battery and atty, it has a perfect weight to it and feels great in the hand - solid feeling. The finish seems to be paint and has a somewhat satin finish. It's textured rather than smooth which does indeed aid in preventing fingerprints. The battery door is on the bottom and opens easily but does not seem to be something you would open accidentally. I've used this mod for several days and have not had an instance where it even remotely acted like I was going to open it by accident. One single hinge holds it on, and it slides to lock in place. This mod also uses a color display which is bright and easy to read - except in the sunlight. I love the compact layout which shows the mode you're in (Watts, Temp Control/Wire Type) Ohms, Amps, Battery Voltage, Vaping Voltage as well as a battery charge status bar and battery% remaining. More on the display later. But as for looks, when topped with an atomizer it's a really nice but substantial looking mod, especially for a single battery device. Sorry, 30mm atty's will have a little overhang…but only a little

With the Vandy Vape Icon -
As for the squonk function - well good for us, Sigelei included what I think is the perfect squonk bottle in terms of material. Many squonkers are sold with bottles that are too firm and hard to squeeze, or too soft and squishy. This one is just right. It sits inside a very large window compared to most squonkers which makes squeezing it that much easier.
Operation and Performance
Let's talk Temperature Control first. Does it work? Yes. Does it work well? Sadly, no. To prepare for temp control you do a 3 click press of the fire button to enter the mode menu. There you will find Power, Titanium, Nickle and SS 304, 316 and 317.
Using the +/- to navigate, you highlight the mode you want and save with a press of the fire button. The first I tried was 316SS. After that you attach the atty, hold down +/- for approx 3 seconds, and now you can select "read" to have the mod read the atty's resistance. This is necessary to do each time you change attys! This mod does not auto-detect your build. Of course you do this with the atty at room temperature. After saving that you can enter the "preheat" setting by holding down the + and fire buttons for 3 seconds. You'll see you have from 10-150W for power and .01-1.0 seconds. Lastly, after saving preheat and landing back on the home screen, use +/- to set the temperature.
This is where the not working so well part comes in. There is no setting for watts aside from preheat while in Temp Control mode. I was afraid I missed something, so I contacted Sigelei directly. They confirm my suspicions. When TC mode is engaged, and let's say you set for 500F, something has to tell the mod how much wattage to use to reach the set temperature. I tried a variety of settings - raising/lowering preheat wattage and time, increasing set temperature, and all combinations of these. What I found was the vape experience is directly related to the preheat selection. The preheat concept is basically an override of TC for a second or so to allow the coils to heat up quickly, after which, temp control takes over for that puff. So if I were to turn the preheat power and time down all the way (10w for .01 secs) that should effectively eliminate preheat and be strictly operating in temperature control mode. That didn't work. When doing that there just isn't any vape at all. Now if you raise the Preheat Wattage up just a bit higher than you'd vape, and maximize the time (1 sec) it will deliver a good vape for 1 second. Then it just falls off a cliff, slowly ramping up to temp again for the duration of that puff. This is why I say the TC experience on this mod is directly related to the preheat settings. And this behavior was repeated on all materials - Ti, SS and Nickle. It's more exaggerated as the battery depletes, and also when using larger wires. Smaller gauge wires seem to perform better in TC, but still not perfectly. This is a flawed design, and I communicated that with Sigelei. However…
Power mode is a different animal. I was very excited to put a 20700 battery in the 213 and see what she'll do. Very impressive! For a single battery mod in wattage mode, this thing is amazing. Even with an 18650 it's great. Comparing to other regulated single battery mods, the 213 board seems to take advantage of all the available power your batteries can safely deliver. I say safely, because the mod does one amazing thing that I love. When I moved from the 20700 battery (was set at 130W) and put on an 18650, as soon as I hit the fire button, the max wattage dropped to 87. This is a nice feature as it helps users to avoid overworking batteries per build. Of course, this doesn't mean a person no longer needs to think before firing, only that it's a relative safeguard as opposed to many other mods. Additionally, based on available battery capacity, when adjusting power or temperature, the numbers change from green (low temp/power), to yellow and then red (high temp/power where you'd be pushing your battery).
Final Thoughts
In my opinion this is a very good mod for someone who's interesting in squonking and likes regulated mods. I hesitate to call it a beginner's squonk mod because it does have the ability to perform in wattage mode beyond what I would consider a beginner level. All that said, anyone who feels like they might like squonking but isn't 100% sure, this would certainly be a great add to their collection because even if squonking didn't float their boat, they'd still have a great little variable wattage mod. Just pop on that little solid door over the squonk bay and party on.
Also as a side note, if you're new to squonking I recommend picking up a squonk refill bottle. Or you could get a nice, multi-purpose Geek Vape Flask.
But we can't do a full review without the pros and cons, so lets have a look.
PROS
Good looks
Finish resists fingerprints
Solid construction
Feels good in the hand
Great power with 20700
Safety features
Squonk ready
Soft squonk bottle
CONS
Small capacity squonk bottle
No wattage adjustment in Temp Control
Firmware not upgradable
My honest opinion on the Fuchai Squonk 213 is this: If you're ok not having good temperature control and happy with power mode, this is a fantastic little device and I would recommend it. I would also recommend getting a good 20700 battery so as to take full advantage of the 213's capabilities. You can get good ones here, and the seller is @Twisted_Straights, an ELR member, so you can shop with confidence.