Just curious…was Santa good to you all? Did you guys get any new toys or other exciting gifts for Christmas?
Santa was definitely good to me! I got tons of vintage jewelry! 5 pairs of earrings, a beautiful little diamond necklace, a bracelet/broach set, and a couple costume pieces for fun.


These are my favorite out of everything… aren't they cute?!!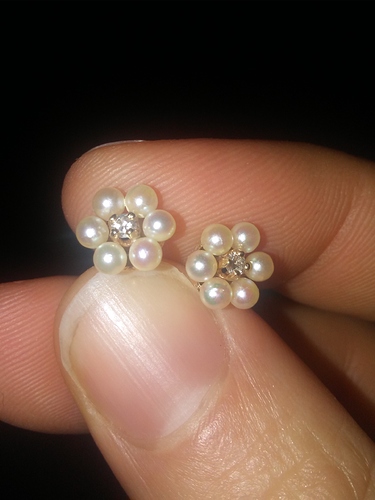 Oh wow! Those are adorable! Pearl is my birthstone, but I only like some pearl jewelry, because some of it can be really gaudy looking! I really like those though, they are very pretty! It sounds like Santa was good to you! You must have been a really good girl this year!
Yeah I'm hit or miss with pearls, these are just so dainty and sweet! Opal is my birth stone, I got a few opal peices too! One is a ring with a gorgeous green and blue opal surrounded with little diamonds, it looks like a little jewel flower.

Either that (doubtful…) or Santa really likes naughty…lol
I didn't get anything for Christmas

, but that's okay because my boys had an awesome Christmas! It is awesome to watch them open all of the main things they wanted on Christmas morning! My oldest (13) got the guitar he has been asking for for the past 3 years, my middle boy (9) got a new Nintendo DS he wanted, and my youngest (6) got his PAW Patrol toys he wanted! Those were the main things they asked for, and of course they got a bunch of other stuff they wanted too!
Oh, and I love opal! In my opinion, fire opal is one of the most beautiful stones on the planet!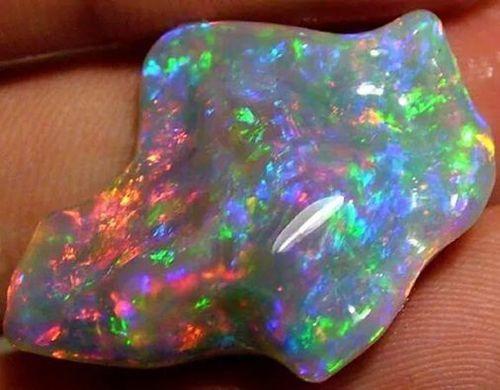 Watching happy kids is by far the best part of Christmas!
Yes it is! I love Christmas, but it is such a headache until that moment on Christmas morning when they get to open their gifts and it makes it all worthwhile! At least until they get tired of the new things they got around February!
Okay guys…why is no one telling me about their Christmas!?! Come on, I really wanna know! I love seeing what everyone's favorite gifts were!!!
I got a boot knife with a strap that keeps it on my chest/ribs. It was a pleasant surprise, being that my husband and I promised not to buy gifts for eachother.
My daughter got everything she wanted. Prismacolor pencils and pens, plenty of sketch books and other art supplies. And the surprise she didnt ask for, a pellet rifle to get her outta the house.
The best part was hearing my daughter squeal as she LOVED everything!
Opal is my daughter's and my Birthstone as well. I keep all mine and hers put away because they are easily damaged.
We wear them on special occasions. I was thinking to get some lab created ones for more every day use.
So much good food. I made duck legs sous vide and roasted a duck in the oven, the others made other delicious stuff

My daughters were very happy with their gifts (both wanted record players/turntables?! retro is in, as usual)…
I got a really cool cold brew coffee "maker" (which is really just a fancy container) and a few other small things - oh and my youngest got me a vinyl figurine of "Eleven with Eggos" from Stranger Things

She is crazy about the show

Anyway, it's just been days with family and good food

Oh, that's right, your daughter is very artistic! I bet she will create something beautiful with them! And awesome gift with the pellet gun! We also got my son a BB gun he has been wanting for a while! Cool gift with the knife and strap!
I love my pearls too. I have a string that is almost a choker but not quite, and it has simple earings that have one tiny diamond attached to a single pearl as a set. I love how they always feel cool to the touch and that they are one of the few simple things that really pop on my olive complexion.
We got our daughter her first bb gun. She was so surprised! Not something she had asked for, but when I saw it in the store (Red Ryder like on A Christmas Story) I knew she would think it was cool because we all love that movie.
Well this is the best of Christmas anyways! It is always great to see family that one doesn't get to see often and just spend time enjoying and appreciating each other!
I spent the day in the kitchen making a traditional Christmas dinner! No duck here, but that does sound delicious!
Stranger Things is a hit with my kids as well!
HaHa! I told my son he better not shoot his eye out, or anyone else's!!!
This is what we did for our 9 year old daughter. She loves artsy stuff, so she was thrilled. Santa brought her a big binder that she can keep her drawings in, I think she'll have it full by the end of the week!


We got her one of those fashion plate things too, I think I'm having just as much fun with it as she is!
I made VapeyMama…

(ignore my shopping list…lol)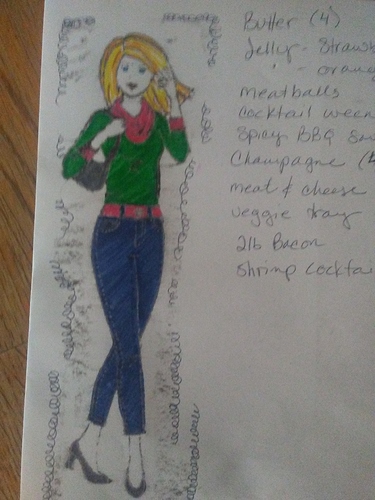 Champagne and bacon

Can't have a new year's eve party without them!!