Think Again … Remember the Therion I won from GearBest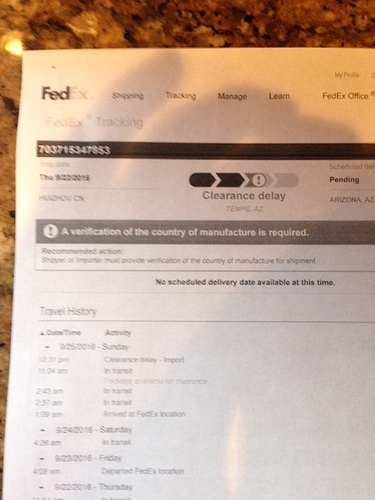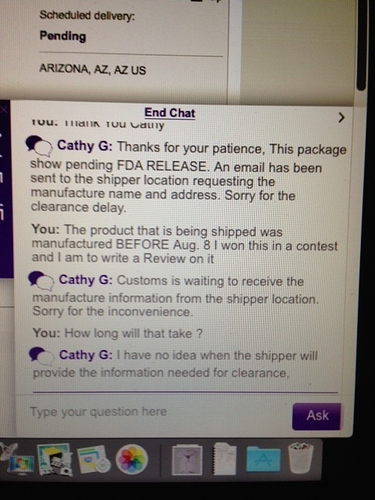 @June could you please help me with this
Oh, that sucks. Hopefully you will get it soon.
Hmmm, this doesn't sound good.
Sorry that is happening. That really sucks!! The damn FDA!! I just hope they don't frighten companies away from shipping here. They are probably just data gathering at this point. If shippers are smart they will use vague/less info on their shipments going forward. I will be interested in seeing what the label says once you do receive it to see if it was random or what may have encouraged them to hold the package. Feels very intrusive and against what this country is "supposed to" stand for. First we fought for freedom from the British, now we have to fight for freedom from ourselves.
I hope you get your Therion soon.

I was wondering about this too.
I just received my package from @June and they used vague info on the commercial invoice and gave a value of $20 for a vt75
(Sorry for bad quality images my phone sucks )
With the customs invoice they also included an '' identification and classification report for air transport of goods report ''
Thanks for posting that. Wonder if @Rob62's will be similar.
We are living in interesting times.
I am just plain so glad I hoarded stuff before August 8. Vaping is going to be expensive for people who start late in the game.

O'er the land of the Free

( Really ??? )
This is my favorite Woodstock clip. When Richie Havens died I played it over and over…
Thanks for posting!!
And while we're busy fighting for our freedom we just have to…
LOL … yeah I was thinking of this one too

Wow! I'm sure there is even more to come

I could hear it, but missed most of the visual…I was in the medical tent with the Hog Farm helping the freaks.
hmmm im surprised they caught it… they cant possibly catch all the packages coming from China… I know our customs tried years ago to stop ejuice and even equipment and we still got tons through we just made sure to place small orders (scatter orders in many packages to avoid losing too much). I really hope someone manages a successful suit to bring this crap to an end for you. Maybe mailing it in pieces so the tank wasnt in there would help since it would be less obvious when being scanned on a conveyor belt what was in there.
@Rob62 only had the Therion mod in the package
Wow… I hope this doesnt become a trend now

going to reread the regs now… I still say there is no way they can stop them all… ive ordered knives that made it through canadian customs (don't judge me) that should not have.
Holy. shit. This prohibition is completey insane I sincerely hope it doesn't last too long. Unfortunately they have all the $ on their side. Imagine how much they're spending on this nonsense. Denying us access to the newest, safest, and best products is a travesty.