The ripe cherry smells very nice
Love BCF, got my shipping notice already!
It is the milk portion that just throws me off, not getting much strawberry either but that milk…blah. I think it must have butric for the milk, I have grown sensitive to that.
Slight addiction…nah, full blown addiction is more like it lol
That peaks my interest!
I have the Legendary Custard in my stash but haven't tested it yet. You?
Not yet, got so many custards, that can't really find my way out, my next go to on MOB is: The Most Sweet Cream.
Could that be "Clotted Cream"?
Indeed. That was the 1 that leaked a drop or so and it reminded me of the fresh dark natural cherry juice from my home area in Wisconsin. Trying not to smell the new stuff yet but the pile is getting too big not to take some initial notes and sort.
Do you or anyone know an average range for these?
Thought I went nuttier but only got the 2 cherries, raspberry syrup and crisp waffle (which I just smelled and I really hope it got some cherry or cnv grape on it or my nose is broken… pick up an almost burnt note\coffe\caramel, some bakery, I think AP, with a little fruit note in there that like I said I'm hoping isn't actually there)
wllmc has been getting good flavor 3-5% sft
Think your right but have no idea what clotted cream is either

@mjag, @fidalgo_vapes, @Letitia, @wllmc was kind enough to send me some of these for some testing. About ZERO information on the usage rates of these, even on Sobucky's B2B site. Are you guys treating these like ultra concentrates ??
Apple Strudel-SSA
Compote Cherry-SSA
Crisp Waffle-SSA
Dessert Chocolate-SSA
Ice Cream-SSA
Irish Cream-SSA
Mascarpone Cream -SSA
Mocca Coffee-SSA
Raspberry Syrup-SSA
Shortbread Cookie-SSA
So far, I know I'm going sub percent on the Mocca Coffee, Cherry Compote, and Crisp Waffle.
I'm going to be lazy do all at 4%.
Except the sweet cream. I'll hate it if I sft it!
I'll start at 1pct and go up to 3 …Thats what I usually do unless something seems super strong .
Mascarpone Cream ill do at .5 Probably…
The percentages seem to be all over the place so far. Creme Brulee came out pitch black at 3%, no joke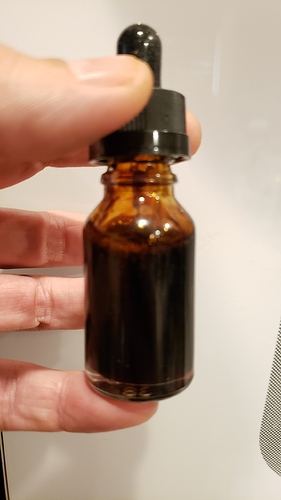 No way I am vaping that, looks like Mobile 1. Tried it again at 1 drop per 30ml and I don't know, think I am gonna punt on this flavor as it separates after sitting 24 hours. I didn't use the Game Changer on it as I was afraid it would cling to the GC like it does to the bottle.
The Caramel at 3% was OK but it is just not the caramel I was looking for.
Caramel Biscuit I did at 0.60% and it is decent, 1% might be better.
I think I am gonna start at 2% for the rest unless they smell super strong. Think I am going to stay away from the super dark flavors like Creme Brulee, Caramel, Irish Cream after that Creme Brulee fiasco
I think I'm going to start low, for science in shit, as I typically start high. My mocca, choco, and irish cream are all very dark flavors, the choco went dark in the tester, the mocca, and irish went mid dark.
The cherry compote smells pretty damned scary good. The crispy waffle smelled VERY much like the ORIGINAL INW Waffle YC.
IMO good call my friend. The GC would mix it where it would not separate, but it would also make a Mobil 1 oil juice. That is by definition an emulsion…two substances that will not ordinarily combine. I recall a Cola that did the same a while back. You couldn't measure it because it separated so quickly and it stuck to glass. I threw it in the trash.
When I put my first drop it just sunk to the bottom, weird. No way am I jeopardizing my GC, something just didn't seem right.
Sucks too, the Creme Brulee smells really good but something just doesn't seem right
Personally I'd be really leery of it and always trust my "gut" feeling. I guess an easy test to see if they are truly water soluble would be run water over the bottle that the stuff is stuck to. It should dissolve instantly but it should in pg too. There are some oils like in lemon extracts that won't give us pneumonia but I'm really cautious about these things particularly with new products/companies. I'm definitely not saying there is anything wrong, just sayin.
Watching Busardo's video tour of FlavourArt's state of the art facility makes me have much more confidence in the large companies products than the smaller ones.
Just used SSA Apricot in a mix at 1% and it is coming through nicely. I did add some FA Marshmallow and 0.50 super sweet to make it pop a little more after trying it without.
Been on the lookout for a new Apricot ever since INW changed the formula. A little too early to tell, just mixed it an hour ago with the GC but I really like what I am tasting so far.
The mix also has SSA Ice Cream, Whipped Cream and .25% Ripe Coconut to enhance the cream a little.
SSA Nectarine smells damn good, might need to mix that next but am nervous, just bought a lot of TFA Nectarine on clearance at river supply…I don't want to like the SSA better lol.